BERKSHIRES, AUGUST 1998
We're up in the Berkshires for the week, at the Berkshire Choral Festival (our Bar-Mitvah year here). We're living off-campus for the first time, staying at a B&B just down the road, Ramblewood. It's actually quite lovely, and since Carol doesn't sing, we actually save money by paying only one tuition, and my commuter tuition is lower. Carol says that she will be forever grateful that we don't have to sleep in a double decker, even though I always volunteered for the top. The inn is very clean, nestled in the woods, with a nice king-size bed, rustic furniture, lots of space, a sumptuous breakfast every morning, a canoe, and a lakefront. We eat lunch and dinner out quite a bit--great sushi at Bizen in Great Barrington and the best restaurant we have eaten in in the Berkshires: John Andrews in Egremont. All right, I'll tell you: wonderful tomato basil soup and perfect green salad with baked mozarella and Prosciutto di Parma for me; perfect green salad for Carol with great red and white beets and yellow pear tomatoes and perfect fresh grilled yellowfin tuna. But the best thing was the bread--fresh-from-the-oven Tuscan bread with a crunchy crust and a moist flavorful center and a focaccia better than any in Providence. The wine was a splendid Caymus Sauvignon Blanc, aged in oak, so it was like a good chardonnay with lots of forward fruit and acid (how's that for wine bullshit?)
Sunday night, we saw "Saving Private Ryan." Jesus.

Robert Page is conducting Dvorak's Stabat Mater, a gorgeous piece that I never knew before. This is my third time singing with him. He is WGC (world's greatest conductor) in my book. I've learned more about singing from him than from anyone else. He rehearses us without a score, knows every note, marking, and nuance by heart, knows exactly what he wants, and how to get it out of us. Some think he is a mean tyrant, singling out one singer by name (e.g., "I told you to sing this part with your mouth closed--you could swallow a whale!"; telling the tenors they should go out and find a pair of cojones, telling us to stick a dime between our cheeks (not the cheeks of our face) and hold on tight. I love him.
He spoke about his career and his life in a cocktail hour talk with us. He grew up in Fundamentalist Abilene, Texas. His mother and father loved serving the Lord through music. Eugene Ormandy was a second father to him. He is 71, with the figure and stamina of a man 20 years younger. He jumps, dances, screams, never sits down. It is absolutely thrilling to rehearse and sing with him. It's like being in an arena with a tiger. You're very excited, but you hope he swallows the other Christians first. "Give it to me, girls--I want big-bosomed broads breaking down barroom doors and busting balls!"

It's been a good week medically. I never thought I'd be able to make it up the hill to the BCF again on my bike, but I can do the hills and dirt roads up here, and my voice is holding out, even into the evenings. The more I sing during the day, the more my voice stays clear into the evening. I took a voice lesson from Barbara Peters. She told me to cut back on my diuretics, which dry me out internally, something my doctor has been telling me to do for some time I did so this week, and it helped. She also told me to drink less, since alcohol dries you out. Fuggedaboudit, Barbara. I also treated a subconjunctival hemorrhage (by doing nothing), and saved John Clifford's iife in the dining room when he turned blue and grabbed his throat at dinner. I pulled him to his feet and did a big Heimlich, which expelled a chunk of the Sage Catering Service's roast beef. There have been a few additional negative comments about the food, but it would appear the BCF is stuck with the same catering service that the Berkshire School uses for its dining hall.
The soloists are so good. It's such a privilege to sing in a good chorus of 250, with a first-rate symphony, the world's greatest conductors, and young rising soloists who will be world-famous some day. The bass (Jay Baylon) is about 6'3" and built like a fullback. He has a sonority and the capacity to sustain a long line with volume that has to be heard to be believed. The tenor (John Daniecki) is Russian or Slavic with a great steely head tone. The soprano (Jacquelyn Culpepper) is gorgeous. The mezzo (Suzanne DuPlantis) is fine--more about her later. The music is positively luscious and thrilling.
Tonight (Thursday) Carol is at Camp Ramah in Wingdale, NY in the Western Berkshires, consulting. She'll be back tomorrow, when the orchestra comes in.
Friday: The Queen of the Jews returns in time for the orchestal rehearsal, having spread the gospel at Ramah. Rehearsing with the orchestra reveals even more of the beauty and excitement of the piece, as well as the genius of Page. No one in the orchestra has ever played this piece, but on the first run-through he is able to elicit such nuances from them with his gestures and face that it sounds like the Czech Philharmonic. The first trumpet, who has been with the orchestra for many years, tells Carol that the musicians adore Page, and that he is one of two choral conductors who really know how to lead an orchestra. It shows in his comments to the various instruments, asking for different kinds of bowing and intonation, as though he could play every instrument in the orchestra. In the evening, we go to Tanglewood, where we meet Gilda and Sam and three other Israeli couples, friends of theirs on the lawn. We shared supper. We brought sourdough bagette, fresh basil, beefsteak tomato, fresh mozarella and Prosciutto di Parma from Guido's, along with Rainier cherries and white peaches. Gilda and Sam brought New Jersey challah and we made kiddush. Another Sabbath eve service took place on an adjoining blanket. It was the Leonard Bernstein Memorial Concert, after all. The Spinats also brought wonderful fresh strawberries. The music was Bernstein's 2nd ("The Age of Anxiety") and Beethoven's 7th with Robert Spano (conductor of the Brooklyn Philharmonic) and John Browning on piano. They were trying out huge live projection TV screens for the lawn, and we all thought they were great. I love sitting on the lawn at Tanglewood, you can lie on your back and watch the stars and listen to the most wonderful music. I'm so glad to be alive and well enough to enjoy and make beautiful music.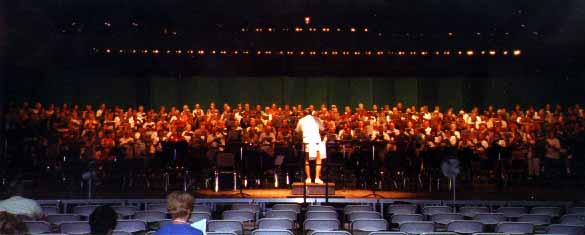 Saturday: The dress rehearsal went well. Carol says it's the best performance she's ever heard up here. The Putnois and Rothenbergs joined us for lunch on the grass. It was the best picnic lunch I've ever had at the Berkshire School on Erev Tisha B'Av. Wonderful smoked beef, lamb, and turkey, as well as delicious pasta salad and great wine. The concert was fabulous. We really sang well. Page conducted with precision and grace. The alto stole the show with a gorgeous solo aria. The audience loved it. I had my own claque: Gilda and Sam, Carol, Eliot and Vida Barron, Andy and two friends, Clara and Sara. We went out afterward for a drink and a bite to eat.
I love this week. In year 2000, Page wants to do the Mahler 8th . I'm there.