BESS'S 90th BIRTHDAY
FLORIDA--DECEMBER 2000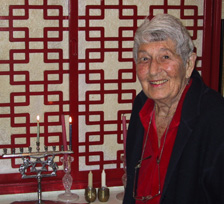 ..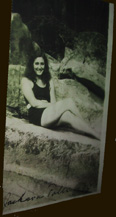 ..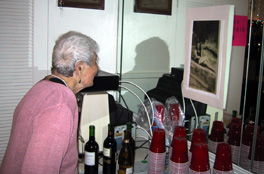 December 13 was Bess's 90th birthday. She has gone to Florida for the winter, where she is thriving with the assistance of Joy, who comes in for eight hours every day. She swims in the pool, something she doesn't do in Providence, and this seems to have a salutary effect. All of her children and grandchildren, as well as her sibs, Evie and Sid and Sadele, flew down for a Christmas weekend celebration. Carol and I had first class seats on Delta. It wasn't first class. I am writing my Letter from Farklempt to Jim Mullin, Delta's CEO, on my laptop as we fly.
At the Fort Lauderdale airport, there was absolute gridlock. With the pre-Christmas rush, nothing was moving in or out of the terminal. Finally, the van dropped us at Thrifty Rent-a-Car. Now things started to look better. Thrifty must have been tired of giving us free rentals for unsatisfactory service (this was our second consecutive free rental), so they gave us a brand new humungous Chrysler with leather seats and a compass. It was the biggest car I've ever driven. We checked into the Clarion Hotel in Hollywood and went to see Bess. She has a good tan. We spent some time together in the afternoon. Carol lit the first Hanukah candle.
Bess went out with Lolly and Herb to visit her friend and former condo neighbor, Ruth Rand, who used to pose for Harley and Gatorade ads. Now, Ruth lives in assisted living, and is failing rapidly. It was very sad for Bess to see. She lost another friend at the Village just a few weeks ago.
Carol and I had an early dinner at Padrino's, a nearby Cuban restaurant. It was cheap and good. Carol had fried fish, and I had viejo ropas, the Cuban equivalent to cholent, a slow cooked stringy piece of brisket, with lots of spices. Sweet fried plantains, salad, and black beans came with it. The wine was a Chilean red. For dessert, we had the best flan we have ever eaten anywhere.
Friday morning, we joined Gilda and Nancy and Joel, who had come in overnight for
breakfast.Sam had to stay in the room most of the day, dealing with a business crisis involving a defective machine from Italy. The breakfast buffet served as our command post for plotting the day's shopping strategy.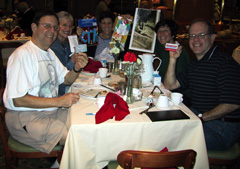 Gilda and Nancy and Joel went to the kosher butcher and supermarket, while Carol and I went to Costco to buy beverages, barbecue sauce, salad, and paper goods. Later in the day, Andy and Neal came in. We met at the hotel and returned to Bess's for dinner, all the Spinats and Hirschtritt-Certilmans and Ingalls, except Marjorie and Jonathan, who had been stranded by Delta at La Guardia, since Atlanta was snowed in. Carol lit the menorah, and Bess lit the Shabbat candles.
I said ayshes hayil for all 4 women, and we made kiddush.
..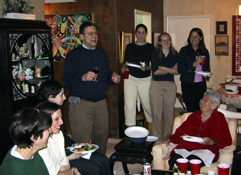 ..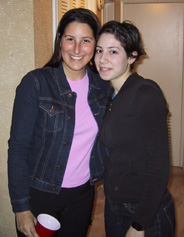 ..
..
Gilda had arranged with an Israeli caterer to have supper delivered--lots of hors d'oeuvres, salmon, lasagna. How good was it? Let's just say that Farklempt ate once in a restaurant in a back alley in Gaza, and this food was at least at the same level of culinary excellence. Bess supplied vegetable latkes from Corky's that were the culinary hit of the evening. Nancy made some cakes and some great pecan squares. We heard from Marjorie and Jonathan, who finally got on a flight to Orlando, and were driving down late at night.