CHICAGO--JUNE, 2000
On Friday, the Briers and Pages and we set out at 5:20 AM for the airport to fly to Chicago for our annual freebie weekend. You will recall an unsatisfactory experience with the Radisson Hotel in Portland Maine two years ago. This brought a letter from Farklempt, which led to a free weekend last year at the New Orleans Radisson. Unfortunately, this hotel treated us with equal contempt, and the wrathful pen of Farklempt was once more kindled (actually it was a keyboard). In response, the CEO of Radisson USA arranged for us to stay at the Radisson Chicago.
We flew out on Southwest and had an uneventful flight to Midway. No one needed a doctor, so there were no free first tickets to be had. We rented a large minivan from Alamo and drove directly to Oak Park, for a day of Frank Lloyd Wright architecture. It was an exercise in nostalgia for us, stopping first at 137 Harrison Street, where we lived for 4 years in a third-floor walkup.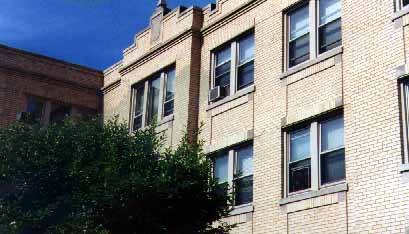 We were surprised at how yuppified Oak Park has become, with chi-chi shops on our block that were not there in 1962. We visited the high school where Carol had her first job teaching, and it had grown. But the houses were the same--more Frank Lloyd Wright houses than anywhere in the world. He lived there, and we began our tour at his home and studio.


He was a remarkable man--brilliant, creative, decades ahead of his time, innovative, tasteful, narcissistic, a spendthrift, dishonest, hated children, including his own, left his wife and kids--an all-around asshole. But what a genius! We never appreciated his houses when we lived amongst them. After the studio and house tour, which was led by a very knowledgeable guide, we had lunch around the corner at Petersen's, an ice cream parlor that had Chicagoland's (pronounced by the locals as "Chicawgolandt") best ice cream. It was completely unchanged. Still the same cafe curtains, the same neon sign outside, the same formica tables, the same ice cream sodas served in stainless steel glass holders. Wonderful sandwiches, and the same delicious ice cream for dessert. We drove around and looked at many Wright Houses, and then we drove into the city. What a beautiful city Chicago is!! I guess it was pretty when we were in school there, but we were young and didn't know what was good. It certainly is even more beautiful now. A lakefront park that stretches for miles and miles for the length of the city, with picnic grounds, ballfields, bike paths, beaches--all clean and safe. A downtown with skyscrapers, each of which is an architectural marvel. This is, after all, the city of architects--Adler and Sullivan, Wright, Mies van der Rohe, and others. There is a riverwalk that bustles with life and action.

Our hotel was on E. Huron Street, half a block in from Michigan Avenue's "Magnificent Mile." At the front desk was Jack, a tall, handsome, gregarious guy with a shaved head and blue blazer, who told us that he would do everything possible to make our stay as comfortable as possible. When he learned we were from Providence, he sighed wistfully. He told us, "I had a girlfriend there...when I was straight." I told him that my son had a girlfriend there also...when he was straight. He asked if I was pulling his chain, and when I reassured him that I was not, he invited us to join him at the Gay Pride Parade on Sunday. The management had set aside three executive rooms on the 29th floor for us (ours was an executive suite, with a large living room, overlooking the lake), and Jack threw in breakfast, room service if we wished. It turned out that the parking was on the house, as well. We rested for a while, and then crossed the street for dinner at Tru, one of the world's great restaurants. We had the second greatest dinner of our lives (the best was L'Esperance of Marc Menaud, in Vezelay, France, a Michelin three-star). It wasn't just a dinner--it was a dining experience.


We entered a foyer, where we were greeted by name. We were taken immediately to our table, a power table in the corner. The dining room is spacious, high-ceiling, white, bright, quiet, high-tech, but not cold, with lots of room between tables. Between the chairs were cushioned stools, on which the ladies could put their handbags. The service was extraordinary. As we prepared to sit, five waiters suddenly appeared to hold our chairs for us, pour water (the water is a bottled English water from Hampshire--that's Hampshire, not New Hampshire--and It tasted like water). Then, they disappeared as quickly as they had come. The bread man offered three varieties of delicious bread: French, rosemary sourdough, and parmesan biscuits. As a placemat, there was a piece of thick plate glass, with rivets in the corners, and the logo of the restaurant etched in the center. Butter came on a similar small piece of glass with the logo pressed onto the square of butter. The menus were presented. They were printed specially for us, with the inscription, "Happy Birthday Alan, Larry, Michael," for when the reservationist had asked me on the phone in March if there were any special occasions, I said, "Sure." There are prix fixe menus: a three-course menu for $70, a 6-course vegetarian menu for $75, and a $100 Chef's menu. The women had the vegetarian, and the men had the Chef's. Here is what we had:
1. An amuse-geule of squab liver in tiny gougères, puff pastry made with cheese.

2. Vegetarian: a tiny corn mousse-flan with a single kernel of corn on top. The flavor was intense. It was accompanied by a shot glass of white tomato juice and vodka with coriander.
Chef's: One large square plate with four smaller plates on top, with a tiny salmon mousse-flan with such intense flavor, a thin small round slice of pressed duck, a small slice of marinated scallop (and for Larry, who is allergic to shellfish, a piece of marinated mackerel), and the special vodka concoction.

3. Chef's: An escalade of caviar. A terraced structure of small plate glass squares, offset, each carrying a different component: sevruga caviar, big red salmon eggs, wasabi flavored tamiko, pink tamiko, egg yolk, egg white, capers, onions. The men were given plates with mother-of-pearl spoons to spread the items on pieces of melba toast.
Vegetarian: Kohlrabi stuffed with squash, made with lots of the "secret ingredient"--butter.

4. Chef's: a large scallop shell, filled with flavoured scallops.
Vegetarian: Ravioli with goat cheese and morels.

5. Chef's: a substantial piece of New York State foie gras, wrapped in 24-carat gold leaf, covered with a 50 year-old Balsamic vinegar and a garnish of loganberries. Yes, you eat the gold leaf.
Vegetarian: A layered bento box of three salads, including one of pale beets and goat cheese.

6. Chef's: Peking duck, wrapped around scallions with a dark hoisin-like sauce
Vegetarian: Portabello mushroom, sliced thin, covering chopped wild mushrooms in a rich sauce.

7. Plum granita to cleanse the palate.

8. A birthday surprise of a plate with "Happy Birthday" written in peanut butter, and mound of fresh berries into which a burning candle was inserted.


9. Dessert: a large round plate with four desserts in it: a pineapple carpaccio--a think slice of pineapple in a sweet sauce with macadamia nuts and coconut sorbet, a very dense and rich chocolate gateau with fudge sauce, a tiny creme brulee with rosewater and pistachio nuts, and a cardamom madeleine.

10. Petits fours, including divine chocolate truffles, marzipan.

11. Wonderful coffee and cappucino

12. A violet lollipop, clear candy on a stick with a fresh violet inside.

Is that 12 courses? I don't know what counts as a course. I just know it was a lot of food, but it took three and a half hours to eat, and we were not bloated at the end.

The wines were a Long Sauvignon Blanc and a Mauro Ribera del Duero, which Larry pronounced the best wine he has had in his life.

The presentation of all these foods was exquisite: always little garnishes and smears and swirls of color. It was a visual, as well as a gastronomic treat.

I cannot say too much about the service. They do indeed anticipate your every need. Waiters materialize out of thin air and disappear like will o' the wisps. The food is brought out from the kitchen on a serving cart, and without any signal, four waiters suddenly glide across the room so that they can present the dishes to us in one single coordinated movement. It was an evening of choreographic, as well as culinary, delight. The china alternated between round and square, all with a subtle geometric linear pattern. They must have used 300 dishes for our meal, and four hundred pieces of silverware. There are two people whose job it is to polish the glasses, and four whose job it is to polish the silverware.

My mother says it is sinful to spend that kind of money on dinner. I say that it is sinful to go to Las Vegas and set aside $250/person to gamble, and to play until you lose it all. There you are buying hope for the future, but most of the time, hope is lost and gone forever. With a dinner like this, you have bought a memory that will last you for your whole life. We still talk about L'Espérance (which, interestingly means "hope") and we will talk about Tru for years to come.

But on to Saturday, and breakfast. We took it in the hotel's restaurant, and it was a buffet, and it was awful. We took cabs to Navy Pier, which is now an extensive playground with amusement park rides and restaurants and parks, and took a boat tour down the Chicago River to see the architecture.


The guide knew her stuff, it was a beautiful day, and the sights were magnificent.


The residents of Chicawgolandt still suffer, as they did when I was in medical school, from a bad case of penis envy.



They boast about having Buckingham Fountain, "the world's largest outdoor fountain," the world's tallest building, the world's tallest free-standing concrete building, the world's biggest structural steel building. It's a city in need of either Viagra or psychoanalysis. On from there to the Art Institute. I love their room of French Impressionists. We saw some humorous trompe d'oeuil photographs, looked at an exhibit of the rejuvenation of Bilbao, went to the gift shop, where I bought Renoir's "The Rowers' Lunch," in a gold frame, for $3.29. A bite to eat in a bakery, a few minutes rest in our room, and we were off for a drive north on Lake Shore Drive and Sheridan Road, up to Winnetka, to see the mansions, the lakefront, and the Ba'hai Temple. We returned to the hotel via the Northwest Expressway, and saw the horror of Chicago's expressway traffic, even on a Saturday afternoon. Back to the room for a rest, and then on to Kiki's Bistro, where we had good, simple French Bistro food at fair prices.
Sunday, we had a wonderful room service breakfast, checked out, and drove to the South Side. We went down to South Shore to see the first apartment we lived in. The building and neighborhood were the same, but it had changed from white to black. We toured Wright's Robie House near the University of Chicago and drove around Hyde Park.


We ended up for lunch on a patio at Medici on 55th Street and had delicious pizza and salads.
We drove out to Midway on side streets and saw the worst of Chicago, poverty and unswept streets. Hey, Mayor Daley, remember us?


There was only one thing wrong with this perfect weekend of good flights, good seats on the plane, fabulous hotel and food, smooth car rental, and the total cost next to nothing. The problem: nothing for Farklempt to write a complaint letter about.