CINNCINATICINCINATTI CINCINNATI
MAY 29-31, 2003
FRIDAY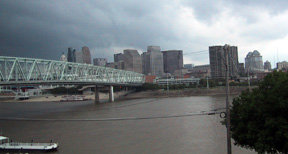 Carol had a meeting in Cincinnati of the Network for Research in Jewish Education, or as it is known among the aficionadi of acronymia (NFRIJE). She is outgoing Chairman. They are a democratic organization and do not have a President. Instead, they are modeled along the lines of Communist China, and Carol is known as Chairman Carol. Her Little Red Sefer is due out any day now.
We got cheap non-stop flights on Delta, but it turned out to be a commuter plane that landed in an area at the end of the tarmac. You get off the plane and get on the bus, which takes you to the automatic subway, which takes you three stops to the central terminal and baggage claim. We rented a car and drove directly to the outskirts of town to the Marriott Hotel located near the University of Cincinnati and the Medical Center.
We both worked in the room for the rest of the day, me on nursing home reports and Carol on her paper for the conference, Anna Grossman Sherman: Simply a Hebrew teacher or a source for innumerable scholarly papers to see if she was simply a Hebrew teacher?
In the evening, we drove downtown to La Maisonette, reputedly one of America's greatest restaurants. You note that I said "reputedly," so you know that we are not heading for the 5 stars that AAA has bestowed upon this restaurant for the past 39 years. It's in the heart of downtown Cincinnati, which lacks the magnetism and vibrancy of cities like Chicago, San Antonio, or even, dare I say it, Providence. Valet parking is $7.00 (ripoff), but you can park on the street just about anywhere. The decor is rather like the old Camille's, or that overwrought place we used to go with Tom and Bess in Miami Beach with curved banquettes covered in brocade. Sort of romantic, in a Christopher Walken kind of way. Service is overwrought, as well. There is a wine captain, a legion of eager young men in cutaways--the waiters, busboys in white serving jackets, and a short young woman who intrudes on your dinner every 5 minutes to inquire in a squeaky voice (like the bellcap in the old Philip Morris commercials), "Is everything to your satisfaction?"
The wine list was scandalously overpriced. We ended up with a bottle of St. Supery Sauvignon Blanc for $34. We began with an "amuse-boosh," as our Kentucky-bred waiter called it, of basil infused goat cheese (it was a hideous bright green, like the Chicago River on March 17) feuilleté (pronounced "foo-tay," like a mysterious appetitizer or sexual position in Chinatown), with what sounded like "raccoon." I asked if this was indeed the case, and he laughed loudly, "Raccoon? No-- raid cree-yum," by which he meant red cream.
Three little loaves of bread were brought--a ciabatta, a baguette, and a seeded roll, along with a supergros European unsalted butter. These were good. As an appetizer, I had two soft-shelled crabs, which are in season, now. They were $13 each. They were prepared in a very rich, thick sauce, along the lines of Russ and Daughters' mushroom-barley soup. But the sauce was much more appropriate for a wiener schitzel than for a light and delicate crab. Carol had a three course dinner and began with a Caesar salad, prepared à table, that was a little heavy on the dressing. As a main course, I had a "symphonie" of 4 appetizers: a tiny portion of lobster salad on a little mound of fine greens and hazelnut vinaigrette that was delicious; a chopped crab salad served in a thin delicate pastry that was very good; a tiny tab of cold foie gras en gélée with a thin slice of baked potato with aged balsamic that was divine, and a tiny blini with crème fraîche and ossetra (the lowest grade) caviar. Carol had a very thick piece of Chilean seabass with a light tomato sauce that was, at the center, cold and undercooked. Carol stomped on my foot every time the little Philip Morris girl came by our table to ask sweetly, "Is everything to your satisfaction?" You can imagine the responses that I had to suppress. For dessert, which came with Carol's meal, we had a course of excellent cheeses: Taleggio, Ewe's blue from England, a semi-soft Spanish cheese, and a delicious brie-like French cheese. My espresso was lukewarm. Petit-fours were OK. I think the problem here is that the chef that put this place on the map for the past decade opened up his own place, Jean-Pierre at Pigall, and La Maisonette never recovered. They may get 5 stars from AAA, but from Farklempt, they get but two.