COSTA RICA—JANUARY 2000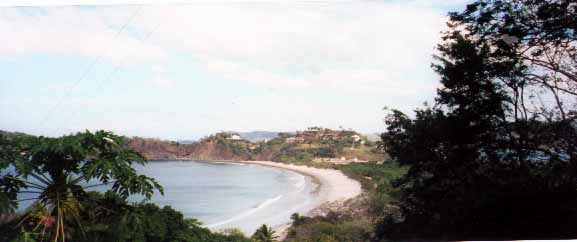 We had signed up through GWV tours to go to an Italian resort in Anguilla, but the Hurricane hit Anguilla dead on and "Ciao, Italia." So we arranged to go to the Hotel Aurola Flamingo in the Guanacaste region of Costa Rica.
Twice before we have lucked out, going to places before the hordes of developers, condos, hotels, and casinos ruined a beautiful primeval hideaway. Guanacaste is such a place, a region of Costa Rica that is mostly hilly cattle country, not lush, but with miles of gorgeous untouched beaches. There are rain forests and active volcanoes elsewhere in Costa Rica, where most of the tourists go, but we never got there. The signs of Coldwell Banker and Century 21 are starting to sprout, but it's still uncrowded and untouched. Costa Rica is a small country, but the roads are the worst I've ever seen—worse than the Sinai desert—and driving twenty miles can take you two hours. We had made arrangements to rent a car for a week—a Nissan Sentra—and were not comforted when we spoke by phone the night before we left with Steven Rothenberg, who had been twice to Costa Rica. "Oh, yeah," he chortled, "I took the gas tank off a Sentra once in the Monteverde Rain Forest."
We awoke at 5 AM for the flight from Logan on Allegro Airlines. My heart skips a beat whenever I fly an airline I have never heard of. But it was a nice flight, with two meals (such as meals on airlines are these days), and free drinks (featured drink was tequila, canned orange juice, and Sprite). It was a long flight and we had to stop in Cancun for fuel. The airport at Liberia (not San José, the capital) is one runway and a thatched palapa for a terminal.
There is one plane per week. By the time we secured our rental car, the sun was going down, and we headed out on the Rothenberg turnpike, a little worried at the prospect of driving at night. Such roads! Potholes a foot deep come upon you without warning. We seemed to be in the only 2WD car in Costa Rica. Suddenly, what looms before us but a 40-year old rickety bus spewing blue smoke from its exhaust, used by the locals, bright red, with the inscription on the back: "VIKING TOURS, NEWPORT RI." As we drove we noticed that there was no really terrible poverty, although there is subsistence farming, and the people are very sweet and friendly. We pulled into our hotel, which was empty. 120 rooms, and only 29 filled. It was like this across the country. Americans had heeded the state department warnings and were staying home. How nice for us. We had dinner at the finest restaurant we have ever eaten in, two miles down the road in Brasilito, the largest town in the area (about 500 people). El Camaron Dorado (the golden shrimp) is right on the beach...no, in the beach—your table and chairs are in the sand. The gentle surf rolls in, the air is so clear that every tiny star is visible overhead. We had the plata cansado (married man's plate), of grilled dolphin (mahi-mahi), gallo pinto (black beans and rice), vegetables, and salad—all exquisitely fresh, and all for $6. The wine was a nice Chilean Sauvignon Blanc, and dessert was a sautéed banana.
Tuesday morning, we had one of several nice breakfasts at Marie's Restaurant, across the street from our hotel. Eggs, tortilla, gallo pinto, all for $3. Good coffee in Costa Rica. We spent the day on a drive to Guatil and San Vincente,
the two towns where pottery is made by hand.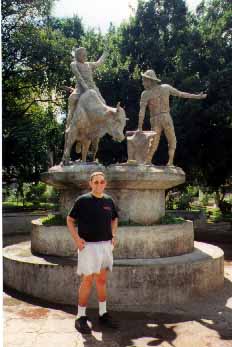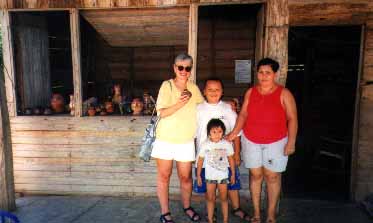 The towns are tiny, the pottery simple but lovely, and so cheap that you are embarrassed to bargain for it. On the road (oi! Such roads!) we saw Brahma bulls (ugly white beasts that make you want to become a vegetarian) driven along by sabaneros (cowboys of the Savannah), ancient oxcarts,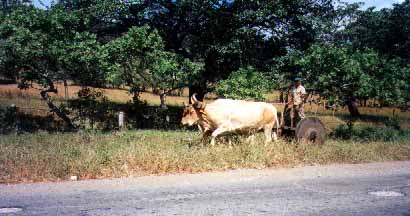 wild Howler monkeys,
and adorable children.
We ended up for a late lunch at Playa Tamarindo, which was a bit honky-tonk for us. Dinner that night at El Caracol, which was empty except for four vaqueros sitting in the middle of the room, drinking beer and watching TV. The owner-chef had some experience working on cruise ships, so he was very proud of his shish kebab and his mahi-mahi en papillotte (fish and vegetables baked in aluminum foil which was folded upright into the shape of a fish), both of which he presented with great flourish. Good and cheap.
Wednesday, we swam on the beach. Our beach seemed to us to be the loveliest of all, but every one of them, and there are scores of them, is secluded, clean, and empty. The water is warm and clear, the surf just right. We drove to Playa Grande to see about a turtle watch. There are sanctuaries for huge leatherback turtles which lay their eggs at this time of year. They come out of the water at midnight, with the high tide, go into a kind of daze, and trudge up the beach to lay their eggs in the sand. You pay money to watch. Fuggedaboudit. We drove down a horrid road, with gaping potholes, no electric or telephone wires, no houses, no animals, to reach Playa Conchal, but we had to turn around at one point for fear of getting mired in sand. We found another route to the beach. We had a drink (happy hour: 2 pina coladas for $3) at the clubhouse of Melia Playa Conchal,
a luxury resort with a Robert Trent Jones golf course. Green fees are $90 with a cart and $60 after 3 PM. A one-week package from GWV is $900/person—flight and room. Food is expensive, but you can join us for dinner in Brasilito. Dinner at Marie's: Casado and wine for $6.
Thursday, we drove up the coast to various beaches and lunch at the beautiful Hotel Playa Pan Azucar (Sugar Beach Hotel).
More beaches, sat at the pool, read, watched a gorgeous sunset on the beach. The sunsets are so spectacular that the natives come down to the beach with their en famille to watch the day end
. Dinner at Soda Coco. In Brasilito, there is a village square, a field bordered by painted car tires standing on end. Soda Coca is on the square, with rickety tables, gracious service, and wonderful food. We were the only Yanquis. Pargo entero (a whole red snapper grilled), fresh, moist, delicious, with gallo pinto, vegetables, and salad—$3. In the square, a Pentecostal Evangelist held forth from his van with loudspeakers, attracting a small crowd. Every once in a while he would look over in our direction, warning, "Joo are going to hell!!"
Friday morning, yogurt and fruit and granola at Marie's. We spent the day sailing on a 52-foot cutter-rigged sloop (did you get that, Alan Brier?). The captain was an aging (late 30's) California surfer who shuttles boats back and forth to California. We stoppedto snorkel—nothing great. There were only nine people, he let us steer,
nobody got drunk, and we had a lovely day, watching another spectacular sunset as we returned to port, with porpoises plunging in and out of the water right beside us, playing. More casado at Marie's for dinner.
Saturday, breakfast at Marie's, and a drive to the Northern beaches, with lunch at the spectacular Hotel Ocotal, perched high on an isolated cliff. An Italian dinner at Il Forno, not bad, and cheap.
Sunday, breakfast at Marie's very early. Then out in sea kayaks. We saw some of the fantastic villas up in the hills near our hotel—Julia Roberts and Sylvester Stallone have discovered the place—but a wind came up, and we (or at least I) was so exhausted that we could not make headway into the wind at all. So we stopped at one of the beach of one of the villas, and they sent out a truck to bring us back. We hung around the pool and beach, read some more, had lunch at Soda Coco. They made up some guacamole (they use cooked egg whites with avocado) and chips (baked tortillas) for us, watched our last sunset, and returned to the Camaron Dorado, where a marimba player held forth. While his Parkinson's Disease helped to provide a nice vibrato, his strabismus and diplopia resulted in quite a few wrong notes. People danced the chicken dance. Still, it was romantic. A think crescent of moon was just on the horizon, but there was so little pollution and ambient light that you could make out the entire ball of the moon as a dark gray shadow. Carol had Casado de pescado, and I asked if the steak was from the local Brahma cattle. The waiter told me that it was. I took a chance...and had one of the best steaks of my life.
Dinner for two with wine and tip came to $24.
The flight home was delayed and lengthy. We cleared customs and picked up our car and were home at 3 AM.
We are coming back.