FLORIDA-FEBRUARY 2001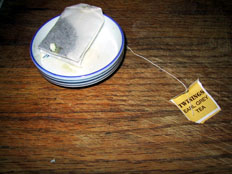 Wednesday morning, we left for Florida to visit Bess. It was a long flight--I should say flights (one change of plane and three stops), but the price was right ($118 round trip on Southwest), so I can't complain. We stopped at Bess's. The electric gate to the condo is being replaced, so Joe Sausage stands on his balcony, looking like Mussolini, guarding the palace. He yelled down to us, "What floor? Who are you here to see?"
We went out to an early dinner at The Gourmet Diner on Biscayne Boulevard at 139th. This is one of our favorite places. It's a real diner, but with a great French chef. The atmosphere is casual, the service good, the prices are low, and the food is wonderful. We salad of divine yellow tomatoes with fennel and baked goat cheese. The entrees were shrimp scampi, sea bass, and veal kidneys (guess who--I love the pungent musky taste of urea). They were accompanied by a broccoli souffle and basmati rice. The wine was a wonderful Muga Rioja Riserva 1996. Coffee was not good.
We dropped Bess off and proceeded to the Fontainbleau (yes, that is the correct spelling), where we had two free nights reserved, after a Letter from Farklempt last year. This time, they really tried. We checked in at the Assistant Manager's Desk, and he recognized us by name before we could say anything. He gave us our room keys, and we went up to our room on the executive floor, which looked like a Vegas hotel. It was a huge room, with two double beds, and a balcony overlooking the ocean.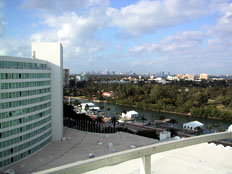 ..
On the bureau was a ribboned gift basket from the manager, which included a box of Godiva chocolates, a bottle of Courvoisier, some salmon pate, crackers, chips, bottled water, Bailey's Irish Cream, etc. So, what's to complain? Well, in the bathroom, I noticed that one side of the towel rack was coming off the wall. I took a picture. Carol says, "Don't be a hazzer." I say, "As long as the cow gives milk, keep milking."
Thursday, we went to the South Beach Wolfie's for breakfast. It looks just like the Rascal House in North Miami Beach, but this place has seen better times. The bread basket contained four unremarkable rolls. I had the whitefish appetizer, which was actually quite good, not salty, with excellent tomato and cream cheese. Carol had Rice Krispies (she is on Weight Watchers--3 points). Then on to the Wolfsonian Museum, named for its patron, a Miami macher when the machen was good. It is small, a bit bigger than the Phillips in Washington, but with the same intimacy and serenity. They have a superb standing collection of modern art and design. We saw two major collections, one of 20th century German poster art, quite frightening,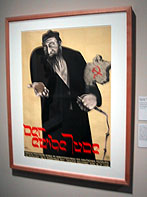 Der ewige Jude (the eternal Jew)
and one of the Czech graphic designer and political commentator, Karel Teige.
Hitler & Goebbels
We drove up to Big Irv's and bought 8 grapefruit for $1.00 splurged on some bigger ones at 3 for $1.00. We went to Bess's. She was in the pool, doing laps.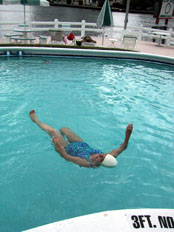 She has trimmed down, and looks good. She is slipping, though, because she was unable to beat Carol at Scrabble, and they tied.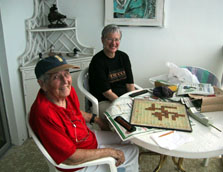 Thursday evening, we went up to Fort Lauderdale to Cafe Samba, a Cuban restaurant. It was filled with young people, Latin music blaring, everyone shouting. Bess could not hear a thing, even though we ate outside. It was fun, though to watch the valet parkers in uniforms of white shirts and chino Bermuda shorts, run to open the doors of all the Bimmers, Lexi, and Mercedes, their blue headlights glaring. We split two salads of watercress, jicama, hearts of palm, onions, which Carol thought was delicious, and I thought tasted and looked like it was in need of weed killer. Carol had a tapas of rare tuna, which she said was ok, and I had grilled marlin, nestled atop a bed of poblano mashed potatoes which were an attractive shade of gray, along with a fruit salsa. It was a nice piece of fish, fresh and flavorful, but it was dry and overcooked. Bess had a delicious bowl of black bean soup. The wine was an inexpensive Argentinian Malbec, which was potable, but not great. For dessert, we shared a flan with orange-cinnamon sauce. Coffee was good.
Friday morning, we checked out of the Fontainbleau, where our welcome had run out, and went to Little Havana in search of desayuno. We found a busy place called Don Pan, a bakery with tables. We shared a small pan guava-cheso, caldado en micro-ondas . It was fair. The coffee was lousy. Then, we tried to check in at the Clarion in Hollywood for our last two nights, but our room was not ready. Neither were the rooms of the entire Rollins College baseball team, who were very sweaty. Clarion will get a letter. We went to Bess's and hung out. At the pool, I discussed the latest events in Jersey with Joe Sausage, Paulie Walnuts, Sil, and Doc, while Carol trounced Bess at Scrabble.
For dinner, we went to Martha's, one of our oldest haunts here. Martha's is...or I should say was...owned by Gus Boulis, who also owned a chain of Miami Sub Shops, as well as Giorgio's Ristorante, as well as Giorgio's Bakery, as well as Gusto's Restaurants, as well as the Sun Cruz casino cruise boat. Unfortunately, earlier this week, Gus's car was surrounded on the highway by two other cars, who filled it, along with Gus's body, with a great deal of lead. Gus was laid to rest at the Greek Orthodox Church in West Hollywood today. I guess we understand now why Tom always got a good table at Martha's--they thought he was Greek. Now, Gus's death had nothing to do with the death last week of a man in Pompano Beach, who had a bucket of sulphuric acid dumped on his head. Meanwhile, Joe Sausage says nothing and enjoys a big cigar.
Anyway, at Martha's, we all split a delicious Caesar salad, and Carol and Bess split a pistachio-encrusted grouper that was fabulous. I ordered my annual quota of cold Florida stone crabs, the world's greatest dish. Ordinarily, Martha's carries only extra-large claws, but tonight, in memory of Gus, they had jumbo and even colossal. I ordered the jumbo, for if I had ordered the colossal, I would have brought on a colossal wave of nausea to Bess when they brought the bill. We had glasses of American chardonnay.
After we dropped off Bess, we tried to go to see "Hannibal," at the Avventura 24, twenty-four different movies in a humungous mall. It was sold out, and the mall was packed with people. A horrible torture, a contrapasso for someone worthy of Dante.
Saturday morning, Carol and I went to Wolfie Cohen's Rascal House in North Miami Beach. It is cheaper, and better in every way than Wolfie's in Miami Beach. We had a basket of rolls, including onion bialys and caraway-salt horns, a plate of baby muffins, and a plate heaped with cheese and prune mini-danish--all complimentary. I had the whitefish appetizer, juicier than Wolfie's (although Barney Greengrass still reigns supreme), and less money. Carol had a poached egg on whole wheat toast with tomato. Her virtue will be rewarded at the next Weight Watchers meeting. Coffee was wonderful.
Our waitress, Deborah, who together with her sister, Cindi, has worked there for ten years, gave us the lowdown on the history of Wolfie's, a paradigm for the ravages carried out by the corporate wing in America over the past twenty years. Once, Wolfie Cohen owned them all, in addition to Pumpernik's and the Epicure. It was a family business, where each member of the family ran a different branch, and everybody knew the names of all the help, and what family problems and joys you were going through. They always cared about the individual customer and employee. Wolfie, as he got older, sold off some of the business, but the Rascal House was his favorite, his baby. Wolfie had two children, a son, an artist in Paris, and a daughter, an actress in Hollywood, "I don't know what she made, except that she was the daughter in Death Wish I with Charles Bronson...you know, the daughter that gets raped?" Anyway, these two decide that they are going to come back and run the business. But what do they know about running a deli? So, when the business started to go bad, since they owned 51% of the stock, they decided to sell out to Jerry's Deli, a chain in Las Angeles. "Now, it's all corporate, and we go computer. The older employees, they don't know from computers, so they all have to quit. Now, they don't know your name, you're just a number. It's really sad." Deborah talked to us for about 10 minutes. I left her the biggest tip of my life. Yeah, I know, Larry, to you it's peanuts, but for me, it was a big tip. We brought two bags of rolls and pastries back to Bess for her freezer.
Saturday afternoon, we drove up to Boynton Beach to meet Evie. She was thrilled to see us. Can you hear Evie's voice, saying, "Oooh, I'm soooo thrillllllled to see you!!"?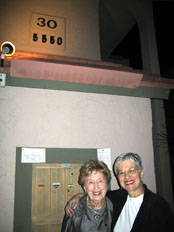 ..
We went to an Italian place on the beach in Del Ray, Luna Rosa. It was OK. Afterward, we went to the movies (only 16 movies at the Boca mall) to see "Kippur," a new Israeli film by Amos Gitai, who is on the political left in Israel. We chose the film because it had subtitles for Bess. It's about a helicopter rescue and med-evac crew during the Yom Kippur War in 1973. The film begins with a splash of bright color, with one of the central characters, an artist, making love to his girlfriend, as they smear paint all over each other. Quickly, he ends up on the Golan Heights and in Syria, bogged down in mud, artillery exploding, tanks all over the place. They carry out the wounded for almost two hours of filming, and there isn't much variation to it. All the color is gone. Everything is a dull cloudy mixture of brown, green, and gray, rather like the color of the Israeli army uniform. There is a great deal of gore, realistic gore. Men fall apart physically and emotionally. It's rather like Private Ryan, in that sense. And it's like "All Quiet on the Western Front," in terms of its monotony, useless loss of life, and powerful antiwar sentiments. For those who are interested in a film about Israel, and who want to hear battlefield Hebrew and poetic Hebrew, Four Farklempt Stars. For those who don't understand Hebrew or who are not emotionally attached to Israel, only two. We dropped Evie off and then Bess, and ended up at Ginger Bay Café on Hollywood Boulevard, near the Circle. This is a West Indian-owned and operated place, designed with a very clever and funky decor, with absolutely delicious food. we had parmesan encrusted swordfish, conch chowder, and the best jerk chicken wings I've ever had. They are not afraid to make things spicy when it's called for. If you sit on the sidewalk, it's quiet. Lots of different wines by the glass, which is good, because by the bottle, it is overpriced. Highly recommended for Bess and all those who visit her. There is valet parking.
The flight home left at 7 AM from Fort Lauderdale, but it was non-stop, unusual for Southwest. Our GMC Jimmy was waiting for us with the motor running at the Thrifty Car Rental parking, where we always park. We are using the Jimmy as a loaner while the BMW is being repaired at the body shop. The car parkers forgot that the alarm on the car is kind of quirky, and sometimes locks the doors automatically, even when the motor is running and the key is in the ignition. By the time they were able to jimmy open the door on the Jimmy, we had read the entire Providence Sunday Journal, so they waived the parking fees, which were considerable. We get our old car back tomorrow.
We were sorry to have missed Sara Kaplan's going away celebration, which took place while we were gone in Brookline. She is going to an assisted living facility near Atlanta, where Ellen and Morty live, so there was a gathering in her honor in her apartment in Brookline. We called her today to send best wishes.