BESS GOES TO FLORIDA
NOVEMBER 2001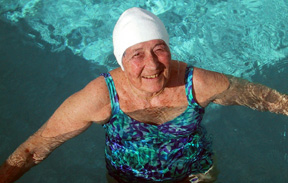 It was our first flight since September 11. Delta canceled three flights on which we were booked, but Southwest bailed us out. Carol could not fly, as her vitreous floater was still careening off her retina. No need to worry, but wouldn't be prudent to fly...wouldn't be prudent.
Bess spent the preceding week packing and worrying, worrying and packing. Gilda, an angel of mercy, drove in at the beginning of the week to help with the final packing. We went out for dinner at Café Nuovo, still Providence's best restaurant, I think. I had a superb roasted rib-eye of veal.
We had Thanksgiving on Wednesday night. The Kaunfers joined us.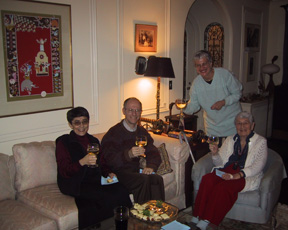 It was sad to see Marcia swilling down a fine Roederer Brut, and tearing ravenously at the flesh of the turkey with her fingers. The ghost of her ancestor, Rabbi Yom Tov Lipman Heller frowned in perturbation.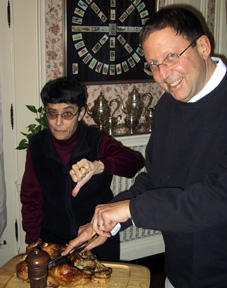 Thursday morning, Carol drove Bess and me to the airport. She crammed everything into two suitcases and an insulated food bag. And what was in the insulated food bag, you ask? Don't ask. All right, I'll tell you. A few cashews wrapped in Saran Wrap, a couple of ounces of instant coffee in a plastic container, remnants of a chocolate bar, a banana. Staff and residents called out their goodbyes as we left. They do seem to love her there. It must be those outrageously high tips she leaves for Christmas.
At the airport, there was lots of security. At the metal detector, you had to show your ID. But you showed them to the same refugees from McDonalds and Burger King who are the first line of air defense for our nation. Soldiers were everywhere, armed with pistols and assault rifles.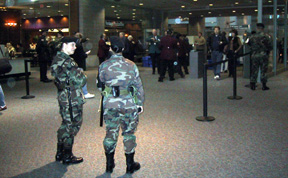 When I took this picture, two women soldiers with assault rifles confronted me and said it was forbidden to take pictures of the security area (just like the USSR in the old days!) They demanded that I hand over the film. I gave them the camera, but they couldn't figure out what to do with a digital camera that doesn't use film. They called a sergeant over, and he scratched his head, as well. "You have to promise to erase the picture when you get home, OK?" I promised and pledged allegiance. It wasn't scary, but rather an uncomfortable reminder of the new world we live in here. We had to show ID again at the gate. And Bess was triggered by the computer for a total search. She sat in her wheelchair while a Southwest security agent, a cut above the rest, went over her with a metal detector and searched her handbag. I guess she fit the profile of a terrorist.
We preboarded and got the front seats. The flight to Islip was full, but on to Fort Lauderdale, it was half empty--very unusual for a Southwest flight to Florida. It was a pleasant flight, enhanced by the turkey sandwiches Carol had packed for us. We arrived twenty minutes early and went to pick up our Thrifty rental car. This was the eighth consecutive free rental from Thrifty for Farklempt. We ended up with a three-rowed Dodge Caravan, which they were kind enough to deliver to the gate for us, to accommodate Bess's difficulty in walking.
We arrived at Golden Bay Towers, where Joe Sausage and his boys had installed a massive white wrought iron electric gate, fit for Tony Soprano.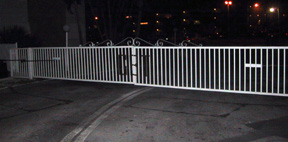 I tried for 45 minutes to get the Web TV going, to no avail. We tried to find a place for dinner, but it was Thanksgiving, and most places were closed. We went to Wolfie's, but there was a line. We stumbled on an Italian place in a strip mall, Trattoria Toscana--small, quiet (in fact, no one was there but us when we entered), with the Italian owners hanging around at tables on the sidewalk. It turned out to be a find. We each had pasta, one with mushrooms, and the other with chicken, sundried tomatoes, and goat cheese, both superb and cheap. I asked the owner if the chef could make vitello tonnato, and he said he could, with a few hours notice. We'll go at Christmas. Anyplace that can make vitello tonnato is a find.
I drove to the Clarion Hotel, now the Ambassador, where Farklempt had earned a complimentary stay with a letter last winter. They changed the name, but it's still the same shithole.
Friday morning, I stopped at Sage's and brought back bagels, lox, and chive cheese. Excellent. The WebTV finally kicked in. The man from the "I've Fallen And I Can't Get Up!" Alarm Company came with the transmitter and wristwatch. Her two most important lifelines. Melissa arrived. She is a friend of Joy's from Barbados--bright, pleasant, hard-working, a lovely person. She helped Bess put away all her clothes, as well as the spices and liquor that had been wrapped up in plastic bags over the winter while the condo was fumigated. It must have been some fumigant, because the wallpaper was coming off the walls. I went out shopping. Bess had spent the night before in bed, reading the local newspaper, and had written her shopping list based on the specials this week at Publix and Big Irv's. I shopped accordingly, but threw in some Dr. Brown's Diet Black Cherry Soda, and some 2001 Beaujolais Nouveau. I also bought a dozen TV dinners, so that she doesn't have to eat stale bagels and cheese with the mold scraped off for supper. She was upset that I wasted the money on TV dinners, but calmed down when she saw that I got them on special, and most of them cost only a dollar each.
We had leftovers for lunch and went down to the pool. She really does enjoy the swimming. Joe Sausage wasn't there, but Sil and Paulie Walnuts and Doc were there. I noticed that on the walls of the social room, there are photo montages of all the residents. Joe Sausage is in the middle of each picture. It still is a nice building, small in size, but right on the waterway. There is a new elevator to replace the one that Marjorie broke last year.
Melissa did a great job. Everything was unpacked and in its place. Only Bess's "papers" (about 20 lbs. worth) that filled an entire small suitcase remained to be put away. Of course, they will not be properly put away until April, when it's time to come back to Providence. Melissa took Bess down to the pool for a swim. She does love the water.

..
Afterward, she took a nap.

We went out for dinner at the Gourmet Diner on Biscayne Boulevard at 138th Street. This is the best restaurant in all of Greater Miami and Fort Lauderdale. The chef is Haitian, trained for 17 years by the previous owner, a Belgian. It is a true art deco diner, with booths and banquettes. It is quiet. It is cheap. It has a fabulous menu, with a regular menu that includes lamb kidneys, lamb shank, all kinds of veal and lamb parts, and there is a blackboard full of wonderful specials. Bess had the trout meunier, and I had an appetizer of stone crabs (the best I've had anywhere) and cuisses de grenouilles (frogs' legs from the Everglades (really!) sautéed in butter and garlic). No, they don't "taste lahk cheekenn." They taste like frogs' legs. A glass of pinot grigio. A superb way to close out the weekend.

No, wait. On Saturday, I woke up early, so I went to Wolfie's Rascal House for breakfast--eggs, lox, and onions. I took the 15 tiny rolls, muffins, and rugelach they give you home for Carol, and got half a brisket sandwich for the plane. Sure beats the beef jerky and processed cheese they give you on Southwest.