FLORIDA
WEDNESDAY, DECEMBER 26
HAPPY BIRTHDAY, ANDY!
We slept late and I went out to shop for breakfast--bagels, scallion cheese, nova, and whitefish from Sage's (first class deli), tomatoes, grapefruit (7 for a dollar), milk and coffee at Big Irv's. We had breakfast at the motel and went out for a walk on the boardwalk. Josie just loves to go out in the stroller. She cooed and smiled all the way.
I rented a bike for the week and had a good ride up and back to Dania pier. We returned to the motel and watched some TV with Josie. She loves Sesame Street and really reacts to it.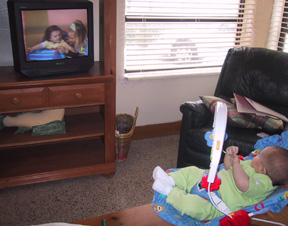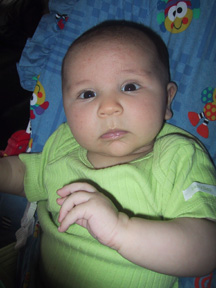 ..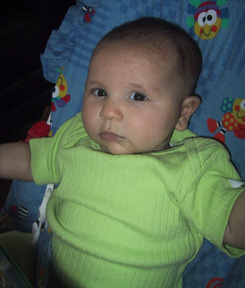 ..
Then we went out for some serious shopping for snack food, and booze. We met back at Bess's and hung out. Andy, Carol and Bess got into a vicious game of Scrabble. Andy turns out to be a killer player and beat the pants off the two whizzes. Bess came in second.
In the evening, we went out to the Gourmet Diner, still the finest restaurant in South Florida. The staff were very helpful to our large party. Josie has always been great in restaurants. The food was sublime--mushroom & squid salad; grilled asparagus, red and yellow tomatoes with bufalo mozzarella; grilled portabella; Caesar salad; celery root salad; stone crabs; tenderloin tips; sautéed corvino; sea bass; curried shrimp; pasta; a Clos du Bois Zinfandel and a Sancerre; dame blanche; chocolate cake; and a fresh fruit tart presented with a candle and singing waiters in honor of Andy's birthday.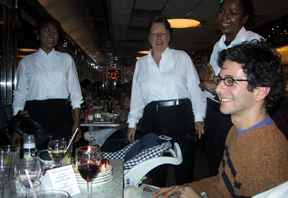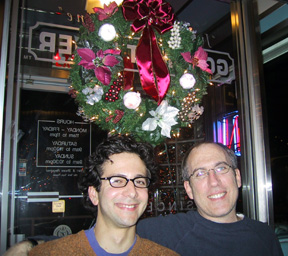 ..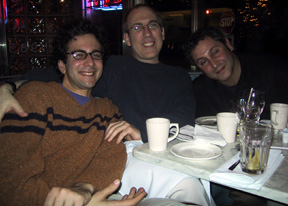 The kids went out to the movies, we dropped Bess off, and took Josie home to babysit for her. She went right to sleep. What a wonderful evening!