FLORIDA & CARIBBEAN CRUISE--JANUARY 1999
Friday, New Year's Day: Although he was up reveling all through the night on New Year's Eve, Alan Brier was kind enough to drive us to the airport. At Fort Lauderdale airport, we rented a car and drove to the Miami airport to pick up Jonathan and Marjorie. We haven't seen them since they both cut their hair (a combined loss of 15 lbs.). They look wonderful. Then back up to Hollywood to the Shore View Hotel, where we once again took rooms right on the beach. The suites have been redone, so it is nicer than ever, and still the same bargain rates. We picked up Bess, who looks great again after recovering from small (actually quite large, she told us) intestinal problems, and went to Martha's for an early dinner. Marjorie had some excellent rare tuna, Carol had wonderful pistachio-encrusted grouper, Jonathan had cioppino that was overcooked, and I had stone crabs that were small and not that good. The wines were wonderful--a 1993 Alsatian Pinot Blanc still good and a 1996 Tavel Rose. We got a long night's sleep.
Saturday, January 2: We drove to Big Irv's and picked up 14 grapefruit for $2 and some bananas. Then to Schwartz and Heimer's for great bagels, superb Nova, chive cheese, sable, whitefish, and whitefish salad--all for breakfast at Bess's. We hung around for the day. Bess, Jonathan, and Carol played Scrabble. Once again this 88-year old mother of mine beat not one, but two geniuses, albeit by one point. For dinner, we went to La Paloma. It's always the same--scary elderly women with eight facelifts, skin so taut that they
have a perpetual ghoulish smile, tall helmet-heads of sprayed, conditioned, blowdried hair, dyed brown, black, or Lucy-red. Ornate rococo semicircular booths, with ornate statues of faux-French lovers who never embrace. A chanteuse at the piano bar who sings off-key, scooping into the notes, but never quite reaching the right pitch, wearing a black fur winter hat, with tons of makeup, who dashes to the powder room every once and a while for a snort of white powder. Plain, unadorned classic continental cuisine (the chef is Swiss), but each dish splendid. Jonathan and I had jumbo stone crabs that were as good as it gets. Carol had brook trout amandine that was wonderful, Bess had scampi, and Marjorie had smoked trout with horseradish, Caesar salad, and creamed spinach. We had some Taittinger Carneros Brut Champagne that was quite good. For dessert, some fabulous strudel and an ordinary cherry cheesecake. Excellent service from some very funny waiters.
Sunday, January 3: We packed up the car and picked up Bess and her friend, Ruth, to go to Wolfie's Rascal House for Breakfast. Ruth is 92, and had just finished her latest TV commercial for Harley-Davidson. Wolfie's has the best breakfast in Miami--some say the world. Basket after basket of fresh onion rolls, pumpernickel onion rolls, pumpernickel onion bread, seeded rye bread, cheese Danish,

prune Danish,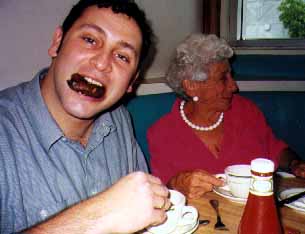 salt sticks,
two kinds of coffeecake.
It's a shame you can't have the rolls with coffee and ask for the check.
Bess had a poached egg, Ruth had oatmeal, Marjorie had a Munchee cheese egg white omelet, Carol had pickled lox with onions, I had Nova, eggs, and onions,
Jonathan had corned beef hash with a poached egg on top and a bowlful of half sour pickles. It was good. We dropped Bess and Ruth off at their condo and drove down Collins Avenue to the ship. The Norwegian Wind was big to begin with when it was the M/V Windward, but it was stretched recently (the way they extend those white limos). The check-in line was a bit longer this year, but our rooms were wonderful. Both have queen-size beds and sofas. Ours has its own private balcony and refrigerator. We explored the ship, signed up for the shore excursions we wanted, and went to lunch, which was only fair. Then the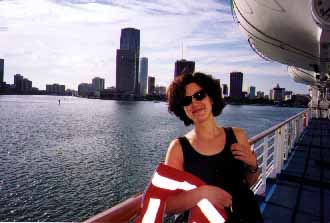 obligatory lifeboat drill.
We returned to our room and sipped the complimentary bottle of Champagne and canapes that were in our room. We held evening services, as it was my father's Yahrzeit. A bit of rest, and on to dinner. Our busboy is Indonesian, so he and Marjorie and Jonathan chatted in Indonesian and shared experiences. Dinner was quite good, and the service is superb. We have our own table, right on the water. The wines are strangely priced. Some are very reasonable. We had a Rioja Gran Riserva 1989 for $27.00. After dinner, a comedian named Fred Klett in the nightclub, who had a couple of good lines, but for the most part bombed. We passed on the midnight buffet and hit the sack, leaving the glass door to the balcony open to hear the sea passing beneath the ship, which is as steady as a rock so far.
Monday, January 4: Did I say steady as a rock? The seas have kicked up. Unlike Norway, which was built for transatlantic crossings prow and streamlined hull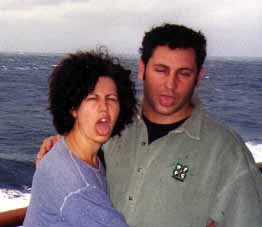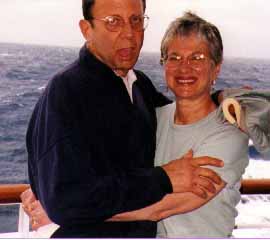 and designed like a battleship with pointed tall and fat, this boat is designed for carrying the maximum number of passengers in comfort, and rolls like an upside-down bathtub. Carol and I staggered down the hall, weaving like drunks, to exercise class. Carol did stretch exercises, and I did weight machines and a bicycle, looking out to a rolling sea full of whitecaps and large swells. I went to breakfast and sat with the owner of the country's largest lumber yard and his choir director wife, from Shawnee, Oklahoma. I ate mostly Norwegian salmon, which was fabulous. I returned to the cabin to lie down, and get very, very seasick. Nothing like a quarter of a pound of partially digested smoked salmon coming up in waves. They gave out packets of Meclazine at the reception desk, and Carol brought me some. The pill, together with a hearty lunch of salad, vegetable soup, and smoked turkey really worked. We went to the art auction, where a rather knowledgeable auctioneer announced: "Here is a very lovely Semiakin gouache, assessed value $15,000. Opening bid is $300. Do I hear $300? It's already framed. The framing costs more than that. Do I hear $300? $300 dollars. $300 dollars, looking for $320. Do I hear $320? $300 once, $300 twice, sold for $300, and you, sir, have the bargain of the day." Then, on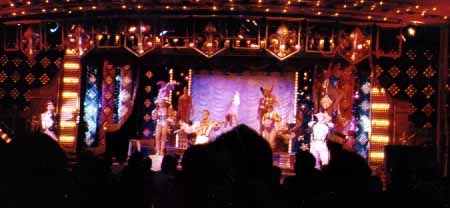 to the casino (it's too cold and cloudy to spend any time outside), where Carol and I fritted away $5 in quarters for an hour, and returned to our room, leaving Jonathan, who had been green and miserable with seasickness in the morning, happy and green, winning at the blackjack table. Dinner was good; the food is better than on the Norway. Afterward, "Broadway Legends" in the nightclub, featuring leggy singers and dancers, fully-capped leading men, lots of vibrato. They paid tribute to everyone: Oscar, Jerry, Cole, Lenny, Stephen. There was a featured adage couple. Adage is what they call the art form of a shirtless muscular man in white tights and pigtail smiling to the strains of "Cabaret" until he lifts a fat-free woman sparsely wrapped in white duct tape, holding her over his head in his right hand by the crotch, at which point his face becomes contorted with a mixture of agony and terror, while she continues to smile radiantly.
Tuesday, January 5: The storm has intensified. There are 12-foot swells and rain lashed by 60 mph winds that keep the ship listing constantly to port by about 10 degrees. It's hard to move about. Everyone is stoned on Meclazine. They cancel today's stop in the Grand Cayman because it is too dangerous to transfer people to tenders to go ashore. We go to the gift shops and buy a T-shirt. You can't walk outside on the starboard side of the ship because you'll be blown off. We are heading straight for Cozumel, where they have cancelled tomorrow's snorkeling activities, as well. At least none of us is seasick. We have all developed a broad-based Frankensteinian
gait
that enables us to keep our balance. We go to exercise class, then swing class, then bingo (I can't believe it--we're in the Caribbean, puking and playing bingo). We play in a Family Feud game. We are one of the opening families. We are soundly trounced because stupid Dad, who has never seen the original TV show doesn't know he is supposed to ring the bell. Still, we receive nice consolation prizes. Then some reading, then lunch, then a nap. Because we are in a VIP status, what with our suite and our second-year status, we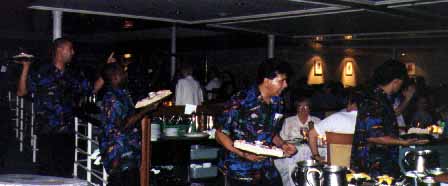 are invited to the Captain's stateroom for hors d'oeuvres and cocktails. Then dinner. Then a great comedian, John Ferrantino, who is big and humorous and self-deprecating. His schtick is doing magic that doesn't work.
Wednesday, January 6: We wake in Cozumel. Better we should have stayed at sea. Our snorkeling excursion has been cancelled. We take a taxi tour to some ruins, which are made out of hollow plastic. The taxi drivers rips us off and leaves us at Chunkanab, where we have snorkeled before. The place is a haven for tourists, and the coral is picked clean. A few nice fish. We ride back to town. I can't make the telephones work to pick up messages. There is no duty-free liquor. The taxi driver rips us off on the return trip to the boat. Champagne in the room to unwind. Dinner. And an announcement from the Captain that we cannot go to Cancun tomorrow (we cheer), and instead we will stay in Cozumel for another day (we groan). In the evening, we go to the nightclub to hear "George M." A very energetic cast leaves us unmoved. We proceed to dinner at Le Bistro, the small upscale dining room, where the food is a bit better
than the main dining rooms, but the service is troisieme class.
Thursday, January 7: As it turns out, it's not so bad. Marjorie and Jonathan are able to ferry across to the mainland at Playa del Carmen

and then take a tour bus to the Mayan ruins at Tulum. These are the real thing, and quite beautiful. Carol and I take a snorkel boat out to a reef.
The seas have calmed a bit, and there is lots of live coral of all types, and a myriad of different fish. A few breadcrumbs in the water, and there is a feeding frenzy all around you. Then we move on to a sandbar, where there are hundreds of huge starfish, about fifteen inches across. There are sand dollars and conch shells you can dive down for. We return to the ship and spend the afternoon reading in the sun on deck. As we set sail, we watch a perfect sunset from our private balcony, sipping wine and munching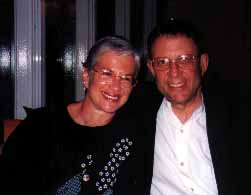 on the hors d'oeuvres that they bring to our cabin at the end of every day. We go to the nightclub to hear "Electrifying Elvie Rose," but she does not turn us on and we leave to play poker. Dinner. Blackjack. To bed.
Friday, January 8: Exercise class. I go to the weight room and ride the bicycle, Carol goes to stretch class, Marjorie goes to aerobics. It is amazing to watch her working out--she is a real jock, endurance, strength, coordination and grace. A quiet morning reading on deck. Lunch. We went to the art auction and Marjorie bought a painting at the opening bid. She lifted her eyebrow, and no one dared to bid against her. She got a small Chemyakin, impertinent and insouciant, with influences of Seurat's pointillism and Daumier's sharp caricatures. Then drinks in the room as the sun set.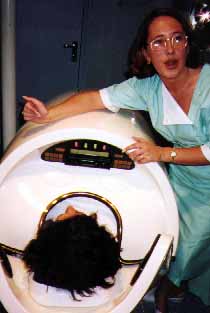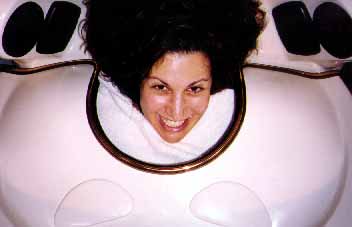 Jonathan got a massage, but Marjorie could not. She asked if any of the massage oils were made with almond extract or other nut oils, since she has a fatal allergy to them. The English girl answered, "Oh, no, dearie. Awl owah products are strictly natural in origin." Marjorie, now aware that the girl's IQ was less than that of the entire Royal Family, asked to see the manager. He checked the labels on the bottles and everything was made with almond extract. We went to Friday evening services. Carol had Yahrzeit for her father. The ship had provided candles and candlesticks, two bottles of Manischewitz (also good for sacrament on Sunday morning) and hamburger rolls for challah. A pre-dinner show of "Sealegs Goes Circus." There really weren't any circus shows, but there was a former Olympic gymnast who did tricks on hanging rings and parallel bars and tumbling, as well. After dinner, we played poker one last time.
Saturday, January 9: We arrive early at Little Stirrup Cay, a tiny island in the Bahamas owned by Norwegian Cruise Lines. We go
ashore by tender.The ship, it turns out, is only 3/4 full, since many passengers were delayed in the midwest by the big snowstorm and never made it to Miami. Some of them were flown to Grand Cayman, but we never stopped there. Most of them simply went home. So the beach isn't as crowded as it was last year. Now, it's more like Second Beach on a Saturday instead of Coney Island on a Sunday. Still, it's a lovely beach with crystal clear Caribbean water, no surf, and decent snorkeling. We go sea kayaking. There is a barbecue lunch. Carol and Marjorie each have a BahamaMamaSlamma, consisting of rum, pineapple juice, cranberry juice, more rum, grenadine--all in a souvenir beach cup. We return to the ship, enjoy the sunset from our balcony, have dinner, bestow tips on everyone and his brother, pack, and go to sleep.
Sunday, January 10: Disembarkation is relatively painless. We rent a car and drive up to Bess's condo. Andy has arrived yesterday and spent the evening on Grandma's sofa. He has a stiff neck today, but looks great. Bess and Andy were joined for dinner last night at Mundi's by Ruth, who pronounced Andy "a living doll." He was quite taken with her, as well, as she regaled him with stories of her V-8 commercials. On the way up, we stopped at Sage's to pick up deli for lunch, and at Big Irv's for another 14 grapefruit. We had lunch, and hung around the condo with Bess. There is a big brouhaha at the condo. An election is coming up for President of the Condo Commandos, and the major issue is whether or not to fire Claude. Claude is the Quebecois maintenance man at the condo. Claude is what we call in Yiddish "prost," or what the Quebecois call "un piece de merde." He has a hot temper (a few years ago I thought he was going to deck me during an argument over my bicycle) and a foul mouth. He accommodates only those who give him a big tip at Christmas. Last week, when Lollie (Tom's daughter) and her family were down, Claude yelled at Lollie's grandson to "shut the fuckin' door." You don't want to get Lollie mad. The leader of the opposition to Claude is Gus Tarantino. Gus is connected, if you know what I mean. Bess says he is very nice, but he too has a hot temper, and he and Claude have nearly come to blows several times. A 3 X 5 card on the bulletin board near the elevator announces that Joseph Cinque, who is running for President, wishes to be listed on the ballot as Joseph "Sausage" Cinque. It seems that Joseph, also owns an Italian sausage factory up North. Joe himself emulates his last name in his avoirdupois. He weighs in at 500 lbs. and must take the freight elevator to his apartment. The Jews, now led by Lollie, are against Claude. The Italians, led by Gus and Joe, are against Claude. The Quebecois are against Claude, because he is not a credit to their race. It seem to me that, as they say in Riviere du Loup, "Claude dort parmi les poissons." Or else, he will end up as a piece of Mortadella in Joe's factory in Newark. Sunday afternoon we go to the Bass Art Museum in Miami for an exhibit by Liza Lou.
She is an avant garde young woman who makes lifesize kitchens and backyards out of beaded glass. It takes years to complete a work. She was there to discuss her work, sitting on the picnic bench in her backyard. Her goal is to make ordinary things beautiful, I think. Her backyard is composed of 40 million glass beads. Sunday evening we went out for dinner at Wish, a new vegetarian restaurant that just opened in South Beach, found for us by Mr. Cutting Edge, Andy. It was fabulous food. All week long we have been eating high cholesterol, high salt. Here the vegetables were fresh, prepared in creative and brilliant combinations. Corn bisque with glass noodles, Spring rolls, Portabella mushrooms layered with sweet potato, snapper with bok choy, and artichoke risotto. For dessert sorbets of pineapple champagne and chocolate, and napoleons of thin meringue, lemon curd, raspberries and whipped cream. Good coffee. The wines were a Trimbach Pinot Blanc and a Ravenswood Lodi Vineyard Zinfandel, the latter particularly outstanding.
Monday, January 11: Jonathan left at 5:00 AM for the Miami airport.
The rest of us had a lousy breakfast, cold and greasy, but cheap, outside at the Hollywood Beach Hotel. Marjorie, Andy, and I rented clunker bikes and rode in a State Park into a fierce 30 mph wind. The ride back was nice. I restrained myself from buying on the Boardwalk a Harley-Davidson black tanktop on the back of which was written: "IF YOU CAN READ THIS...THE BITCH FELL OFF." We went to Bess's for leftover lunch. Bess defeated Carol and Andy at Scrabble.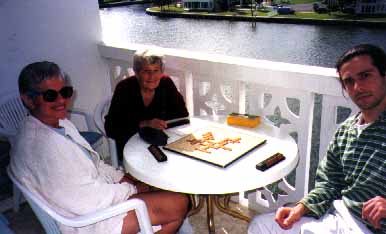 We picked up e-mail, returned some phone calls, and drove down to Lincoln Road in Miami Beach to Pacific Time Next Door. Pacific Time is perhaps the premiere fusion restaurant in South Florida. They just opened up a little cafe next door, which is intimate and friendly, with less bustle than the main big brassy bistro. The chef tries out more adventurous things here before he lets them loose in the main restaurant. What a great dinner we had! Several of us had the $30 Hanoi special: a cocktail (Andy and I had Ketel One martinis with lemongrass, and Bess had Jack Daniels on the rocks), vegetarian spring rolls or chicken soup with lemongrass, curry of grouper, two fabulous sorbets--lemon and passion fruit. Bess had Hanoi beef, Marjorie and Andy had filet of snapper with a good green sauce. Andy had a moist almond cake and Marjorie had wonderful rice pudding with mango on top. We had three fancy teas in pots: Soulong, Himalayan, and Lemongrass. Best teas I ever had. Then home to pack up.
Tuesday, January 12: Home. What a wonderful vacation. There were some rocky moments (literally), but being together with family is what it is all about.