MARJORIE'S BABY SHOWER
NEW YORK CITY
SEPTEMBER 8, 2001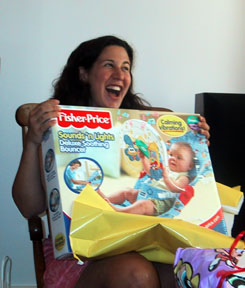 This page has been created jointly by Farklempt and Mrs. Farklempt, because it was "girls only" for the shower to celebrate the advent of Esmerelda. (Note from Carol:I am not Mrs. Farklempt, not even Ms. Farklempt, not by any stretch of the imagination.)
Let me begin on Friday night, at home, where Carol prepared for Shabbes dinner an osso buco that would have made Mario Batali eat his heart out. It was one of her greatest creations--veal shanks in gremolata. So, the little calf was in a tight space for a while...it was worth it.
On Saturday morning, we drove to New York, arriving at Marjorie and Jonathan's apartment around noon. Marjorie's friend, Mikki Halpin, had set the wheels in motion and coordinated the event. Carol joined Mikki in decorated everything in pink--pink diaper pins, nipples, crepe paper, baby carriage bunting. It was a girlie thing which made no sense to me. I will leave the telling of it to Carol. (Mikki has had endless experience doing this sort of thing: Christmas-tree decorating, Halloween parties--you name it. The hostess-with-the mostest had every intention of adding to the festivities with games like bobbing for nipples and pin-the-poopy on the diaper, but time was at a premium.)

..

(Neal made a very astute observation: Feminism goes out the window at these times, when all the Gloria Steinem groupies get giddy over pink.)
..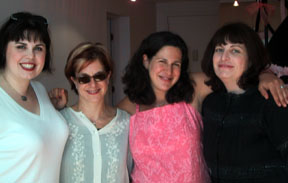 The pregnant ladies : Jessica, Adrienne, Judith, Marjorie Wendy, Lynn, Marjorie, and Mikki
..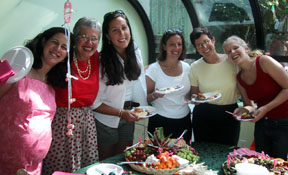 Mom-to-be and Grandmothers-to-be Ingall relatives: Marjorie (blood), Carol (not blood), Marissa, Michal, Gilda, and Stefi.
We noticed that, mirabile dictu, we were the first to get to the food....Can you imagine that? And what was the menu, you might ask, you Farklempt foodies? There was the traditional baba ganoush and hummus, foods served at showers from the time of Gluckel of Hameln. Then there were brimming cheese and fruit platters, enough grilled veggies to serve an army of vegans, a divine punch, oaky, grassy, with just a taste of cherry, and of course, cupcakes for dessert.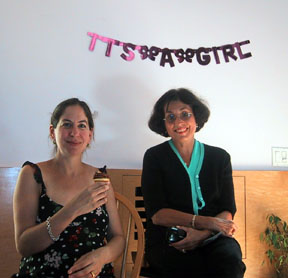 ..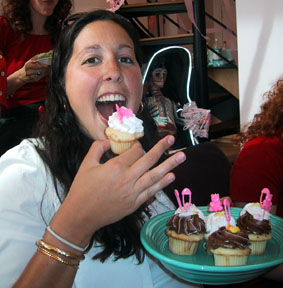 Adrienne and Betsy Marissa, the Queen's Royal Taster, checks out the cupcakes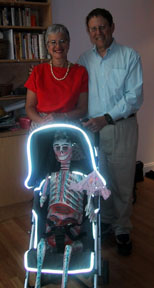 Carol and Michael (aka Bobie and Zaydie) take the Day of the Dead sculpture out for a stroll in the MacLaren Techno stroller they purchased for an obscene sum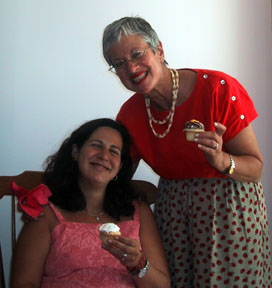 ..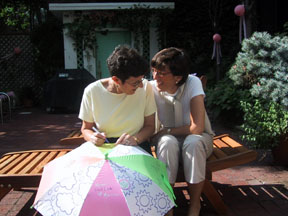 Those Ingall women like their sweets Two sweet Ingall women like the party favor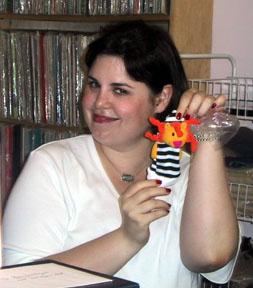 ..
Wendy makes obscene remarks about alternative ue cute foot-finders Betsy brought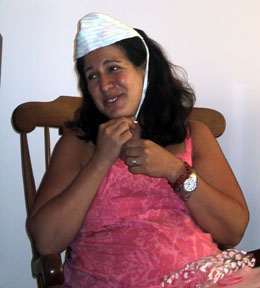 Marjorie tries on a baby bonnet that Gilda knitted.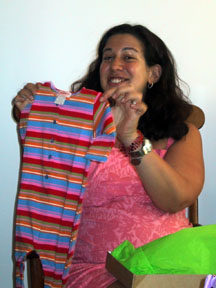 ..

Ooh: Baby onesies! Lynn scares Marjorie half to death with visions of adolescence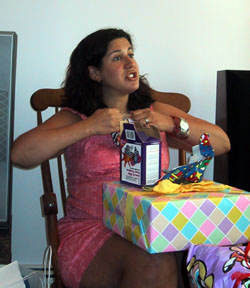 ..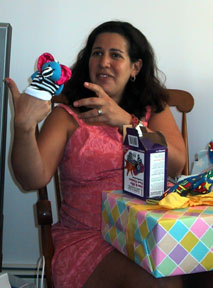 Marjorie tearing open her goodies and finding an adorable elephant footsie
..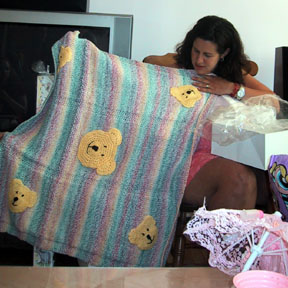 I like this! I need this! Betsy's hand-knitted blankie
All our children have such a wonderful circle of friends. This afternoon was attended by some of the funniest, most verbal women I've ever met!
Jonathan, Jordan and I (Farklempt is back now) left to go to Peter Luger's for lunch. We ate meat (tenderloin for three) and toasted (with a fine '99 Ridge Lytton Springs Zinfandel) the advent of a female child who would one day add more hunters and warriors to our clan. This we understood. Peter Luger's, just across the Williamsburg Bridge, five minutes from their apartment, is said to have the best steak in New York, some say the world. It is in a rundown neighborhood, with a slovenly Slovenian doorman. Inside, an autographed picture of Johnny Carson proclaims, "I had the best meal of life at Peter Luger's." Inside it's drab, rather like Jake Wirth's in Boston, a no-nonsense man's place. The waiters are European and enjoy banter with an edge of hostility. You can have steak or steak. It's a huge tenderloin T-bone, which is, I think, bathed in butter. You get a huge baked potato with sour cream. Dean Ornish eats here on Yom Kippur. It's very expensive. The steak is good, very good, but is it the best steak I ever ate in my life? It is not. Where, you ask, is it better? At Sparks Steak House in Manhattan, at The Capital Grille, at Morton's, at The Florentine Grille, at 22 Bowen in Newport, and at my house, when I grill a rib steak outside.

..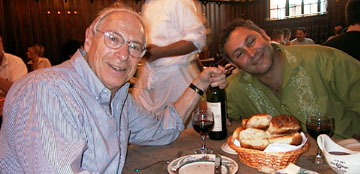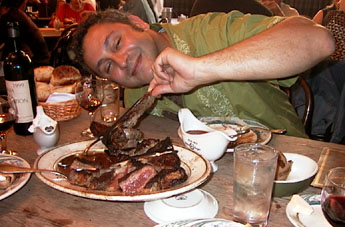 After the shower, Andy and Neal came by, and we went out to eat at I Coppi on East 9th Street. It's a cute little Tuscan place with food that was just like what we had in Tuscany and Umbria, hearty, interesting, but not great. They did have better bread than anywhere in Italy. We had Bellinis (Prosecco with puréed peaches). Good farro grain salad, tuna carpaccio with arugula, grilled bronzini (the rare mediterranean fish that is now served in every restaurant that wants to be avant-garde), roasted potatos, spinach, wild striped bass. Andy and Neal went to Selichot in the West Village and we went to bed.
Sunday morning, we went to Barney Greengrass, around the corner from the hovel, and had the whitefish appetizer for two.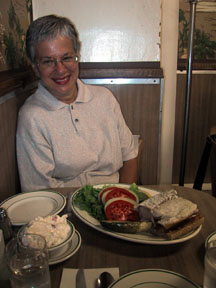 There, we had a celebrity sighting: Sandra Bernhard, having breakfast with her daughter and a friend. We left together, and I asked her for a photo. She was really pleasant, no different from any Upper West Side Jewish mother. I told her how I loved her in The King of Comedy. We wished each other a Shana Tova.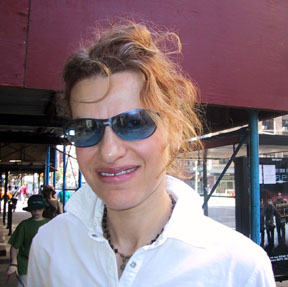 We drove up to the Seminary to put up a few things and do some fixing in Carol's new office. Gilda and Sam met us there with some packages for Daniella, and we had an easy drive home.