ROYAL HIDEAWAY
PLAYA DEL CARMEN
QUINTANA ROO, MEXICO
MONDAY, JANUARY 14
We had a great night's sleep and went to breakfast in Ventanas, where there was elegant service once more. Great poached eggs. Carol had an omelette of huitacoche, squash blossoms and cream cheese. The waiter explained that huitacoche were mushrooms, but when Carol puzzled over their taste, texture, and black color, I told her they were periwinkles. She wouldn't eat any more, despite my assurances that I was just joking. [They were mushrooms.]
I took out a single speed beach cruiser and did about 10 miles on the quiet palm-lined road that goes past the string of resorts and the golf course that form the Mayan Riviera.
The explosion of growth here is not to be believed, a far cry from the tiny and simple Posada de Capitan Lafitte, where we stayed 15 years ago. This has become the number one vacation destination in the world. And they are mostly Europeans, not Americans. The hotels are built like giant palapas, and some of them are huge, but there is a three-story limit on construction, and there is no sense of crowding. I toured the lobbies of the various hotels, and it did seem that our hotel was the most elegant of all. Local people and tour guides told us the same thing.
I returned to the hotel and met Carol on the beach, where she had arranged for a couple of chaises and a cabana to cover them. The water is crystal clear, brilliant turquoise, and just right in temperature. It is hot, in the low 80's, but not too hot. Our beach is smaller than those of the other hotels, for our hotel is the smallest. It is rather like a boutique hotel.
A few vendors stroll by, but they keep moving and maintain a distance. One young man approached us and, in wonderful English, asked us about ourselves, where we were from, and what we were interested in doing. We showed each other pictures of his boy and our granddaugher. I told him, "All we really like to do on vacation is visit timeshares and take the free gifts."
"How did you know?", Luis asked. He then promised us a bottle of Kahlua, a bottle of tequila, two free t-shirts, and a hammock--or, a free roundtrip tour of Cozumel. In addition, he said, we could henceforth stay at the Royal Hideaway and places like it for $2100/week for two, no strings attached. To my astonishment, Carol, quite taken with Luis, told him we wanted to do it. "I love you," he told us, and we strolled next door to the Allegro Playacar Resort.
..
This place is huge, not as classy as the Royal Hideaway, rather like Club Antigua, another all-inclusive where we had stayed several years before. We spent the next hour and a half over drinks and lunch with Tammy, a Greek girl from Cleveland, who moved here and married a restaurant manager like her father. She was lots of fun and didn't seem to care a bit that we weren't interested in buying. This was confirmed when she mentioned at last that the bond that would last us for the next 100 years would cost only $30,000. They were out of Kahlua, so we took 4 t-shirts instead.
We returned to our cabana, read, watched the waves, and met some lovely young newlyweds from Dallas who had just come in. Some vendors came by and I bought 6 big Havana Cohibas from one at $5 each. They seemed real and fresh. Inside our hotel, in the cigar room, they sell them for $45 each. Now, how am I going to get them through customs?
We returned to the room at sunset for a jacuzzi and shower, and went on to Club Royale, the hotel's supper club for dinner and the show together with Shea and Trent.
..
The supper club resembled the show room on a cruise ship, but was smaller, with lovely banquettes and spacious tables. Dinner was just so-so, except for a cauliflower-broccoli bisque that was delicious. For dessert, flaming baked alaska, brought in by synchronized waiters to dimmed lights and Gregorian chant.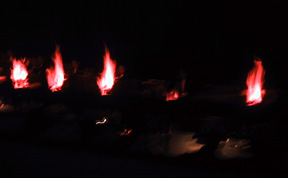 The show itself was really bad. How bad was it? The counselors' show at Camp Alton was far better. Marjorie's grade school play of The Wizard of Oz was far, far better. Clumsy dancers, poorly choreographed in a meaningless series of dances, wearing irridescent costumes that glow under underviolet light.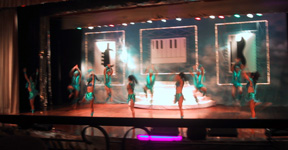 We left early, checked our e-mail in the library, and went to bed.