BETTE MIDLER:
DIRTY GIRL IN A BATHHOUSE
NEW YORK CITY
OCTOBER 24, 2002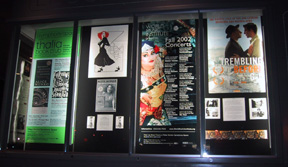 I drove down to New York from Newport on Thursday, and phoned ahead to Abate's for a pizza. It was sizzling hot when I arrived--the usual mushrooms, spinach, and onion. It was the best pizza ever in New Haven. I took the remainder in the car, picked up Carol at the Seminary, and we drove down for an hour's fix with Josie. I think I need a 12-step program for Josie, for I have all the features of an addict. I think about her all the time, the image of her is frequently before my eyes, I dream about playing with her, and I have a craving to be with her. She reads, she says so many words, she's almost talking. She understands what you say. She is funny.
The main reason for coming in, though, was to see Andy do his Bette Midler presentation, this time as a fundraiser at Symphony Space on Broadway, at the Leonard Nimoy Thalia Theatre. I remember going to the Thalia with Carol in the 60's, when she was at Barnard. You could sit and smoke cigarettes and watch cool movies by Fellini, Visconti, Godard, with all the other literati of the Upper West Side. Since it was an art theatre, they didn't have to clean it after each show, and climbing into your seat was an adventure in sound, smell, and mush. Now it's been redone with elegance and simplicity, and the washrooms are so clean, you could drink out of the urinals.
Andy has taken his show about Bette Midler, derived from his Viva La Diva presentation, around the country to Gay and Jewish film festivals, where it has received enthusiastic receptions. This one was called BETTE MIDLER: DIRTY GIRL IN A BATHHOUSE. Bette began her career in the gay bathhouse at the Ansonia Hotel, and Andy showed rare videos of her campy energetic performances there, that were wildly given and received. There were film clips of her famous appearance at the UJA telethon, during which she offered to drop her dress for the first pledge of $5,000 to "IS-RA-EL," from an early outrageous independent film in which she plays the Virgin Mary who is impregnated by an angel, and from her HBO Specials, in which she tells raunchy Sophie Tucker jokes. The presentation was co-sponsored by the Bette Midler Fan Club, who packed the place with fans. These people are dyed-in-the-wool fanatics, with more fervor than Al Qaeda or Satmer Hasidim. I am going to get letters now, telling me that the above is not the official Bette Midler Fan Club. It's like Famous Original Ray's Pizza in New York. They knew every word of each Bette routine, and mimicked her gestures, and mouthed her words from their seats. It was like The Rocky Horror Picture Show at midnight on Saturday. Andy wove the clips together skillfully, interspersing them with insightful comments. It was an evening of camp, with a combination of outrageous low-class humor, uplifting moral leadership, and brilliant intellectual perspective. Sometimes you are so proud of your children.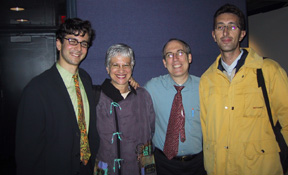 Afterwards, we went out to dinner nearby at Celeste, on Amsterdam Avenue. We were joined by Andrea, Andy & Neal's friend, a teacher in Milano, and Harry and Alana Knaster, friends from Monterey, California. We had a wonderful dinner in a small, cozy, warm, friendly, casual, low-priced neighborhood retaurant, with utterly superb Italian food, and a great Italian wine list. We shared so many great dishes, and such good wine from Sardinia and Sicily. And such a good time with each other.