NEW YORK CITY
MAY 2002
It had been a month, and I needed a Josie fix, so we drove in on Saturday morning of Memorial Day Weekend. The roads were quite light, and it was a short and easy trip. We dropped off all the video and audiotapes that our family had made over the past 35 years--the childrens' first words, their high school plays, our TV appearances, audition tapes--at Marjorie and Jonathan's apartment. The Steinway looks perfect in the loft over their living room, and it plays more beautifully than ever. Andy and Neal came over to paint their huppah poles in gold, and we all went out for lunch at a neighborhood place. Josie looked great in a strawberry hat we brought from England.
..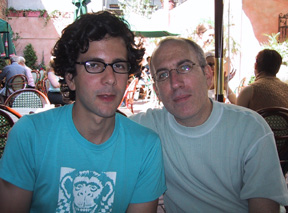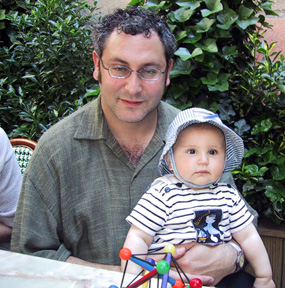 ..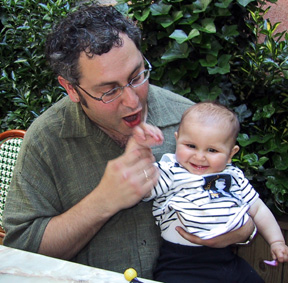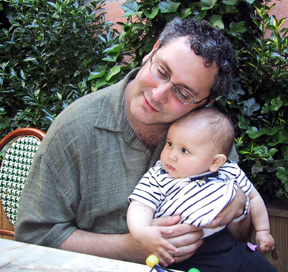 ..
On the way back to the apartment, we stopped at the neighborhood swings.
..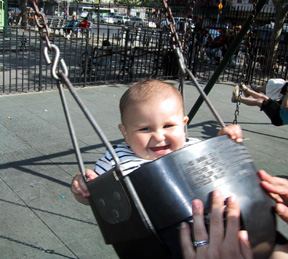 Jonathan, in preparation for Friday night's barbecue dinner next weekend, pressure washed the garden furniture, deriving great phallic satisfaction from doing so.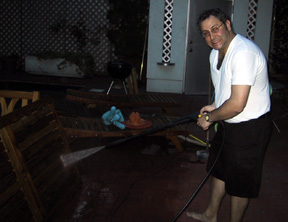 Josie ate supper. She loves her spoon and is quite dexterous with it. She loves all kinds of food, but she insists on feeding herself.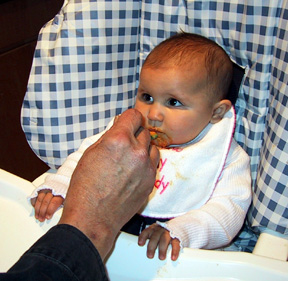 ..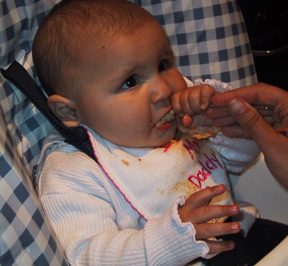 She went to bed, and Jonathan and Marjorie went out to a late movie. Unfortunately, or should I say fortunately, Josie woke up, and we played for a good while. It was late when the kids got back, so we slept over. In the morning, we played with Josie some more.
..
..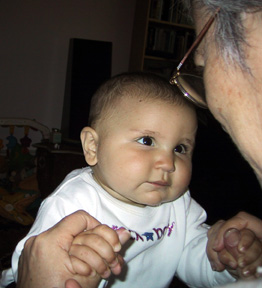 ..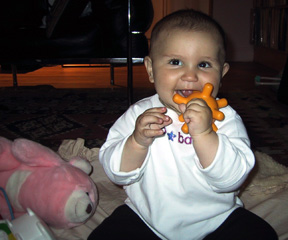 We went out to Russ and Daughters around the corner to buy a feast for brunch: the best nova in the world, the best whitefish in the world, pickled lox with cream sauce, chive cheese, tofu chive cheese, eggplant, whitefish salad, Kossar's bialys, H & H bagels, and a pletzl. What's a pletzl, you ask? It's a large pizza-shaped bialy that is egg-brushed and covered in onion and poppy seeds. Russ's wasn't crowded, and Josie charmed the scales off every whitefish in the store. Neal and Andy came by to join us.
..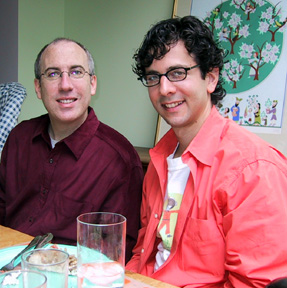 We stopped by JTS on the way home and brought up the last six cases of books from home for Carol's office there. Home is looking rather bare and empty now, which makes it easier to leave.
Driving home, we continued our quest for the best pizza in New Haven. Modern Apizza's line was continually busy--this bodes well for future explorations--so we settled on Abate's Pizza, which is next door to Pepe's on Wooster Street. Our order was ready when we got there, and they let us eat it on their verandah, along with a bottle of old-fashioned local Foxon lemon & lime soda. It was a small mushroom-spinach pizza. The mushrooms were fresh and sautéed first, the best we've had in New Haven, and the spinach was passable, even though it might have been canned. The sauce was first-rate...nay, delicious. The crust was not quite up to Pepe's, a tad thicker and not as chewy. So far, the ranking is:
1. Pepe's
2. Abate's
3. Sally's