NEW YORK CITY
AUGUST 23-35, 2002
WEDDING OF DAVID HOFFMAN & MONIQUE MOORE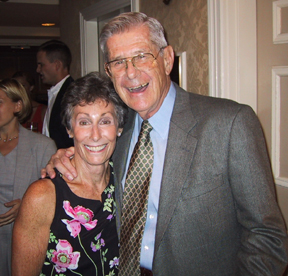 We were planning to leave late in the morning on Friday, so as to catch a small pizza in New Haven at Pepe's. It's always one of the best parts of any trip to into the city. But work went on bit too long, there was an emergency or a phone call too many, and we were too late. We picked up a sandwich at Bread and Circus instead and finished off an excellent bottle of Coturri cabernet with paper cups on the road. There was an astonishing lack of traffic and we zipped right into the hovel, down the West Side Highway.
Our primary reason for going was the wedding of David Hoffman and Monique Moore. We joined them for a "small" Friday night family dinner at the Intercontinental Hotel, a small and elegant boutique hotel on Central Park South. There were superb hors d'oeuvres, including some excellent sushi, with a wonderful bar. It was good to see the family again--all the Ingall-Hoffman family and Trudy.
..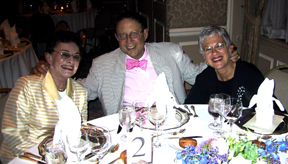 Dinner was excellent, as well, with great salmon and very good wine.The evening was punctuated by various speakers, friends and family, who toasted and roasted the bride and groom.
Bob Hoffman..
Lewis Ingall
The level of intoxication slowly increased throughout the evening, until the last speaker, who somehow managed to remain vertical, if not on topic, until he was swept away with cheers and applause. At this point, everyone was ready to have me sing, but I was tired, so we returned to the hovel.