NEW YORK CITY
OCTOBER 24-25, 2003
SATURDAY
We left Saturday morning on the train. We almost never drive now, with the station right across the street, and the trains pretty much on time now. It's sad, though, that there are no more Letters from Farklempt nor refunds. We arrived at Penn Station, took our stuff by cab up to the hovel, and went right on to the Spanish & Portuguese Synagogue, Temple Shearith Israel. Adam Scheer, our nephew was being honored as Hatan B'reshit at his shul. In a place where honor and status is paramount, and top hats are the order of the day, his honor was a very great one. A luncheon was given in his honor, and we were honored to be invited. It was an honorable day.
As it turned out, the other major honor, Hatan Torah, was given, for the second time in 25 years, to Felix Roth, brother of my cousin Edith Ingall, who died years ago. It was good to see him and his wife, Fortuna, once more.
We arrived late, just in time for the last robust chords of the all-male choir. This is a grand traditional synagogue, bimah in the middle, to which the old refrain applies:
See the zaydes saying their prayers,
Rolling their eyes at the bubbes upstairs.
Just kidding, Adam. Bubbes and zaydes exist only among the voozvoozim (Ashkenazim).
After services, we went down to lunch, which was Sephardic style--surprisingly good, with nicely cooked salmon with a lovely sauce. Adam and Felix addressed the gathering. Felix spoke of the turmoil at being separated from his parents with Edith, and fleeing, as children, from country to country, finally ending up at Ellis Island from Casablanca. We were all very moved to hear him speak, in his quiet and humble way, of the triumph of the spirit over the forces of evil. Adam spoke with great fervor about his hopes and ideas for a rejuvenation of the synagogue through day school education. It was a brilliant and compelling talk. Change comes slowly at this shul. Fortuna, during her speech 25 years ago, when Felix was first honored, called for female representation on the board, and was booed during her talk. Michal also spoke in a gracious and articulate manner. They made a wonderful Spanish-Portuguese couple, he in his cutaway and top hat, and she in her demure below-the-knee suit and hat. I wanted to wear my big black Borsalino, but Miss Finger said it was "mocking." The one time in the year when that hat is appropriate, and she won't let me wear it!
After lunch, we went down to the East Village to visit. Josie is a real person now. A beautiful girl, with hair, who sparkles in an unending and spectacular fusillade of fireworks You can talk with her for hours. She likes to make tea for you with her pink gingham quilted tea set, "Would you like Earl Grey?" "Want a cupcake?" "Strawberry pie?" "There you go!" She loved the felt hanging with pockets and little animals, two by two, to stuff into them, portraying Noah's Ark, as well as the book to go with it that we brought for her.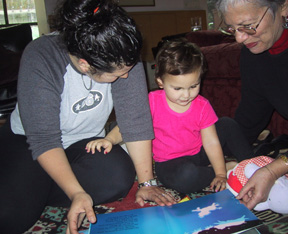 ..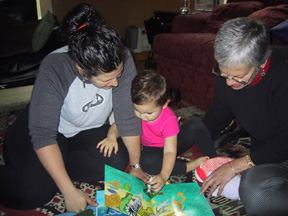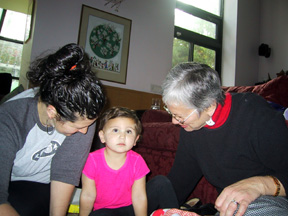 Most of all, she loves doing the hokey-pokey to the music on the CD.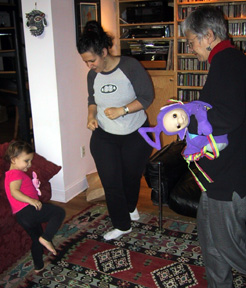 She is handling her separation anxiety a lot better now. There were just two minutes of histrionic screaming, "Mommy! Mommy!" as Marjorie and Jonathan left for the evening. Then she resumed play with us and with her "guys."
..
She was still bursting with energy at 9:30 PM, and we were all having so much fun ("So fun!!"), but we finally put her to bed.