Sunday morning we joined the Steuer Ingalls at
Veselka
, one of New York's great restaurants. Delicious Ukranian food, cheap. There's always a line outside, but we got in quickly. I had fabulous pierogi with sour cream. Jonathan had Chmelnitzki's Revenge--the pogrom he never finished--kielbasa, with two fried eggs on pancakes. Thank God his numbers were good. Josie discovered jam and butter in the little packets, and ate several of them.
..
..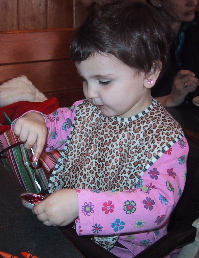 On the way to the opera, we stopped at the
2nd Avenue Deli
(the best in NYC, and kosher) to get some sandwiches to eat on the train. While we were making up our minds, the counterman offered us a
schmeer
of chopped liver on a piece of rye bread. He assured us that there was only a "modicum" of salt, but that it was mainly chicken fat. Thank God my numbers are good. Sold. We got one sandwich of roast beef and chopped liver to share.
We stopped by Neal and Andy's to see Neal (Andy was having a hula lesson--my King Kameamea), but we hadn't seen Neal in a long time. Neal has created an Iranian Jewish festival, while Andy has been asked to put together a video exhibit of Jews in the diaspora for a museum in Israel. It was good to see him.
The opera was wonderful--
Mourning Becomes Electra,
originally written by Eugene O'Neill, based on the Greek fall of the house of Atreus, put now to music by Marvin David Levy. The librettist also took out much of O'Neill's excessive verbiage, making the libretto more poignant and pithy. The cast was led by City Opera's reigning diva, Lauren Flanagan as Christine Mannon (Clytemnestra), but the rest of the cast was also superb. The staging and lighting were brilliant. The orchestral writing was very dramatic and gripping. The vocal lines were extremely disjointed and hard to sing, and you sure didn't leave the theater humming.
We took the Acela Express home at 6:00 PM. It was 50 minutes late. Here comes a letter from Farklempt.