NEW YORK CITY
APRIL 6 & 7, 2002
We drove down Friday evening. When we crossed the Connecticut River, we decided to dine on New Haven Pizza. We were determined to determine the ultimate winner in the battle of the titans--Pepe's vs. Sally's pizza. We had rated Pepe's a Roberto Parkerelli 98 a few weeks ago, but they say that Sally's....
I called Sally's on the cell phone for 15 minutes straight. Busy. Busy. Busy. I gave in and after 5 minutes finally reached Pepe's. But it was Friday at 7:30 PM, peak time. A pizza to go would be ready in an hour in fifteen minutes. Too long. So we drove to Wooster Street and took our chances. The line outside Pepe's convinced us to go elsewhere. We went across the street to Tony & Lucille's--very disappointing. It certainly was an Italian restaurant--Neapolitan favorites playing on the mandolin in the background, Tony sitting in a golf shirt with a crony, looking like Joe Sausage overseeing the condo in Florida--large middle-aged Italian waitresses with glasses and black hair pulled back in a bun (except for one plump bleached blonde who was obviously Tony's side dish--posters of the Grotta Azzura, the Bay of Naples, and a Birra Moretti ad in the bathroom. Tony gave the OK for us to order from the pizza menu, but...it wasn't good. The crust was thin and chewy, like Pepe's, rather good, but the sauce was sour, the mushrooms were canned, and the spinach was sparse. And it was $22! We were rewarded, however, across the street at Libby's (Liberato's Italian Ices), where you can get homemade Italian ices and gelati in various flavors, and a panoply of fabulous Italian pastries and coffee. We split a sfogliatelle (great crisp crust surrounding dry sweet ricotta cheese and candied fruits) a cappuccino (the man at the machine drew a little chocolate heart on the top of the foam for Carol, and a doppio espresso. We found a great parking place across from the hovel. In New York, a good parking space makes your day (see Calvin Trillin's new book "Tepper Isn't Going Out".
Saturday morning Carol went on an expedition to Lenny's for a "My Two Sons" and a raisin whole wheat bagel with chive cheese, preceded by a nice pink grapefruit, 3 for a dollar. We took the M86 across town to the Neue Galerie, a new museum at the corner of 86th and 5th Avenue. It features expressionist in-your face German art of the early twentieth century, particularly the works of Oskar Kokoschka, Gustav Klimt und Egon Schiele.
These were bad boys. We loved it. It reminded us of the Wolfsonian in Miami Beach. The building was the former New York mansion of Cornelius Vanderbilt, who summered at The Breakers in Newport.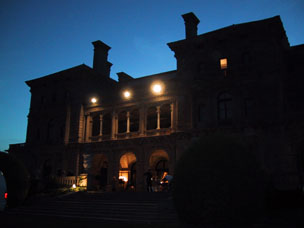 The Breakers at Sunset
The Condo at Sunset
The Vanderbilt Mansion--86th & Fifth
The Hovel--86th & West End
Then it became YIVO, and then It was bought by a Viennese bon vivant named Sabarsky (there is a decadent Café Subarsky in the lobby, with people lined up for an hour wait to get in to buy a cup of kaffe mit schlag for $10) and then by Ronald Lauder, who loves this genre of art. The price of admission to the museum was $10, but we lied and said we were seniors (three years to go), figuring we were due some reparations.
In the late afternoon, we met Marjorie, Jonathan, and Josie in Tribeca at Walker's for an early light supper--excellent cheap appetizers, hot and cold, great beer and wine, also cheap. One week after Passover, Josie has both lower incisors clearly in, she sits alone, grabs things, manipulates and bangs them with great strength, and flirts shamelessly. Delicious child.
..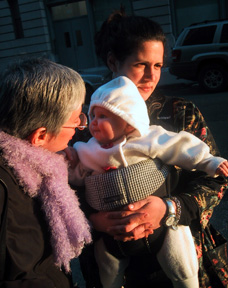 ..
We went to their apartment, and played Bubbe and Zayde while the kids went out to a movie.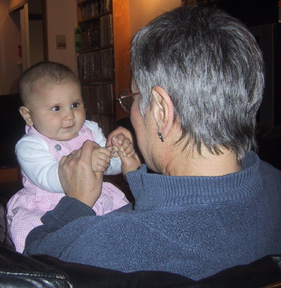 Patty Cake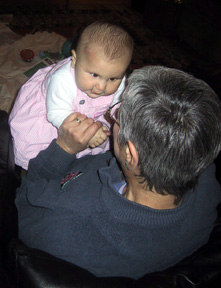 Row, Row Your Boat
We put her to bed, and watched "The Pledge" with Jack Nicholson and a stellar ensemble--Robin Wright, scary Tom Noonan, Benicio del Toro, Sam Shepard, and Aaron Eckhard. This movie, directed by Sean Penn, never got the reviews or box office it deserves. Four Farklempt Stars.
On the way home, we dropped off four more tons of Carol's Jewish Books at her office at JTS, which has plenty of shelf space. Just before New Haven, we got through to Pepe's and ordered a spinach-mushroom pizza to go. Perhaps because it was because it was a medium--and round--or perhaps there was a different baker this time, but it just wasn't the same ecstatic experience. We also bought Italian ices at Libby's, which were bizarrely colored, but tasty.