NEW YORK CITY--APRIL 2001
We drove into New York on Thursday for a long opera weekend. First, we drove to Marjorie and Jonathan's new apartment. In deference to my daughter's wishes, I will not put pictures of the place up on the web until they are unpacked, and everything is clean and ready and just the way they want it. This will be in May of 2004. They live in the East Village in a funky neighborhood with funky shops and cafés. Out of the doorway of one shop a CD was blaring, "Chro...nic schi..zo...phre......ni...a, Chro...nic schi..zo...phre......ni...a, Chro...nic schi..zo...phre......ni...a." At the next corner, a real schizophrenic was baying at the unseen moon at the top of his lungs...no words, just sound. This is the real New York, folks. Across the street from M & J's apartment is the headquarters for Hell's Angels, and on the street are a row of gorgeous Harleys, each of which you could eat off of. This is good, because it means the street will always be safe.
Their apartment is on the first floor, with a spiral staircase leading up to a second floor. Sebastian, their elderly cat, is so fat, clumsy, and witless that he cannot negotiate the spiral staircase, so he lives upstairs. He still licks his belly compulsively, but he no longer looks like a Vietnamese potbellied pig. He looks like a regular pig. Large, gorgeous, airy rooms, filled with light, all of which look out onto their private garden, which is bigger than our yard at home, and in the midst of which is their swimming pool. There are lots of bushes and trees, and there is quiet--you can hear birds singing. There is a second apartment, which they will rent out, but which connects through a door, and can make theirs a three-bedroom apartment whenever they like. There are 42 remote controls in both apartments at this time. In sum, it is a gorgeous livable apartment in a great neighborhood. We had lunch at Leshko's--pretty good neighborhood bistro with a Russian touch.
We drove up to the hovel, rested, and went down to Lincoln Center to hear Erich Wolfgang Korngold's "Die tote Stadt--The City of the Dead." This is a one-of-a-kind piece, somewhat gothic and macabre, the ultimate in lush Viennese romanticism, with strong elements of Mahler, Strauss, and early Schönberg. It's a fable set in late 19th Century Bruges, in Belgium, about a man devoted to the memory of his dead wife, fixed in the past and in death, just like the city of Bruges, in which he lives. Bruges was a thriving medieval city that came into decay in 1500 and never recovered. The performance starred the City Opera's reigning diva, Lauren Flanagan, who was stupendous, as always--a great voice, a great actress, a great presence. The opera flows on and on, like Strauss, but there is the occasional structured aria. One of the arias is for a baritone, in this case Keith Phares, who plays Pierrot, a Harlequin-like character. We had never heard this opera, nor this aria, but as he sang, I thought it was one of the most beautiful pieces, and one of the best audition pieces that I've ever heard. It brought tears to both our eyes. The most striking thing about the production, aside from the bizarre story, is the staging, which is done with lots of scrims, and projections of slides and movies. This integration of media into opera is something you should not miss, Andy.
Afterwards, we went out for a late supper at Gabriel's Bar and Restaurant at 60th and Broadway. Very nice room, quiet, lots of space between tables. Food OK. Wine excellent, particularly an Italian dessert wine.
Friday morning, we began our pilgrimage with a stop at the Mecca of New York, Barney Greengrass, on Amsterdam Avenue, around the corner from the hovel. The whitefish appetizer, I am pleased to report, continues to reign supreme among the great dishes of the world. Then on to the Seminary, where the Queen of the Jews returned from her Winter Palace to hold court for an hour or two. They think she walks on water there, and they treat me, her consort, with great respect. She got a look at her new office in the rebuilt Kripke Tower. It has a lovely view of a garden on Broadway, as well as of the spires of Union Theological.
We got take-out for lunch--pickled lox from Murray The Sturgeon King, also one of the great dishes of the world, cucumber salad, a baked apple, a broccoli knish, delicious pink grapefruit (three for a dollar) at one of the Korean fruit merchants who dot Broadway on the Upper West Side, and a six-pack of Diet Dr. Pepper.
In the evening, we went to the Metropolitan Opera for the Young Artists Gala Concert, featuring this year's winners of the National Met Auditions, winners from recent years, and the full Met Orchestra conducted by James Levine. Did we have good seats? In a parterre box, right next to Joseph Volpe, the General Manager of the Met. Carl Feldman, eat your heart out.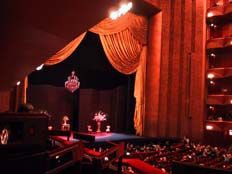 There were some stunning moments: Charles Castronovo, a tenor from California, singing Mozart like Fritz Wunderlich; Alexandra Deshorties, a dramatic soprano from Montreal, singing Ah fors' e lui and Sempre libra from Traviata with great verve and style (Ms. Deshorties will have the distinction this summer of singing the Verdi Requiem with Farklempt in the Berkshires); Sandra Lopez, a soprano from Miami, and Rodion Pogassov, a Russian baritone, singing the final scene from Eugene Onegin; Angela Gilbert, a soprano from Capetown bringing down the house with a rollicking "Glitter and Be Gay" from Candide; Marjorie Elinor Dix, a mezzo from Pittsburgh, with a stunningly rich Ariadne; John Matz, a 23 year-old tenor from Florida, singing a gorgeous E la solita storia del pastore from L'Arlesiana; and the finale of Der Rosenkavalier, the orchestra and singers glowing with the magic of Levine. Taking it all in, I felt like the richest and luckiest man in the world.
We had a late supper at Sabor, a tapas place on Amsterdam, around the corner from the hovel. Nice decor, good service, and a delicious variety of small plates: marinated white anchovies and cheese on a toast; corn cakes like polenta with cheese and chorizo; crabcake; red snapper ceviche; potatoes stuffed with braised oxtail; goat cheese empanada. Good Chilean wines. Delicious dessert of dulce con leche with excellent espresso and cappuccino.
Saturday, we joined Adam (and a belated Michal) at the Spanish-Portuguese Synagogue, where they are members for services, which were marked by a special concert by their all-male choir. Although this shul is the godfather, so to speak, of Touro Synagogue in Newport, where we belong, the services are very different. Here, in New York, most of the members are actually Sephardic, and their nusach (prayer style) is very different from Ashkenazic. They are also much more formal and mannered. We joined them for a luncheon afterward.
Then we returned to the City Opera for The Ballad of Baby Doe. Carol recalls seeing it when she was a student at Barnard, getting free tickets because Douglas Moore, the composer, was at Columbia. It's a tale of the frontier, silver miners, entrepreneurs, getting rich, and getting poor. It could be written today about dot-com millionaires. It's a tale about love and betrayal, and what life's true treasures are. The most outstanding thing about this performance was how the story unfolded dramatically in tableaus, and how the well the production suited the dramaturgy. Mark Delavan was a wonderful Horace Tabor, full of bravado, weakness, superficiality and devotion. It was a toss-up whom he loved more--the Matchless Silver Mine or his darling Baby Doe. Augusta, his first wife, a stern New Englander, was played with great depth and thoughtfulness by Joyce Castle.
For supper, we went to Turkuaz, a Turkish restaurant on upper Broadway with wonderful appetizers of middle eastern foods, obsequious service to match the decor of a Turkish harem, and a good young Beaujolais (Brouilly).
Finally, a movie that we were looking forward to seeing, "The Diary of Bridget Jones," with Renee Zellweger. We were hoping for another "Nurse Betty." Instead, we got a real chick flick. Girls, if you like the TV show, "Friends," if you love long walks on the beach and roasting chestnuts on the open fire, see this movie. Boys, if you hate that charming rogue, Hugh Grant, and if you have a life, avoid this disaster like the plague.
Sunday, a lovely brunch at Fiorello, across from Lincoln Center, along with a celebrity sighting inside: Richard Belzer, the comedian, from Homicide. As homely in real-life as he is on the screen. Then, the City Opera once more for Rigoletto. It's very tuneful Verdi, but we may have outgrown this opera. Our kids, when we took them to it as children, called it "The Girl in the Sack." That best describes it. Performances were lackluster all the way around, although Jami Rogers, making her debut as Gilda, was pretty good.
A very busy musical weekend. I missed two performances of the work I've been preparing for months with The Providence Singers: Rachmaninoff's Vespers in Russian. But we did stop at a Russian Orthodox Church near Marjorie's apartment, and we have lunch in a Russian restaurant, and we paid homage to the apartment building where Rachmaninoff lived in New York, which is on West End Avenue, right next to the hovel. And I'll get to sing the Vespers next weekend.