MEMORIAL DAY WEEKEND, MAY 1998
Friday I drove into Manhattan to join Carol. We met Andy for lunch at Restaurant Daniel. Nice room.Superb service. As an appetizer, I had chilled 8-pea soup. It was the same brilliant green color as the same soup at the French Laundry. Today's was flavored with rosemary. Which was better? I don't know. They were both to die for. Andy had a wonderful salad, and Carol had a divine tuna tatare. I had liver, which was a litte thinly cut for my taste, but good. Carol had ravioli with wild greens--delicious. Andy had the winner, black sea bass wrapped in thinly sliced potatoes. For dessert: poached pear in red wine with pale pistachio ice cream, dense chocolate cake with praline center, fruit with fromage blanc sorbet. Great coffee. Wonderful 1989 Rioja Riserva. Carol pronounced it one of the greatest meals of her life.
Then we went to see Bulworth. We both pronounced it one of the greatest of movies. Just as Robert Duvall pulled off a bravura performance in The Apostle, Warren Beatty has done the same. It's funny, outrageous, tongue-in-cheek, serious, great fun, but disconcerting. The ending is a little self-indulgent, but he's entitled. It's brilliant. I've never seen a movie quite like it. (BTW, did I mention The Big Lebowski after we saw it last week? It was really great. To see John Goodman play a dumb Polish bowler who has converted to Judaism complain, "How could they schedule me to play in the league playoffs on Saturday? I'm shomer-fuckin'- shabbos!!" is alone worth the price of admission.)
Then back to the hovel where we had sushi delivered from Empire Szechuan. We ate it watching the Red Sox game.
Saturday was a great day. Breakfast at Barney Greengrass. The peak of gastronomic ecstasy: the whitefish appetizer, now even better with excellent tomatoes.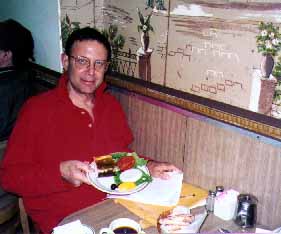 Then on to Brooklyn to Andy's apartment in Clinton Hill. As usual, in matters of taste, Andy is correct. His neighborhood is up and coming, and it is gorgeous. It was a beautiful day, with perfect, sunny in the low 80's. The trees, which cover the streets in Clinton Hill and the flowers were in full color and lush. He lives near the Pratt Institute, and the streets are lined with mansions, beautifully kept-up, and neat ornately decorated brownstones.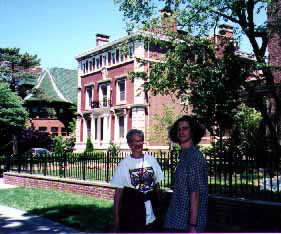 It's mostly black, many West Indians, some Hispanics, with yuppies coming in every day. The most striking thing about it is how quiet it is. You don't hear the noise and constant hum of Manhattan. You hear birds singing. In many ways, it is more beautiful and varied and opulent than the Upper East Side.


Michael, Andy, Philip Horvitz, Brian Hanna, Carol
Andy's apartment is light, sunny, airy, high ceilings, nice woodwork, beautiful parquet floors. We toured the neighborhood on foot and on bike, then took Jamaican take-out food (curried goat for me) into Fort Greene Park.

Try some goat?
Then we went to the Village and bought Andy a futon. Then we drove to the Brooklyn Botanical Garden, and I biked around Prospect Park, which is rather like Central Park, with a pond in the middle, a carousel, but quiet. Central Park is mostly white with a few blacks, and Prospect Park is mostly black, with a few whites, a few Satmar, a few Bratislaver, and a few Lubavitch. Everyone except the Satmar barbecues. Nice biking, as the roads are not at all crowded--no racers, no rollerbladers, no cars.
BROOKLYN BOTANICAL GARDEN (photos by Andy)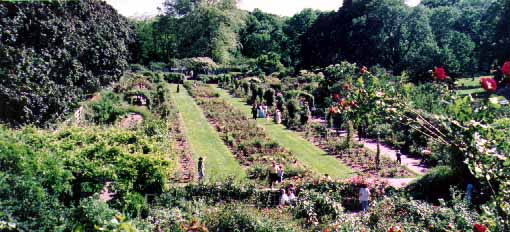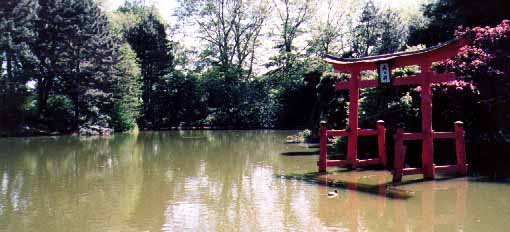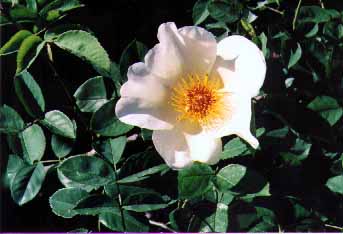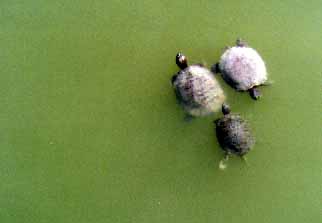 The Rose of Sharon
For dinner, we went to a stupendous Turkish, well not really Turkish, restaurant in Williamsburg called Oznots. Friendly atmosphere, garden seating. Appetizers: meza plate of hummus, babaganouj, feta, great olives, and the best grape leaves we ever ate. Also a Tunisian brik--filo dough around chevre and spices. Yum. The wine list had over 200 wines of all prices, some very reasonable, all rather off-beat. We had a bottle of 1989 Chateau Musar from Lebanon. I had a bottle of this about 10 years ago. It is a memorable wine, one of the world's greats. It needed a few minutes in the air to flower. It had it all. And it cost about a third of what you would pay for it in an upscale Manhattan restaurant--if you could find one that carried it. Main courses: roast lamb with white beans and vegetables, huge scallops with Turkish sauce, roasted blackfish with spinach and a complex middle eastern-Indian sauce that we soaked up with grilled bread. All were divine. Desserts: chocolate cake and mango-spice cake. Good. Great coffee. Check for three was $103. One of the great meals of our life, and one of the best days.
Sunday, we brought pickled lox from Murray the Sturgeon King and bagels from Lenny's to Andy's for breakfast. We also picked up a couple of bagels from an interloper named Tal's Bagel's with some lox and cream cheese. Great lox, even if it cost more than Malossol beluga, but the bagels are put to shame by Lenny's, who remains the bagel king of New York, IMHO. Then we met Micki Halpin ("Ask Mikki" from The Wedding) and the four of us went to Coney Island. This is the biggest and most concentration collection of schlock and tackiness in the world.


House of Horrors
We went on the Ferris Wheel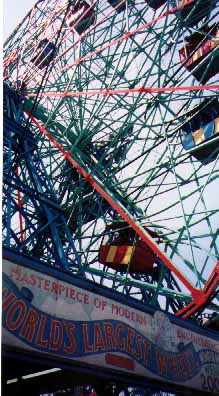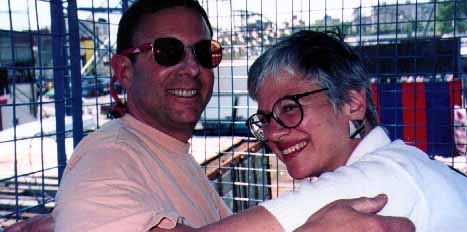 and then on the Cyclone. Actually, the three of them went on the Cyclone--I refused to go. They all got whiplash and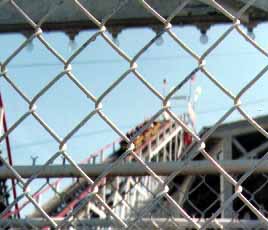 were sorry they went.
Andy and I biked around and we all met at Brighton Beach on the Boardwalk, where we had lunch at Volnya,an outdoor cafe. When you encounter Russian service at one of these restaurants, you wonder how Mir ever made it into space to start with. The food wasn't bad, though, particularly the pirochki with red cherries and plum sauce and the pirochki with cheese, served with butter and sour cream. We noticed a lot of bellies on the boardwalk.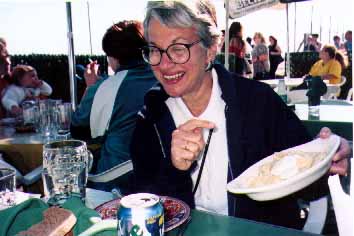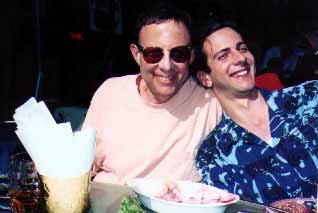 Then we drove everyone home, Carol and I had a little soup at Saigon, and home tomorrow. Maybe we'll stop at the Outlet Stores in Clinton, CT, where there is a 50% off sale at Barney's.
Monday we did stop at Clinton Crossing. The traffic on the road going into NYC was horrendous--worst I've ever seen, but going to RI was a breeze. We (I) made some great buys. One can never have too many chinos. Last stop was the Harborside Restaurant in East Greenwich for the twin lobster special and swordfish for the lady.