NEWPORT MUSIC FESTIVAL
JULY 2000
We spent the weekend in Newport with the Spinats and Hirschtritts, celebrating our respective birthdays. They arrived Friday evening, in preparation for which I made my slow-roasted smoked beer can chicken. You take a can of beer, pour a third of it into a bowl, in which you soak wood chips for half an hour. Then you wrap the wood chips in aluminum foil, making an airtight package. You poke several holes in the foil to let the smoke out. You light one burner only of a closed barbecue and set it to low. You put the foil packet over the lit burner. You take a small chicken and rub it with spices, mostly sage. You take the beer can with the remaining beer in it and shove it up the chicken's ass. You place the chicken sitting up on the beer can, with its two legs extended to form a tripod, and set the chicken on the unlit side of the barbecue. Close the barbecue and let slow cook and smoke for 2 hours. Open the barbecue and its done. Don't forget to take out the beer can. Carol made two wonderful salads, one with spinach, mandarin oranges, candied pecans, and the other with rice, dried cherries, and raisins. We had Prosecco Champagne, Indigo Hills Chardonnay, and Normand Cabernet from Australia. For dessert, Carol's fabulous strawberry-rhubarb pie with our own handpicked strawberries. It was the best dinner served in Newport that night. After dinner, I opened birthday presents, and it felt like Christmas in July.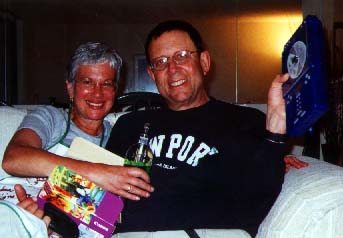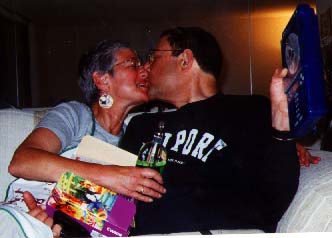 Saturday morning, we all went to Touro.
See the zaydies sayin' their prayers,
Rollin' their eyes at the bubbies upstairs.
Sam got an aliyah, as I told the Rabbi that he was a big contributor from Israel. I read the haftarah. Our wives stood with proper respect, basking in our glory, when we were called to the Torah. Carol and both my sisters stood during my aliyah. The Rabbi outdid himself in his sermon, composing it right there on the spot without a bit of forethought. I enjoyed watching Jole listen to the sermon. He looked like a Supreme Court Justice listening to a lawyer present a brief before him, wondering to himself, "So? So? So? What is your point? Where is this going?" There was a visiting hazzan from Brooklyn, who davened in Hungarian Ashkenozis Hebrew with a Sephardic Nushach, and spoke Hebrew in Sepharadit. He was a fabulous hazzan from the old school. Afterward, Carol sponsored a kiddush in my honor, consisting of 18 pieces of gefilte fish and a small cake. The Rabbi led us in singing "Happy Birthday" and "For He's a Jolly Good Fellow." We returned to the condo for a real lunch of hummus, grape leaves, smoked trout spread, spinach dip, salsa, fruit, pie, amaretti.

Saturday at 5:30 PM, we began our series at the Newport Music Festival, which this year features a Saint-Saënsiad, all the music written by Camille Saint-Saëns. How we love this event. It's one of the greatest musical events in America. The salons at the Mansions on Bellevue Avenue were built by the Vanderbilts and Astors to hold concerts such as these. The gilted ornate carvings and romantic ceiling paintings are the perfect setting to reflect the schmaltzy romantic music, which often pours over into wretched excess. The performers are like an old family that returns each year for a reunion. We heard six vocal pieces sung by Julia Anne Wolf, a mezzo. Then some very flashy piano music from Tom Hrynkiw, the house pianist who dresses and looks like a disheveled Adolf Hitler, and Anne-Marie McDermott. Turns out that Saint-Saëns was greatly influenced by Wagner in his piano music, which has the same flourishes and bombast. A woodwind piano quartet, featuring Juana Zayas, the Cuban sensation, at the piano; a clarinetist, Goran Marcusson, the flutist, and Jane Murray, on oboe. Finally, the Violin Concerto No. 2, with Anne-Marie McDermott playing the orchestral part, and a violinist named Hu--who?--Hu. Who's he? He's Hu. He plays a strad, and he plays beautifully and elegantly.

After the concert, we got our favorite table at Pronto. They have a new chef, and we had the best meal we have ever had there. Garlic bread, endive, walnut, granny smith apple, gorgonzola salad; duck breast salad with soba noodles and vegetables, shrimp and scallops over linguine, stupendous sauteed soft shell crabs, the best grilled tuna we have ever tasted, encrusted with pistachio nuts, rare. Lasagna. Wines were a very interesting and inexpensive Saintsbury Vin Gris de Pinot Noir, a dark pink wine that is dry and refreshing, and a great Saugvignon Blanc from Nobilo in New Zealand. For dessert, a white chocolate cheese cake.

Sunday morning Carol made lovely poached eggs on thin farkakte Thomas's English muffins, while the Spinats and Hirschtritts had the best breakfast in Newport at Stella Maris, the wonderful B&B in down the street. Overnight, the Americo Vespucci, a 384-foot tall ship from Italy, anchored outside our window.
We had a light lunch of leftovers and set out for Rosecliff, for our second concert. There was a flower show going on at the mansion, and the parking was 3/4 of a mile away. But it was worth it.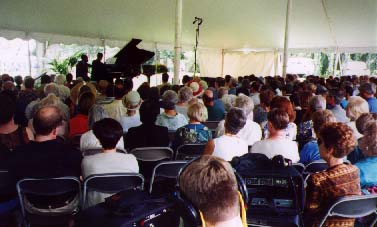 Blaha, Tavera, (unknown), Hrynkiv, Aler, Eric Malkovich
The theme of the concert was flowers. First, Percy Grainger's "Country Gardens," the very same piece that all of us played during our second year of piano lessons, played by Tom Hrynkiw, along with Rachmaninoff's "Daisies" and "Lilacs." Then "Mädchenblumen" by Richard Strauss, sung by Celeste Tavera, a soprano making her Festival debut, and, hopefully, her farewell concert. She really butchered it, with horrible intonation and diction.Then Kevin Fitz-Gerald played "Five Flower Pieces" of Sibelius at the piano, and his wife, Bernadine Blaha, played Schumann's "Blumenstuck." Then John Aler gave a lesson in how to sing. This wonderful tenor, a huge man, sang four Schubert songs five Schumann songs with perfect intonation, expression, shading, coloration, and the clearest German diction I've ever heard. Of particular note was Schubert's "Heidenroslein." It brought to mind a former patient/colleague: Die Liedersinger. To close the concert, Julia Anne Wolf sang five flower songs of Fauré with wonderful expression, and she closed the concert with the hilarious "Red Roses and Red Noses" of Lord Berners. Carol, the Spinats and the Hirschtritts stayed on to see the flower show and drive back to New York. Carol has a gig there this week at the Jewish Museum. I went back to Providence to try and get some work done before resuming my vigorous concert schedule tomorrow night.
Addendum: 8/17/02: I received a letter from the firm of Parker · Stanbury LLP, Attorneys At Law in Los Angeles. The letter was addressed to Oi! I'm All Farklempt! Consulted by Celeste Tavera, the attorney informed me of the obligations imposed by "California Civil Code Sections 44-46 which prohibits false and unprivileged publications which expose 'any person to hatred, contempt, ridicule, or obloquy, or which causes him to be shunned or avoided, or which has a tendency to injure him [her] in his [her] occupation.'" The attorney referred to my criticism of Ms. Taverna's singing, above. In response, Farklempt humbly begs the humble pardon of the attorney and Ms. Tavera. Of course, ignorance of the law is no excuse, as we all know, but Farklempt was completely unaware that it was against the law in California to offer adverse criticism about bad singing. So, for those readers of The Farklempt Page in California, Farklempt wishes to retract his statements above, and to say that Ms. Tavera sang like an angel, with perfect intonation and diction. For the rest of the country and world, my initial opinion still stands. As to calling The Farklempt Page a "false" publication, Farklempt, unlike some singers and their attorneys who shall remain nameless, accepts adverse criticism with grace and a good nature. As to "obloquy," Farklempt does not even know what that word means.

Next