QUOGUE
JULY, 2002
Carol took Bess to the airport on Monday, sending her ahead on a flight to Islip for the week. We followed on Friday. Zip, zip, and you're there. Nancy and Joel met us at the airport. Their house is as gorgeous and restful as ever--open, light, quiet, and cool. Marissa and Ali were there. So, what do we do in Quogue? We eat. Nancy is a fabulous cook, and she outdid herself for this family reunion. Lunch was a fabulous cold strawberry yogurt soup, a simple salad, some delicious Poutin French cheese, good French bread, and a bottle of Macon-Lugny white Burgundy. For dessert, fresh fruit, oatmeal chocolate chip cookies, and brownies.
In the afternoon, we hung out at the pool Although the heater had broken, the water was still warm and quite swimmable. In the evening, Neal and Andy, who were staying down the road at Marty and Elaine's house in West Hampton, while they were out in Arizona with the Stachels (are you following me?) joined us for dinner. Dinner was splendid. Nancy lit the Shabbat candles, I made kiddush (ayshet hayil), and Neal made hamotzi.
..
Nancy made a gorgeous turkey that just fell off the bone, a great corn and bean salad, good roasted potatoes, wonderful stuffing and gravy, and a salad of watermelon, cucumber, and tomato. Now, Nancy claims that this is a new and cutting-edge salad that is very much in vogue. But Farklempt must tell it like it is, or no one will believe his reviews. It was weird! Now, the wine...the wine was a magnum of 1996 Chateau Ducru-Beaucaillou, a fabulous Bordeaux that one of Joel's clients had given him. It was stupendous. For dessert, fresh berries that were delightful. Later that night, Stef & Jon came in.
In the morning, Gilda and Sam, Yael and Joseph, and Michal and Ilana, and Daniella came in. Then came Marjorie and Jonathan. What beautiful babies in our family!
..
..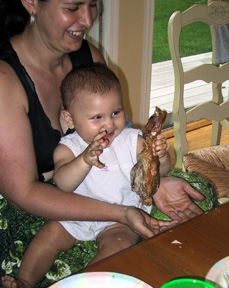 ..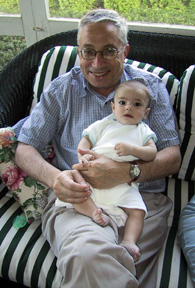 Marissa, Daniella, and I went out for a bike ride.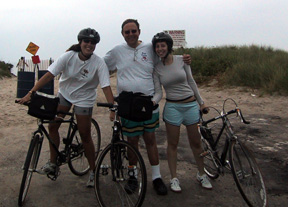 Lunch was simple, but elegant. Rollups of turkey, grilled veggies, goat cheese, sundried tomatoes and salad, featuring Nancy's famous homemade vinaigrette. For dessert, a humungous black and white cookie made into a birthday cake for Yael.
..
We spent the afternoon at the pool, with four generations going in at once, from Bess to Josie and Joseph (all wearing schmuck hats).

..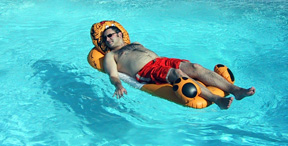 ..
..
Joel drove Jonathan, Bess and me down Dunes Road to the Shinnicock (that's pronounced "shinny cock," you with the dirty mind) Inlet to watch the sunset. Dinner consisted of delicious, juicy barbecued chicken, a ratatouille that nobody liked but everybody said was delicious, shells stuffed with ricotta from Sonny's, fabulous green beans with mint, and good couscous. For dessert, cupcake birthday cakes for Yael, and berries.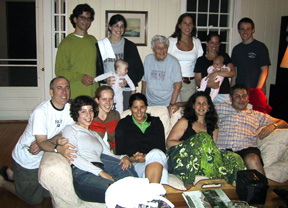 ..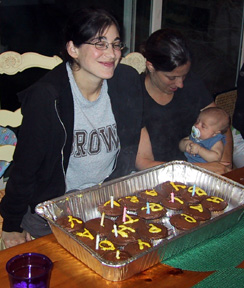 Most people went to the movies, but Carol and I went to bed.