We left last Thursday for San Francisco. I know it sounds like we do nothing but travel, but I must have relief from my arduous schedule of commuting to Newport, and Carol's trip is paid for by JTSA, as she is presenting at the CAJE conference in Palo Alto, and I had a frequent flyer, and you only live three times.

We stayed at the Fairmont Hotel in San Francisco (one night free and two nights at $129), compliments of Franz Nicodemus, General Manager of the Chicago Fairmont, who treated us so rudely last fall at my medical school reunion, and his most efficient secretary, Fraulein Schroetter. The room was breathtaking: a huge room on the 14th floor with all the amenities, and a picture window looking out on the best view of San Francisco that we have ever seen--looking down on Coit Tower, Alcatraz in the Bay, Sausalito across the Bay, the Oakland Bay Bridge, Fishermen's Wharf--the very view that James Bond had when they gave him a haircut in "The Rock."

Marjorie and Jonathan are wonderful.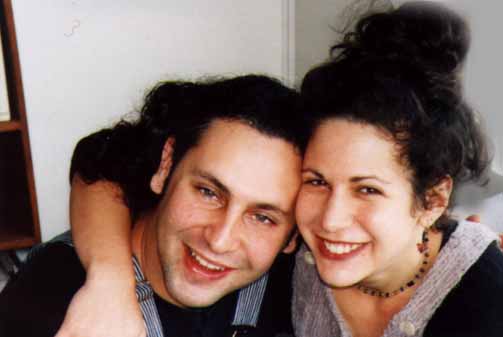 He had a tough weekend, transferring files from one server to another, exhausting work. We tried to revive him with great dinners,at restaurants chosen by Marjorie.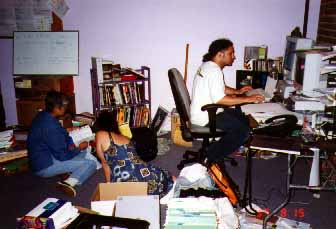 Each was better than the next. Thursday night it was The Slanted Door, Asian Fusion, with combinations of spices unlike any we have ever tasted. Friday, we walked to a dim sum breakfast in Chinatown. We went to a place suggested by a mailman. It had no name, no menu, just a counter, where you chose food from straw cookers. I asked, "What's this? What's that? Any meat in that?" The women at the counter spoke no English, just "Good. You like." Carol had coffee.In San Francisco, everyone has good coffee, even a dim sum dive like that.
Before long, it was time for lunch. Fringale, a delightful inexpensive French bistro. Carol and Marjorie went shopping and bonding, Jonathan went back to work, and I went back to the Fairmont for dinner. I awoke in time for dinner at Moxie, specializing in Jewish Friday night dinners. I had matzo ball soup and brisket with red horseradish I told the owner that "ihr hot mein bobbe's ta'am." Marjorie showed off the bridal veil that she had bought that day. There was a woman dressed like Steve Martin's Czechoslovakian sister playing horrible Jewish and Rumanian musi.
Saturday morning we went to the Farmer's Market on the Embarcadero, where we sampled glorious cherry tomatos (red and orange), plums of all sorts, peaches, nectarines, pluots (hybrid plum-apricot), figs, unmentionables, and cheeses. We bought some stuff, and drove out to Napa. We stopped at V. Sattui winery, which has lovely grounds, bought a couple of bottles of wine, a bottle of Madeira for my Nissan salesman, and had a picnic. We went on to White Sulphur Springs, where the wedding will take place. What a perfect setting!! Quiet, in the woods, lovely accomodations, a pool, a whirlpool, a spa for massages of all kinds. The wedding itself will be so lovely and dramatic.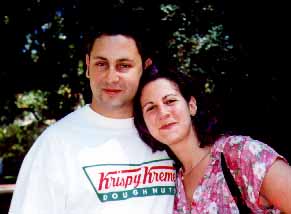 The wedding party will come out of a meadow, across a wood bridge into the forest grove, where the guests will be seated. The huppah will be under huge redwoods. After the ceremony, we adjourn to a clearing for drinks and hors d'oeuvres, and then on to the meadow for a buffet dinner. M & J have chosen well. We visited all sorts of other places from luxury to "moderate" (there is no economy in Napa), checking out their suitability for guests. It's hard to find a place that is not lovely. Marjorie will be sending out a letter about this and posting a website soon. We also saw drafts of the ketubah that Marcia Kaunfer is preparing--how distinctive and original and beautiful and creative it will be.
We drove back to the city and had dinner with Doug Cruickshank and Cathy Scott,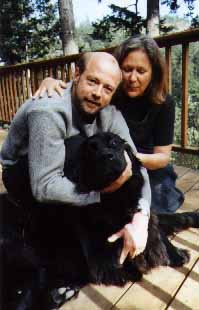 dear friends whom it was so good to see. We ate at Cafe Kati, gorgeously presented delicious California cuisine.
Sunday, I biked a few San Francisco hills to prepare for was brunch at Ti Couz, a neighborhood Breton creperie with superb crepes. Then we pushed off for Palo Alto and the CAJE conference (Coalition for Alternatives in Jewish Education). Stanford, where the conference is being held, looks, as Jonathan (who got his Ph.D. here) puts it, like a large Taco Bell. It is very flat, with lots of bike trails. We ate tonight at The Fish House, a West Coast Legal's, but cheaper and with more variety.
Monday, Carol began her three-day workshop for serious Jews, while I biked to Mountain View, to worship at the shrine of Netscape. This is serious biking territory, with bike stores everywhere, flat streets with bike lanes, dedicated bike paths. It's all flat, but you can go up into the hills for miles of mountain bike trails. I had lunch at a noodle place with a line going out the door into the street. I was not disappointed. I put on 20 miles today, a record since the surgery. When I got back to Palo Alto I went to a showing of "Overture to Glory," a 1940 film starring Moyshe Oysher, one of the great cantors of all time, who went Hollywood. The film was electronicaly restored by the Jewish Film Archive at Brandeis, and is in wonderful condition. It was a movie of art following life, as well as a remake of "The Jazz Singer" with Al Jolson and "The Jazz Singer" with Neal Diamond. Yoel Dovid Strushinski, the cantor of the prestigious Vilna Shul is heard singing on Rosh Hashona ("Hineni") by the impressario of the Warsaw Opera, who introduces him to classical music and trains him in it. Yoel's father-in-law warns him that it is the devil's music, but Yoel is seduced and goes off to tke Warsaw by storm at the opera. He is captivated by the beautiful Countess Wolodka. As he is about to go onstage, his father-in-law shows up to tell him that his little son, Peretz ("Oi, voo is mein tateh?"), is dead. Yoel walks back to Vilna and enters the shul on Erev Yom Kippur. He bursts into the plaintive Kol Nidre, and the new cantor (actually played by the great Manfred Lewandowski) takes off his tallis and puts it on Yoel, who finishes the Kol Nidre with coloratura bravado and dies. The rabbi intones, "Oi, Yoel, du host gezingt far zey, ober du hast gedavent far uns." A dip in the pool, a pleasant dinner, and live Jewish rock groups at CAJE finished the day.
Tuesday, I biked all over Palo Alto. I went to Palo Alto Bicycles, a famous bike store, and bought a bag for Jonathan's bike. Then back to the campus for a film on Jerzy Koszinski (what a strange pervert!!) and a documentary on Irish-Jewish Boston, starring all the figures from my childhood (although not Billy McCarthy, who used to beat me up because I killed his lord). Then some great sushi downtown. Then I went to Fry's, a giant computer warehouse. Awesome. Out here you bike past Hewlett-Packard, Netscape, Silicon Graphics. This is silicon valley, after all. Finally, dinner with Steve Brown, Carol's colleague from the Seminary, at California Cafe, a quintessential huge high-tech California restaurant. Carol had rare grilled ahi tuna that was like a thick slab of sushi. (Alvan, close your eyes) I had pasta with lobster and bacon and spinach and red onion. The combination of flavors was exquisite. It was one of the greatest dishes I have ever eaten. The wine was a pricey but delicious Jed Steele chardonnay. For dessert, we shared a fresh peach-blueberry pie with a la mode.
Wednesday, I went to Izzy's Brooklyn Bagels (yesterday was Noah's Bagels) for comparison shopping. It's a tie--maybe Noah's has the edge. Then a long bike ride--25 miles today!!--out into the wetlands along the southern tip of San Francisco Bay. Quite serene and beautiful. Marshlands with lots of waterfowl, no sounds, no people. I ended up in Mountain View for lunch at a Vietnamese restaurant with wonderful Pho Ba. I bought some white peaches and Rainier cherries and ate the last of the Asian pears we bought at the San Francisco open air market. Back to the room, where I did a little work on an informational hand out I am writing to teach patients how to deal with managed care. For dinner, we went back to the California Cafe, where we had been last night. It was that good. We had five appetizers: tuna tartare wrapped in a little column of avocado with chopped tomatos, carmelized onion, corn, and white cheddar cheese tart, dungeness crab cakes, smoked chicken spring rolls, and baked figs wrapped with prosciutto, sprinkled with reggiano parmesan cheese. We had two wonderful glasses of chardonnay and cabernet. No dessert, but we split a white peach in the room.
Tomorrow morning early, back to San Francisco to drop off Jonathan's bike and take Jonathan and Marjorie to the airport, whence they leave for David and Marla's wedding in Cleveland, and our own flight home. Wonder what they'll serve on the plane...

Home