THE JOSIE PAGE
FATHER'S DAY, 2002
NEW YORK CITY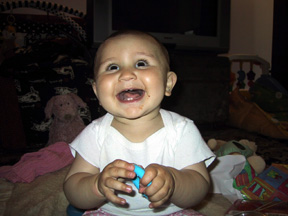 Carol had left for 10 days in Israel on Thursday, I'd sold off or given away everything in our house that we weren't taking with us to our new apartment, and everything was pretty well packed for the move, so I parked at our new building's garage, walked across the street, and took the train into New York. Amtrak now calls everything that moves on its rails through New England the "Acela," but this was a plain old dirty rough milk train that stopped at Kingston, Old Saybrook, and Eck Velt. And, it's expensive! Still, it was a pleasant ride. I ate my tofu-veggie wrap (a tribute to Neal) with a jar of red wine (a tribute to me), watching the beautiful ocean views crawl by, and got some work done on the Brit Ahava web page.
Neal picked me up right outside the station and we went to their apartment, which is very homey and beautifully decorated (so, what did you expect?). They lit the shabbat candles together. This was such a touching moment, bringing back a flood of memories from their wedding two weeks ago, and I could not break the mood with a photo. It's fascinating to watch them interact in their home as a couple. Not only are they Oscar and Felix, but they are Farklempt and Miss Finger, as well.
We went out to dinner at the Red Cat, just around the corner, a really fine restaurant, casual, New York loud, with wonderful food at reasonable prices (except the wine, which is overpriced). We had a small grilled fish called a roué; some sautéed zucchini; and glazed quails for appetizers; and for main courses, asparagus, mashed potatos, french fries with parmesan, tempura haricots verts, and a prime shell sirloin. The wine was a Côte-du-Rhone. We also had Lurisa bottled spring water, ordered by the Princes. For dessert, a rhubarb apple compote, with excellent aromatic teas. Neal, in emulation of his father, grabbed the check, in honor of Father's Day, and that made the meal just perfect!
I slept on their sofabed, and they were gone when I awoke in the morning, off on their honeymoon to Cape Breton Island. Carol phoned from Israel to say that all was well.
I took a cab over to Marjorie and Jonathan's and spent the rest of the weekend going ga-ga over Josie. This child has stolen my heart. She had a bit of a cold on Saturday, but she was as charming as ever, only this time covered and covering everything with snot and boogers. We went to lunch with their friend Diane and her daughter Maisy, who is the same age as Josie, and also a very captivating child, extremely well-behaved and tolerant of everything. We went to Frank on Second Avenue, which was primarily Italian, but more a casual bistro with fabulous food. We had tomatoes with superb bufalo mozzarella and basil, meatloaf and mashed potatoes, eggplant, orechiette with rabe, and something else, I forget what, because I didn't taste it. If I don't taste it, I don't remember it.
I spent the rest of the day and evening with Josie. We had great Burmese takeout at home. I cabbed back to Neal and Andy's and returned to the East Village in the morning after Carol's phone call. I picked up fish and bialys at Russ and Daughters for a heavenly breakfast, and spent the rest of the day with Josie. Now, it's just pictures. You tell me...is she the cutest?
..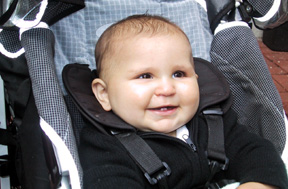 ..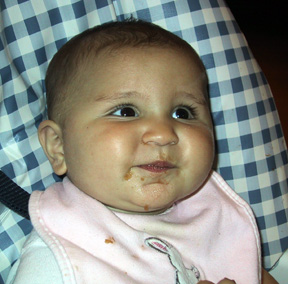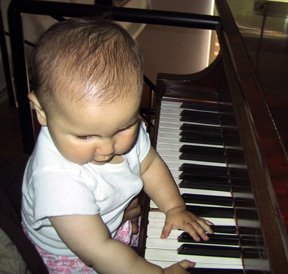 ..
Betsy sent Jonathan a t-shirt for Father's Day. Josie liked it. She made the same noise she does when she sees herself in the mirror. She has a whole new repertory of sounds now, and she likes to talk to you back and forth, even though you can't understand a word she says. She does seem to say "Dada" for Jonathan, though.
This weekend she discovered white nectarines. She's already a big fan of pickles, like her father.
..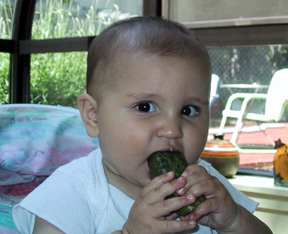 ..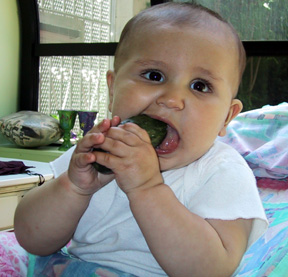 She loves pulling Marjorie's hair, and crows with delight when she tires of breast feeding, and, in thanks, bites down hard with her four front teeth, causing her mother to screech out loud.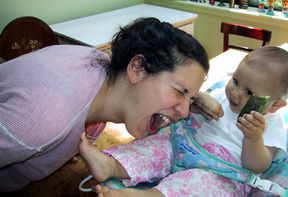 ..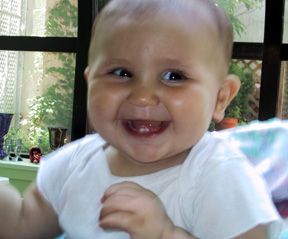 She know her psychotropic drugs, and is preparing for a career in advertising them.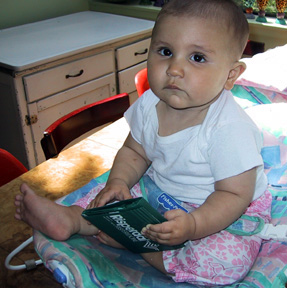 ..
But her favorite thing is reading, and her Zayde is more than happy to oblige.