VIVA LAS VEGAS--MAY 2000

So we're inflight on an USAirways Airbus in seats 1A and 1C, in first class, en route to Las Vegas for the weekend. You will recall that on a flight to New Orleans last year, I had finagled a pair of free first-class tickets to anywhere (see http://www.farklempt.com/Travels/New.orleans.index.html) --thank you Stephen Wolf. From Providence to Philadelphia, we discovered the difference between first class and coach. In first class you get cashews instead of peanuts. The flight to Las Vegas from Philadelphia was much nicer. Johnnie Walker Black to start, then a nice piece of tenderloin with a good salad for me, albeit accompanied by mashed potatoes that looked and tasted like papier mache. A very good Martini Merlot for me, and a Villa Mt. Eden Chardonnay for Carol. When she was handed the menu, Carol regretted that she had ordered the "special meal" from Wilton Caterers--In first class, that means you get to eat your four-hour roasted dried kosher leather with a metal knife and fork instead of plastic--and successfully persuaded the stewardess to give her an order of mahi mahi. She ate everything on her plate. The movie was "Snow Falling on Cedars," which gets one Farklempt star. It is very dark and beautiful, with lots of snow falling on cedars on San Pedro Island, off the coast of Washington State, where it's very cold and dark and snowy, and the snow falls on cedars all the time, and the Japanese-Americans are put into internment camps while the snow falls on cedars to beautiful new-age music, and an interracial romance that can never be takes place to beautiful heavenly new-age music while snow falls on dark cedars, and the only thing that gets it even one Farklempt star is the stirring final summation of Max von Sydow as the defense attorney, which he delivers while snow falls on cedars to beautiful new-age music.
Easy car pickup at Hertz, and very cheap. Ten minutes drive to downtown. Free valet parking at all the hotels and attractions. This place gives me the creeps. Perhaps if I didn't know what to expect, perhaps if I hadn't heard from so many people that it was "a once in a lifetime experience" "disgusting" "what America is all about" "fabulous" et.al., perhaps I would be thunderstruck at the garishness of it all. Slot machines at your airport gate.

New York, New York
One hotel piled on another, all outdoing each other and themselves in tastelessness.

Paris
People struggling to throw away money in the casinos.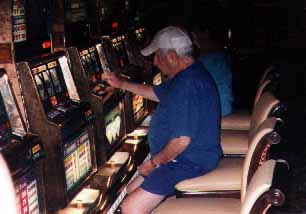 The Luxor is a giant black pyramid with Egyptian motif, sarcophagi, sphinxes, restaurants called Pharoah's Pheast and Isis. Our room is in the tower, not the pyramid, and it's very nice for $79, sumptuously decorated with a large whirlpool in the bathroom, and a large shower stall. We go right to sleep, and we sleep well. Out the window is the desert and its mountains. I regret to inform you that we find the desert to be ugly. We prefer dessert. We prefer the ocean, New England, Florida, the Caribbean, France, Italy, Greece, Israel (except the desert). The Grand Canyon is magnificent and the subtly changing colors are mystical. But here, it's ugly-- in the city, and outside. There are empty stretches of desert, and then tiny villages of adobe houses with tile roofs, all the same, no trees, and a casino. We drive to Bellagio. What impresses me most is the workmanship.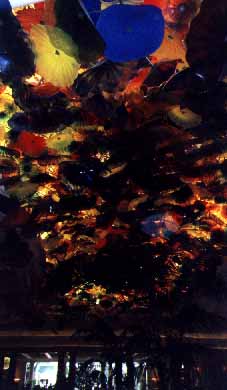 Chihuly ceiling at Bellagio
The ceramic tiles are fake (everything in Las Vegas is fake), but they are installed and finished so beautifully, I wish I could find such workmen for my house. The breakfast buffet is absolutely magnificent. It's $10.95, and there are made-to-order-omelettes, smoked salmon, lots of Japanese and Chinese dishes for the Asians who make up so much of the tourism here, great pastries, wonderful fruit, good coffee. Then, it's on to Hoover Dam and Lake Mead.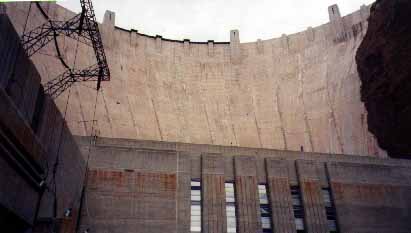 It is quite a sight, a mammoth feat of engineering genius.


There is a good tour, a standard documentary film, and a PBS film that reveals the callousness and corruption that went into the building of the dam. It's hot, probably 98, but it's a dry heat. It's true.


Back to town and a tour of the Liberace Museum--ultimate schlock. Back to the hotel to rest up a bit.
Whoo! I'm picking up writing this a day later, and I can't remember what day it is or when we got here and what we did yesterday. Let's see. Out for a buffet supper at the Rio. The Rio is off the strip, but reputed to have one of the best and cheapest buffets in Las Vegas. Marjorie, I'm sorry, but they outdid themselves in dreck, chazzerei, slop, yuck, feh!! It was like eating in a Hayes-Bickford. The only thing that was good was a Japanese chef who made yakitori fresh on the grill. Bad coffee, too. Dirty. Scuzzy people. Don't go to the Rio. No Farklempt Stars. Farklempt says Feh! Then over to Treasure Island to watch the pirate show. Two galleons, one English and one French, engage each other in a naval battle in a large pond in front of the hotel.


Cannon roar, flames shoot up, men fall from the rigging into the water. And finally, the English ship sinks into the water.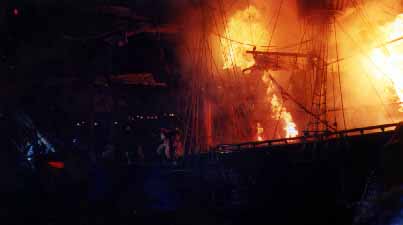 Very excellent. Not to be missed. Then inside to Cirque du Soleil's "Mystere." Now, they say that the other show of Cirque du Soleil, "O" is better. I don't know how it could be better. This was one of the most unusual and gripping shows we have ever seen. Really, it defies description. All I can say is that you know how I hate to spend money, and the $75/ticket was well worth it. We had great seats with a panoramic view at the rear of the theatre, which goes up high-rise. The show is a combination of precision acrobatics, trapeze artists, new age music, sung in a language that was either Serbo-Croatian or Tagalog, great clowns who were mystical, lots of involvement with members of the audience, with fabulous high-tech lighting and costumes, special effects, stages that rise and recede. It was breathtaking. By now, it was 12:30 AM, and the night was young, so we went downtown, to Old Las Vegas, to the Golden Nugget, to Binion's Horseshoe, where there are no big showbiz people, just serious gamblers. I entered the High Stakes Poker Tournament, and walked away with $8500.00. Just kidding. What we discovered is a nickel slot machine that lets you play draw poker, and we got pretty good at it. Once we had won a dollar, which could take 15-20 minutes, we would pick up all our nickels, go to the change booth, get a dirty look from the change person, and a dollar, which we would give to the valet parker as a tip. We got to bed around 2 PM.
Saturday, we checked out, and went to Caesar's Palace for Champagne Brunch Buffet ($14). Lots of food, and not as bad as Rio, but not good. All the hotels are staring to look the same. You walk in, and to get anywhere, you have to walk through the casino, which seems endless. The only one that seems different is Bellagio, which is a bit more subdued and classy, a cut above. We played poker for our dollar, and drove across the street to The Imperial Palace, which has an car museum of unique show cars--old Rolls Royces, Duesenbergs, Packards, even the Popemobile. Very interesting.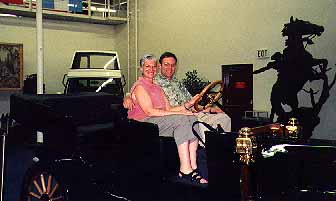 Then we drove across the street to the Venetian, which is as tacky as anyplace else, this time with gondolas and strolling opera singers. You may wonder why we drive across the street instead of walking. Here, the hotels are huge, and so set back from the street, that it's a longer walk than you think. My feet are not doing too badly so far, but Carol is jumping around like a twenty-year old. Nine hours to go. On to the Venetian, where we had a soda, saw the singing gondoliers in the canals in front of the Piazza San Marco,


played five-cent poker to win a dollar and tip the valet parker, and went on to the Mandalay Bay. Now, this is a great hotel.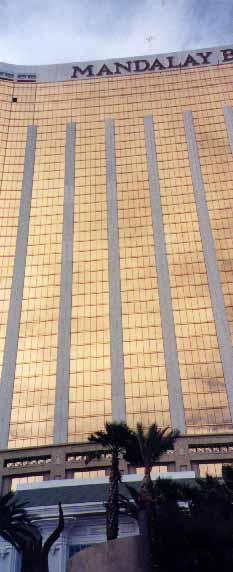 Along with Bellagio, it's the only place we'd stay if we went again (which we will not--two days is just right). It's spacious, nicely decorated, quiet, uncrowded, with lots of good restaurants. We went down to Charlie Palmer's Steakhouse, which is in the downstairs part of the Mandalay Bay that is devoted to The Four Seasons, whose guests stay on the top two floors of the hotel. We made a reservation for dinner at 5:30 PM, and went out to the Four Seasons pool to sit in the sun. It's nice to be rich. A pool girl asked if she could give us two chaise lounges. "Of course," I said. She laid out towels on a couple of lounges facing the sun and asked for my room number. "12204," I answered boldly. "This pool is reserved for guests at the Four Seasons, Sir," she said. I looked at her hand which was holding the $2 I had given her. "But since we're light today, why don't you stay," she added. The cabanas at the pool have little jets at their tops that shoot water vapor into the air, so that the atmosphere is not too dry.
We went into Charlie Palmer's, which was elegant, quiet, not too expensive, with superb service. Carol had already gotten potted at the pool with a Bombay Sapphire gin and tonic ($9.50, thank you very much), so I had a glass of excellent Australian Shiraz (also $9.50, thank you very much). Bread was OK, not great. Carol had baked salmon over leeks with an onion marmalade, which was a bit overdone. I had a bone-in sirloin, which was done just right. Not quite up to the Florentine Grille, but, then, what is? We split an order of broccoli rabe with garlic which was good, but not quite up to La Rosa's Restaurant in Pocasset, and steak fries, which were excellent. For dessert, excellent coffee and homemade sorbets--banana daiquiri and pink grapefruit.
And how did we finish up a perfect day and a wonderful Las Vegas vacation? Did we go to see Wayne Newton at the Stardust? Did we go to the Mirage to see Siegfried and Roy? Did we go to Rio to see David Crosby and Sheena Easton? No! We went to hear the Las Vegas Philharmonic play at the University of Nevada at Las Vegas (UNLV). From the brand new campus you see both the desert and the Strip of casinos whose revenues built what might have been called Bugsy Siegel U. The program was Bernstein's Chichester Psalms, which I had just heard last weekend in Newport, and Carmina Burana. The chorus was from UNLV, and, while they had a bit of trouble with the Hebrew of the Bernstein, their Latin diction in the Orff was flawless, and they sang beautifully, including the small solo parts. The soloists in the Orff were faculty members at UNLV, and they were first-rate. The orchestra played well as an ensemble, but the solo players were a bit off, particularly the cello, who has a nice solo in the Bernstein. It's easy to find brass players in Las Vegas, but the shows have little use for a cello. UNLV could not only destroy Brown at basketball, but, comparing tonight and last week, their choral singing is much better, as well. The auditorium was packed, and the audience was highly appreciative, if unsophisticated. They clapped and cheered after any section that was loud and fast, as though they were in a nightclub. In fact, the guy sitting next to me was blonde with a pigtail and a sequined shirt, who told me that he had sung a minor solo in Carmina Burana twenty years ago in high school.
Off to the airport to make the night owl. While Carol went to buy some candy for the folks at her office, I squandered the last of my quarters on draw poker, and lost everything. I did have a nickel left, and gave it to Carol, who played the last slot machine before the gate, and won a dollar. So, we left Las Vegas $1 richer, exhausted, and happy.
There were, of course, a few minor problems with some of the flights, which, you may be sure, I will be bringing to the attention of Mr. Stephen Wolf in my forthcoming letter to him.