FOURTH OF JULY
WASHINGTON, D.C.--JULY 2000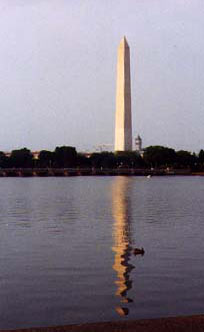 On from Baltimore to Arlington, Virginia, where Sandy and Michael received us graciously for the annual Krepon Independence Day Fete. The theme of the celebration this year was no different from that of the years before: EAT!

Their house is lovelier and more inviting than ever. We sat in the kitchen-family room and munched on pistachio nuts, caprese, washed down with a a superb St. Supery Chardonnay. Marjorie and Jonathan were in town and joined us for dinner.
Michael was a good brother and went to Katz's Kosher Meat Market to buy a superb cut of London Broil, so that Carol and Marjorie could indulge their carnivorous lust. Accompanying it were an excellent mesclun salad, [INSERT -- A FARKLEMPT FIRST: TRAVELOGUS INTERRUPTUS. SCENE: AT THE BREAKFAST TABLE, WAITING FOR JOSH AND DISCO DAN TO BRING THE KENTUCKY FRIED CHICKEN, SO WE CAN JOIN THE BASE CAMP ON THE MALL. MICHAEL HAS BEEN ASKED ABOUT HIS WINE CHOICES FOR THE DINNER MEAL, SO AS NOT TO EMBARRASS THE HOSTS ON THE FARKLEMPT TRAVELOG. WE WAIT. TENSION MOUNTS, AS THE CHRISTIANS SUP NEXT DOOR. A CRAB FEAST ON THE OTHER SIDE OF THE HOUSE. AND HERE WE WAIT FOR KFC. THE INGALLS, HOWEVER, WILL BE TREATED TO JERK CHICKEN 'ALLESANDRA', COOKED ON THE GRILL. AN ASSESSMENT OF THE JERK CHICKEN WILL FOLLOW THE FIREWORKS. AND NOW, BACK TO FARKLEMPT.--MICHAEL KREPON], sweet North Carolina corn on the cob. For dessert, divine fruit tarts--apricot and pear, accompanied by espresso. A Forest Glen merlot that was a bit schvach.
Tuesday morning, bagels for breakfast. It is with regret and sorrow that I must report that the legendary bagel bakery of Arlington has changed ownership, and that the bagels of today are a mere caricature of those of yesteryear. Sorry, but Farklempt, as you know, tells it like it is. But Field Marshal von Krepon has lost none of his touch as a strategist for getting us the best seats in Washington (second only to the White House Balcony) for watching the fireworks. We drove down in three cars, leaving two in a lot on the mall, after we dropped off Sandy, Carol, and Misha to hold down the blankets on the tidal basin next to Potomac Park, across from the Washington Monument and Jefferson Memorial.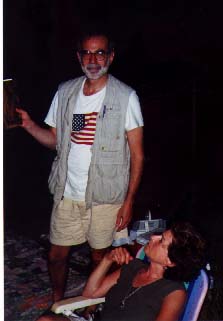 Finally, we all gathered on the blankets and were joined by Marjorie and Jonathan.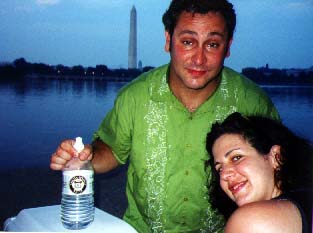 And the serious eating began. Michael got some kosher chicken and barbecued it jerk-style, using rum this year, instead of tequila. He outdid himself--smothered in chutney, it was moist, succulent, and loaded with flavor.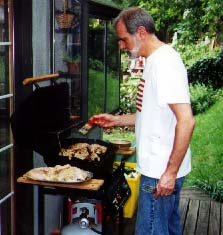 This chicken was supplemented by a far inferior bird from Popeye's, hot and mild. Sandy had worked incessantly in the kitchen, and there were garden vegetables, hummus, baba ganouj, grape tomatoes with goat cheese, yummy potato salad, fruit salad and fruit tart for dessert. There was great Sierra Nevada Pale Ale, which we hid from the Park Police, to wash it all down.
And then the fireworks began. They were the loudest, the most plentiful, the most intense, the longest I have ever seen. Of course, the setting of the Washington Monument in the background and the reflection in the tidal basin help, too. There was no subtlety to it...just boom! boom!! BOOM!!! I had visions of what it must have been like in Baghdad when we bombed them non-stop.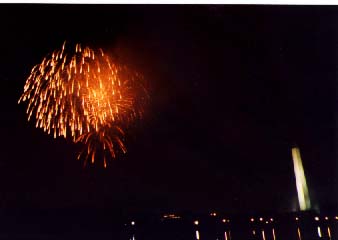 Marjorie and Jonathan set off to drive back to New York, and we crawled along in bumper-to-bumper traffic back to the house. An easy Southwest flight back, and the end of a long and wonderful weekend.