ESMERELDA, MEET JOSIE!
JOSEPHINE OLIVE STEUER INGALL
YOSEFA ELISHEVA BAT YONATAN SHMUEL UMARGALIT BRACHA
PROVIDENCE--DECEMBER 8, 2001
Actually, she was named at birth, Josephine for Joe, Jonathan's grandfather, Olive for Olla, Marjorie's grandmother. But a little ritual never hurts. The Ingall-Steuers drove in on Friday evening, and we were ready. The Gamms lent us a crib, we converted a mobile dish rack to a changing table, and we got a mobile that turns, slides, clicks, and plays your choice of Bach, Beethoven, or Mozart. There is so much stimulation here, that if you added a strobe light, and your kid would be in status epilepticus.
We had dinner. Carol, to no one's surprise, outdid herself. She made a delicious duck which had been soaked in juniper berries (while dead) and slow roasted. And that's not all, folks. There was a deep, dark, divine brisket to boot. The wine was a Judd's Hill Merlot. It was late, so we all hit the sack.
In the morning, we headed off to the Temple, where Josie took center stage. Marjorie and Jonathan took her to the Bimah for an aliyah, and Alvan officiated in proclaiming her name for all to hear. This kid is amazing. Not only was she totally quiet, respectful, reverent, and attentive throughout the interminable Shabbat morning services (she does not follow in her zayde's footsteps in this regard), but she entertains those around her. She smiles, laughs, gurgles, giggles, and stares with great interest and wisdom. Afterward, there was a kiddush for the congregation, and our friends joined us. Janet and Evie came down from Boston, along with Marjorie's college roommates, Lori and Hadine (and Tessa), the Rothenbergs, and the Putnois. Afterward, we all returned to our house to chat, and to eat one more time.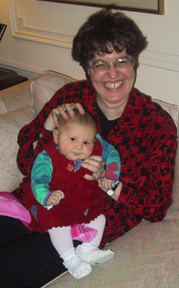 ..
Josie commemorated the occasion by peeing on her zayde.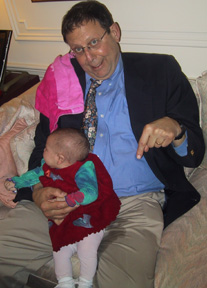 As a Chanukah gift, we sent Marjorie and Jonathan off to dinner at Gracie's on Atwells Avenue, along with a sack of Chanukah gelt (Susan B. Anthony dollars) and free babysitting service. We pretend that babysitting for Josie is a gift. It's actually a gift for us.

..
Sunday morning, fresh bagels, packing, and off they all went back to New York, with Carol in the rumble seat.