MONDAY, MAY 11

We had a good night's sleep. We had breakfast with the early birds and began to pack. We loaded up the van and the Nissan with the remaining wine, soda, beer, and food. We spoke with Buzz, the owner of White Sulphur Springs, and told him what a beautiful place he had and what a wonderful time we had. We left the flower cans on the bridge and in the lodge because Buzz liked them so much and because a crew from The Travel Channel came in to shoot a feature on White Sulphur Springs, and the flowers enhanced the place. Buzz was very nice to us and knocked $300 off the bill for the inconveniences, which in retrospect seem minor, but at the time were quite painful. We parted on the best of terms. Marjorie and Jonathan drove to their apartment. Bess and Evie and Carol and I stopped at the Oakville Grocery, bought sandwiches to go, and met J & M at their apartment.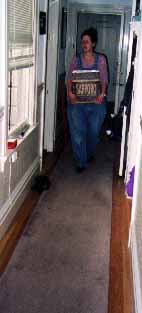 Then, we drove on to the Comfort Suites at the airport. This is actually a very good place to stay if you are not in San Francisco for the first time. It is about 15 minutes to J & M's apartment, has huge clean rooms with all the amenities and a hot tub, evening soup, breakfast, all for $83, with free parking.

Later we drove back to the city and took M & J out for dinner to Yuet Lee in their neighborhood. Superb Chinese food--hot and sour soup, duck with mustard greens, clams with black bean sauce, beef tenderloin, rockfish with bok choy, Chinese spinach with garlic, vegetable lo mein, with Tsing Tao and Fetzer Chardonnay. Then, we picked up their bags at their apartment and drove them to the airport for Bali. What a lovely way to close out the weekend.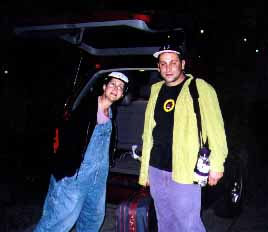 And tomorrow, home.
PREVIOUS PAGE
home
---

For a panoramic view of the wedding, courtesy of Mister3d and his digital camera: Mister3d's panorama

You must have a QuickTime plug in for Netscape. It's a long slow download, but worth it. When the picture finally appears, move the pointer to the right or left, up and down, with the button held down over the picture, and you will pan 360 degrees. Use the option and control keys to zoom in and out.

For the wedding site on Marjorie's page: Welcome to The Wedding