SUNDAY, MAY 10: THE CEREMONY
Alan Brier made the bagel run.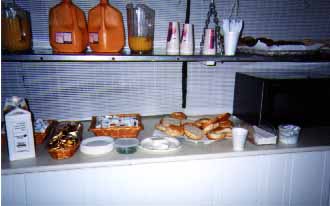 The sky is overcast. It's a bit cold--60--but that doesn't keep people out of the hot tub. The photographer comes in--Thayer. She and her assistant are dressed in black, like Ninjas. They are so warm and relaxed, unobtrusive, often shooting from the hip--lots of candids, little posing. Soon, she becomes more like a guest and family member. She contacts a personal meteorologist that you can hire by phone. He examines his charts, pronounces that there is no chance whatsoever for rain in Napa today and charges $50 to our VISA. Darryl begins to braid Marjorie' s hair, and her attendants apply makeup from a 40 lb. bag.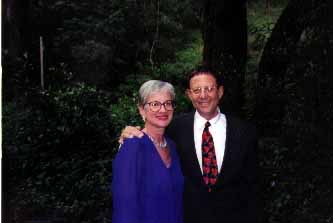 Darryl does hair
I help Jonathan to put on his cufflinks, which belonged to his Uncle Sam. He is also wearing his Uncle Sam's signet ring and his Papa Joe's gold pocket watch. I bless him as I will soon bless Marjorie. Tears again. We commit to having the wedding outdoors in the meadow, even though the sky is overcast. Jill has decorated the redwood footbridge over the stream to the upper meadow with tiny milkcans filled with lavender and wildflowers and violet mesh voile. It is so lovely. My tears begin again.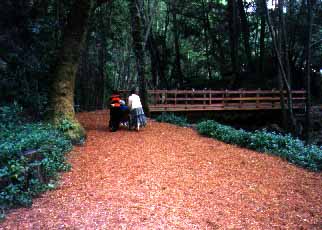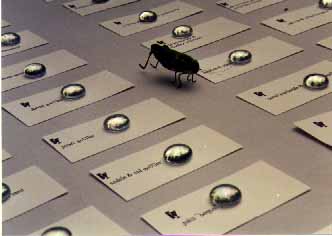 Crossing the footbridge Placecards
Climbing up the hill, I hear the friends of Cio-Cio-San singing, "Amici! I am the most beautiful girl in Japan!"


Up come Marjorie and Jonathan for the ketubah signing and bedeken. Marjorie is radiant. Her dress is perfect. Dress #3 is the one--cream form-fitting bodice made of silk matte jersey with tulle long sleeves, skirt, and shoulder length veil. Her purple and green bouquet is perfect. She has never looked more beautiful. She is perfect.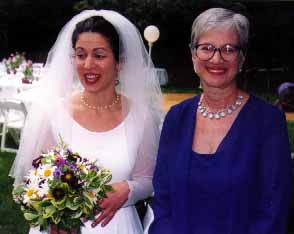 Jonathan, who got a haircut yesterday, is elegant in his dark blue striped Hugo Boss suit, with bright green and purple tie with daisies, Marjorie's favorite flower. The witnesses, Jill Davidson,Abbe Don, Lawrence "Axil" Comross, and Howard Rheingold (who wore a florid sex symbol suit to the barbecue and today wears a Buick red silk suit that Doug Cruickshank says was last seen on Bobby Darin) all sign the ketubah. Howard and Axil have written their Hebrew names on the backs of their hands so that they may copy them onto the ketubah correctly (this is how they got through college?). V'hakol sharir v'kayam--e tutto e' fatto (and all is done in order).

Then I bless Marjorie. I can barely speak. I hold her face in my hands and say:


"Our sister--be as legions of ten thousand.
May God bless you and watch over you.
May God shine the light of his face upon you and give you grace.
May God bring his face to you and grant you peace."
Then, the procession. The guests were seated on benches in the grove, facing the stand of redwood trees, beneath which the ceremony would take place The band stood to the side, playing in slow klezmer style Ki Tin'am, the same Israeli folksong to which Carol walked down the aisle, which I had arranged and sent to them. First came the huppah bearers. We had borrowed 4 brass huppah poles, which Marjorie, with the help of Mr. ThreeD, had wrapped in barber pole fashion with purple and green ribbon. Hooked to the top of each pole was a corner of the tallit, plain wool black and white, that we had given Jonathan for his aufrauf. The huppah bearers were Jonathan' sister, Ellen Steuer; Jonathan's cousin, Andy Steuer; Marla Steuer, M & J's sister-in-law; Lori Rutter, Marjorie's friend from Harvard, who makes it a habit to lead processions. They came down the stairs, crossed the redwood bridge, and entered the grove.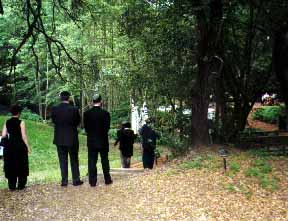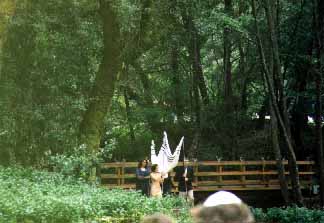 Next came the Rabbis, Kaunfer and Zaiman, even though Joel had protested: "I don't march!" Then David Steuer, Jonathan's brother, best man. Then Andy, the Man of Honor, who picked up Grandma at the last bench, and walked her down the aisle to a seat under the huppah.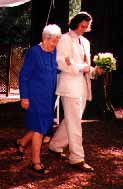 Then Betsy and Jordan escorting Jonathan. Betsy wore an ivory brocade suit and Jordan a dark pin-striped suit.
Then the bride, escorted by her parents. Carol wore a purple chiffon knee-length flapper dress with matching jacket and the art deco moonstone necklace and earrings that her father had given her mother 60 years before to the day on the occasion of their second wedding anniversary. I am wearing a Joseph Bank dark gray plaid suit (which I got for $100 off and is still the most expensive suit I ever wore) with a brand new Albert Nipon shirt that I got for $9 at an outlet store, and a silk tie with bright red and green hearts, which I got for $2 from a guy with a suitcase at the corner of 3rd Avenue and 34th street. My head is in the clouds. I don't see anything or anyone.


When we arrive at the head of the aisle, Jonathan is waiting, and I release Marjorie's arm to pass her to him. We stand still for a moment. She turns to me and says "Give me a kiss and say goodbye to me, Dad?" I kiss her and hug her. She turns to Carol and says, "I love you," and gives her a big kiss.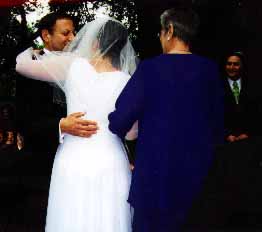 Carol and I walk ahead to the huppah, and Jonathan and Marjorie walk up together.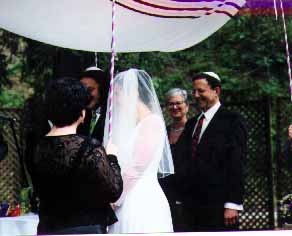 Joel begins with some brachot. Then Alvan sings the first three of the sheva brachot (seven blessings). Joel glares at him as he begins the fourth: "I don't sing," he mutters, but it's his second first of the day. He sings. The bride and groom drink from the goblets that Marjorie had designed and made for them. Then Alvan reads from the ketubah that Marcia has made. He blessed them with the blessings for the new moon that form the motif around the lettering on their ketubah. It was strange to hear "St. Helena" pronounced in Aramaic. He spoke of their rekindled interest in Jewish tradition, ritual, and community. Alvan shook with emotion.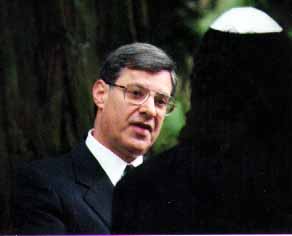 The ring exchange: both spoke flawless Hebrew. Marjorie's ring was antique platinum with engraved flowers, to match her brushed platinum engagement ring with a space-age setting of Jonathan's grandmother's diamond. Jonathan's was a manly simple brushed platinum. Joel read more blessings, now lapsing into his stentorian homiletical Ashkenozis. Then he, too, like the rings on the index fingers, spoke straight from and to the heart. Although he closed with his obligatory, "This is serious," he was light and fresh. How much both our kids and we love Joel and Alvan. Jonathan broke the goblet with gusto, a big kiss,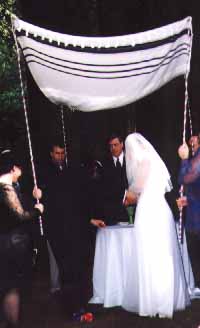 and, to joyful klezmermusic, off they went to yihud (a solitary moment, with the entry guarded by Joel).