BRIT AHAVA-ANDY & NEAL
MAY 31-JUNE 2, 2002
SHABBAT MORNING--AUFRUF
An aufruf is when the wedding couple are called to the Torah in the synagogue to celebrate their forthcoming nuptials. It's sort of like posting the banns, I guess.
It was time to dress snappy! I wore my tan poplin suit, a deep blue-purple shirt, and the first of my tie-it-yourself bow ties, this one a bright yellow number with red florets that I paid $45 for at Harvey's. Oi, did that hurt! I stood in front of the mirror and tried to follow the printed instructions that came with the tie. Total failure! Carol tried. It was the Gordian knot, and Alexander the Great wasn't available.
We met the Hoffmans in the dining room of the hotel for breakfast. Once again, it was like being with our own family. They were our own family. You know you're with you're own family when you can wipe your mouth with your hand if you dribble, and when you can burp at the table and not have to say "Excuse me." I walked around, asking if anyone in the dining room would know how to tie a bow tie. Nadie. I stood in front of the lobby mirror and tried...again and again and again. Finally, after 45 minutes (I was actually sweating, and, of course, cursing), it came out right. When I entered the dining room, spontaneous applause broke out.
We took a cab with the Hoffmans across to 28th and 9th Avenue to the Church of the Holy Apostles, where CBST--Congregation Beth Simchat Torah--the gay and lesbian congregation to which Neal and Andy belong, holds one of its services. There were three adult bar-mitzvahs that morning, so the placed was packed. Barrie and the Spinats and the Hirschtritts joined us.
..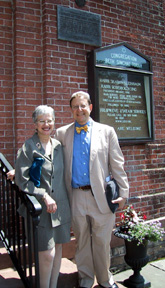 It was a spacious open sunlit church, simple and elegant. Those Episcopalians...they are the best. If I had to be a goy, I would prefer to be an Episcopalian...top of the line for me. Services were long, but very enjoyable--yes, you heard me say it. Rabbi Roderick Young, a Brit who has been a mentor, counselor, and friend to Neal and Andy officiated. There is a great deal of congregational singing, led by a wonderful choir, nay a superb choir, led by Joyce Rosensweig. There is a feeling of warmth and togetherness, of love, of a family that enjoys each other. We had the first aliyah--called to the Torah were Neal & Andy, Marty & Elaine, and Carol and I. The Torah readers were superb. Everything was superb. There was a nice kiddush luncheon, after which we went back to the hotel to catch a nap.