BRIT AHAVA-ANDY & NEAL
MAY 31-JUNE 2, 2002
SATURDAY--MARTY & ELAINE'S PARTY
It was 5:30 PM, fully three and a half hours since our last meal. So Marty and Elaine opened their suite at the Gramercy Park to those staying at the hotel, bringing in goodies and drinks from Balducci's. Friends and family mingled easily in a warm and welcoming atmosphere.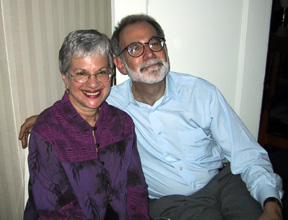 ..
..
..
..
Neal wore Marty's old jacket from the 70's.
David Gehrenbeck, Andy's friend from high school, was a surprise and welcome guest, flying in via Istanbul from Armenia, where he is stationed with the foreign service.
..
His friends Hartmut, Aaron, and Ingo came from Germany.
Marty decided to speak from his heart at this time, among those nearest and dearest to him. He spoke of coming to terms with Neal's coming out years ago and of the happiness in his heart at the prospect of Neal's finding his life partner in such a wonderful person as Andy.