BERKSHIRE CHORAL FESTIVAL
AUGUST 2001
This is the 20th anniversary year of the BCF, where we've been coming for the past 16 years. This year we chose the last of the weeks, devoted to the Verdi Requiem, conducted by Joseph Colaneri, former chorus master at the New York City Opera, now a conductor at the Met. He is an Italian from New Jersey whose accent is a bit more cultivated than that of Tony Soprano, but whose facial expressions, inflection, mannerisms, and love of all things Italian are much more compelling and endearing. I had sung twice before with him, most notably performances of Cavalleria Rusticana and Pagliacci. His rehearsal style is molto expressivo, and he is a joy to sing with and for.
We drove up on Sunday, now spoiled by living off campus for the past three years, but needing to leave our former lodgings at Ramblewood, where the frightening and sinister Harry had taken over. We found the Birch Hill Bed and Breakfast just up the road from the Berkshire School, for less money than Ramblewood. It is also a much nicer place, an old New England farmhouse with large, comfortably furnished rooms and antique fixtures. The innkeepers, Michael and Wendy Advocate, are warm and friendly people who are lovely to be with and always try to be helpful. There are four other singers here this week.

..
Michael & Wendy
..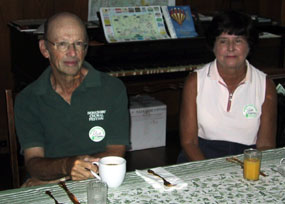 Gabe & Margie Laury. Dick & Joan Kingsbury
Sunday night, we skipped the "Festive Italian Banquet" and went to see The Closet, a French film with Daniel Auteuil and Gérard Dépardieu (who is getting as big as Brando). Auteuil is a meek and passive worker at a large company, divorced by his unfaithful wife, forsaken by his teenage son, who thinks he's boring. When he faces being fired in a staff reduction, he is coached by his gay neighbor to let it be known that he is gay, so that people will be afraid to fire him and face charges of discrimination. Dépardieu plays a macho fag-bashing pig who is slowly destroyed during the course of the movie. This is the funniest movie we have seen in a long, long time. It's a farce as only the French can do it. I can't remember laughing out loud so helplessly since Les Compères, another French film several years ago. Afterwards, we went out for a bite to eat at Limey's in Sheffield—cheap, but undistinguished.