BERKSHIRE CHORAL FESTIVAL
AUGUST 2001
PAGE 2
Monday, after a great breakfast at the Birch Hill, rehearsals began with Joe Colaneri. He is patient, but exacting, wanting you to sing it just so. When you donít sing it as he wants it, he scrunches up his face, puts his fist to his chest, and says with a Hoboken accent, "Please, donít sing it that way! Itís like a knife in moy hawt!"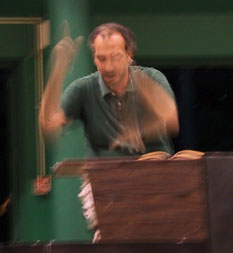 ..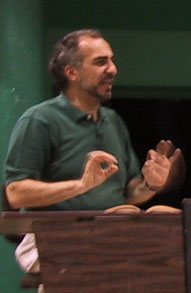 ..
..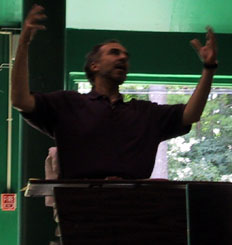 After rehearsal, Barbara Peters gave a talk on the Requiem and Alessandro Manzoni, an Italian writer and man of letters whom Verdi greatly admired and in whose memory he wrote the Requiem for the first anniversary of his death. In the afternoon, we did some shopping in Great Barrington, had lunch at the Neighborhood Diner (always excellent), and came back for a snooze. At 5:00 PM, there was a faculty recital with some perfectly lovely moments.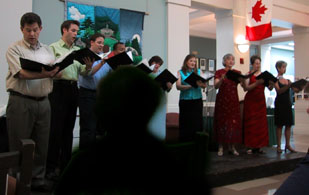 ..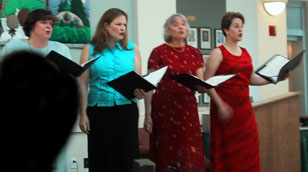 Dinner at the Berkshire School (where the landscaping is even more beautiful and the food even better), and another great rehearsal Monday evening and to bed.
Tuesday morning, Carol finished some ?syllabi ?syllabuses and the singers rehearsed. In the afternoon, we had lunch at Momís Country Café in Egremont (always excellent), bought some used clothes at a consignment shop, a couple bottles of wine, a dip in the lovely pool at our B&B, a snooze, and a 5:00 PM talk on Verdi and his Requiem by Joe Colaneri that was erudite, but delivered naturally with great warmth and affection. He is a great conductor and a wonderful human being. Dinner at the school with old and new friends and another fabulous rehearsal, while Carol attended a Trio concert at Searles Castle in Great Barrington, which she said was a cut below what we had just heard at the Newport Music Festival.