COSTA RICA--MARCH 2001
Sometimes we find a place to vacation that is so special, so perfect, so pristine and elegant in its beauty, that we vow we will come back every year. Three times we've returned to our new-found paradise to find it despoiled, crowded, "discovered," dirty, and crowded: to Cabo San Lucas, to Grand Cayman Island, and to the Yucatan south of Cancun.
Last year, we found Flamingo Beach in the northeast Pacific coast of Costa Rica to be such a location. This year we returned to find our precious virgin untouched, untrammeled, and unspoiled.
This year, there were four of us, for, thanks to the generous response of GWV Tours and Steve Trammel of the Flamingo Beach Hotel to Letters from Farklempt last year, we were able to take Andy and Neal with us. They were superb company, great travelers, a joy to be with. And we did not embarrass them too much.
On Monday, February 26, we drove to Boston at 3:30 AM—yes, you got that right, AM…not PM, to make a 6:40 AM departure. There was a new airline, North American Air, with a clean, shiny new wide-bodied 757, with adequate leg and hip room. The plane left right on time, and flew non-stop to Liberia, Guanacaste's major airport, which has one runway, and a terminal the size of my living room. Our rental car was waiting for us, thanks to Jimmy of Budget: a new 4WD Suzuki Gran Vitara, just right for four, with big wide tires for the Costa Rican roads. Over the course of the past year, the roads to our hotel had been repaired! No more 2 X 5 foot potholes coming upon you without warning at 90 kph. We zipped over to our hotel, and with the one-hour time change, we were on the beach at 1:30 PM. The adjoining oceanview rooms that we had requested were ready.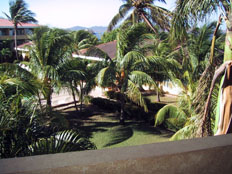 Once more, there was hardly anyone else staying at this hotel, on one of the most beautiful beaches you can imagine—just a handful of late middle-aged Texas Good Ol' Boys, led by one named, believe it or not, Billy Bob. They must have told their wives they were going fishing, but what they came up with were a school of Costa Rican chicas, with whom they frolicked all day at the pool and bar. We had lunch at Marie's across the street, an old favorite, with delicious guacamole, ceviche, a vegetable sandwich. We hung out at the pool and beach to watch the first of many magnificent sunsets.
That evening, we returned to our old favorite for dinner, the Camaron Dorado,with candlelit tables in the sand at the beach, the surf pounding, the moon emerging from its shadow overhead (the moon near the equator lies on its side, so that a half-moon has its division horizontally, not vertically), the skies filled with a myriad of stars and planets and nebulae. The service here is by old school, courtly waiters in white shirts and black pants. Dinner began with a washing of the hands in warm water with flower petals floating in it.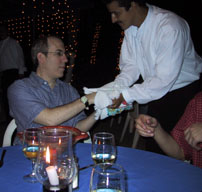 ..
Flowers were the theme of the evening, with an orchid in the ear for Carol, and a final handwashing after dinner in a lime-green icy liquid.
The evening was marked by the music of Mariachi Cobre, a group of brothers from San José, with five violins, two guitars, bass guitar, two trumpets, and a huge young man with a glorious ringing high baritone who needed no microphone. The owner's daughter was enchanted.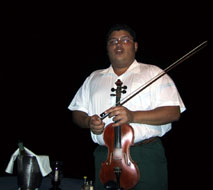 ..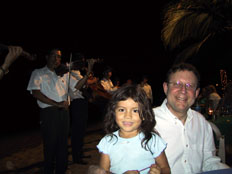 The food lacked the surprising deliciousness of last year. The lomito (filet mignon of brahma bull) was just OK, Andy had a platter of mixed shellfish that was a bit dry and disappointing, Carol had the casado de pescado, and Neal had a vegetable plate. The flan for dessert was not really a flan, and the Spanish white wine was overpriced. But the ambiance more than made up for it. We returned to the hotel and visited the now-open small casino, but breezed right out and went to bed.