COSTA RICA--MARCH 2001
PAGE 3


Tuesday morning, we had breakfast at Marie's. A fried egg sandwich with bacon, plates of delicious fresh fruit—cantaloupe, watermelon, papaya, mango, pineapple. We slathered up with 30-weight sunblock and drove out to Guaitil, the center for pottery in Guanacaste. Each shop is in the home of a family, with the atelier right on the premises.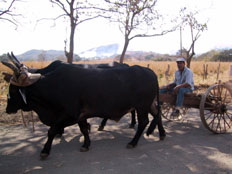 We enjoyed watching the work of a young apprentice, who decorated a wall plate under the eye of his master potter, who learned the art from his father, who learned…you get the picture.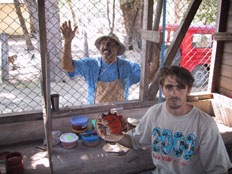 We drove to Playa Tamarindo, a honky-tonk beach for surfers and burnt-out hippies. Then back to our hotel for another sunset with a pina colada on the beach.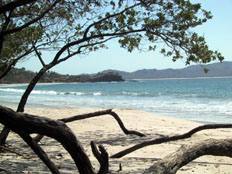 Dinner was at Il Forno, a very nice simple Italian restaurant, with good pizza, caprese that was not bad, a delicious pargo entero a la plancha (grilled whole red snapper with garlic), good cream of asparagus soup, tagliatelle with salmon and broccoli with alfredo sauce, gnocchi with a creamy white sauce, eggplant lasagna, a good cheap bottle of Chilean Concha Y Toro cabernet, and then to bed.
Wednesday morning, breakfast at Marie's: papaya pancakes, fried egg sandwich with salchichas, fresh fruit plate. We hung out at the pool and beach and read. We drove over a hilly and rocky coast road for a few miles up to Playa Pan Azucar, Sugar Beach, to a tiny intimate very expensive hotel. No one was there. It is perched on a hillside, overlooking the ocean. We had a lunch that was not great, but with a spectacular view. We walked down to the beach, which was also empty, and sat under a tree and read for the afternoon.
As the sun was setting, we climbed up the hill and went to their infinity pool, which creates the illusion of looking over an endless lake that stretches to the horizon, where the sun was setting. We drank pina coladas in the pool as the sun set. Overhead, a family of howler monkeys barked like dogs in the trees.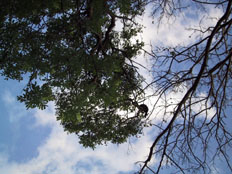 We returned to our hotel, showered, and went for dinner to Soda Coco in neighboring Brasilito, (pop. 500?). There is a town square, consisting of a large square patch of dirt, with a bumpy dirt road around it. The square is marked off by half-buried used tires, which have been painted in hideous pastel colors. This was one of our favorite restaurants last year. Only locals go there to sit at rickety unmatched outdoor chairs and tables and drink. They come out into the street to your car to welcome you in to eat. The TV was on to the World Cup, where Costa Rica was playing Honduras. The seedy assembled group cheered and booed and sang with gusto as it were the Super Bowl to end all Super Bowls. We had our usual pargo entero a la plancha, and casado de pescado.
Neal had brought along supplies of various manufactured soy preparations which he believes are safer, more healthful, and kinder than meat or fish. The chef prepared a casadoof tempe for him, and it was astonishingly delicious. For dessert, banana and pineapple flambé with helados. Cervezais a must at a place like this. We returned to the hotel, where Neal destroyed us all at pool.
Thursday, we drove back to Soda Cocofor breakfast. The prices were absurdly low, but Marie's remains the place to be seen for breakfast. We hung out at the pool and beach. Later in the afternoon, we went to the marina, where we boarded the Shannon, a 53-foot sloop that we went out on last year with Mark, a sunburnt beach bum who life is sailing. We sat in the cockpit, well-shaded. The seas were calm, but with a good brisk breeze—perfect sailing weather.
..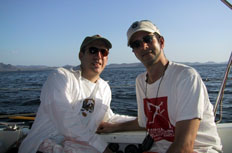 ..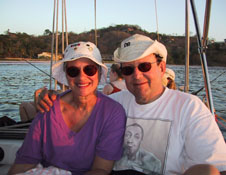 Porpoises joined us alongside, teasing and playing. Carol took the helm.
We had lots of cerveza, great guacamoleand salsa, and fresh fruit. Another magnificent sunset from the boat. Dinner was at Toucan Too in Brasilito, a sports bar and restaurant with beautiful décor, and a charming waiter, who screwed up orders, but we didn't really care. It was a bit overpriced. Good pargo entero.
Friday, breakfast at Marie's. We hung around at the pool. I read two books this week. The first is Interpreter of Maladies by Jhumpa Lahiri, a collection of stories by a young Indian woman who grew up in southern Rhode Island. It won the Pulitzer Prize last year. A poetic and insightful writer, a master of her craft. The other was My Year of Meats by Ruth L. Ozeki, who writes a brilliant first novel (with a good deal of autobiography and documentary built in). The structure is brilliant, as she pans back and forth between Japan and America. The protagonist is an American woman born to a Japanese mother and a Swedish-American father. She is tall, crew-cut, tattooed, cool, self-confident—a TV producer-director who makes a weekly show for Japanese television called "The American Wife." It shows an All-American wife and family, and the highlight of each show is the cooking by the wife of her favorite recipe for good, healthy, delicious American beef. The sponsor of the show is BEEF-EX, an American conglomerate of beef farmers, herders, feeders, slaughterers, packers, and shippers, who want to increase their export market to Japan. The director strays from her course and starts featuring families and meats that her boss in Japan considers less than All-American—a poor Southern Black family cooking chitterlings, a lesbian couple who are vegetarians, etc. The director's path intersects with that of the wife of her boss in Japan, an timid abused wife who hates her husband and purges in order to stop her periods. The themes of the book are autonomy vs. interdependence, fertility vs. infertility, the dangerousness of the meat that we eat, filled as it is with antibiotics, offal, actual shit, and sex hormones, as well as the brutality with which we treat cows and ourselves. For the first time in my life, I seriously considered avoiding meat. I am still thinking about it. I know you are laughing as you read this. Stranger things have happened to me.
Anyway, back to Friday. We drove for an hour to another hotel area up the coast toward Nicaragua—Hotel Ocotal. It is terraced up a cliff, with a magnificent view of the coastline. No one was there, either. As we ate lunch on the veranda, a twenty-pound iguana fell out of tree and landed with a huge splat on the neighboring glass tabletop. Yum.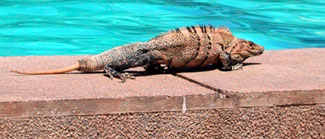 Lunch was otherwise undistinguished. Back to our hotel for sunset on the beach and dinner again in the sands of the Camaron Dorado.