ITALY
JUNE 30-JULY 8, 2003
MONDAY & TUESDAY
Usually, we plan our own trips, choosing the flights, the hotels, the rental cars, the restaurants, after careful research and thought. But this one looked too good to pass up--a Brown Alumni group tour of the lake region of Italy,in Piedmont just south of the Alps. It should be a civilized group of people, with Brown lecturers and guides. It looked like it was designed for old people, so no hiking through the Tyrol, more like "Now if you cross over to the port side of the boat, you can see the Borromean Islands in the distance." Meals, buses, boats--all pre-planned. Even plane seats and hotel rooms were preassigned.
We drove up to Logan airport in record time, zipping through the Ted Williams Tunnel with not a bit of traffic, directly to the Hilton Hotel, where I made my customary parking arrangement with the doorman. An easy check-in, and a nice lunch at "Dine Boston," a café run by Chris Schlesinger, who owns several noted Boston restaurants. The food and wine were delicious and cheap.
As we waited at the gate, our aircrew arrived in frighteningly splendid fashion. It was a Lufthansa flight to Frankfurt, with a connection to Milan. The crew could be seen and heard, about 16 of them, marching two abreast in perfect step, heads forward, eyes fixed on the entryway, expressionless, silent, menacing. Der Führer would have been proud.
They really pack 'em in on Lufthansa. To sit in coach with your knees and chin pushed into seat in front of you reminds you that the days of the cattle cars were not so very long ago. The food was just plain awful. We caught just a bit of sleep and came into Frankfurt at 5:30 AM. The airport in Frankfurt is new, aluminum, shining, bare, efficient, and clean. Very German. We had to scrounge to get an espresso and cappucino for 7€ ($9). We jammed onto another Lufthansa flight to Maitland (Milan) and rode a roller coaster over the Alps. The bumps were so bad, they could not give drinks out. We enjoyed our piece of cheese sandwich.
At the airport, we were met by baggage handlers who took our luggage out to the waiting tour bus (again no legroom), bypassing customs and immigration. The bus drove us 45 minutes to Baveno, a town on Lake Maggiore looking out on the Borromean Islands. We checked in smoothly to the Lido Palace Hotel, a gorgeous early 19th century villa converted to a hotel, with turn-of-the cenury furniture and modern bathrooms, all with central air conditioning. Our room looked directly out on the lake.
..
Carol took a shower, and I, beleaguered by leg cramps brought on by too much airport walking. got in the tub. But those Borromeans were all midgets. I couldn't get out. We thought it was going to be a re-enactment of Bess having to call the doorman at The Towers to get Tom off the floor when he'd slip in the shower. Faced with this humiliation, I somehow contorted myself out with Carol's help.
Carol walked into town and I caught a few more winks. We went down for an orientation by our guide, Maura, a part-time stewardess, tour guide, and ski instructor who was born in the Alps nearby. Then a welcome cocktail overlooking the gorgeous lake, islands, and mountains.
There followed a lecture that was scholarly but disorganized and rambling from a Brown Professor Emeritus of Italian, Anthony Oldcorn, focusing, as much as he could focus, on Alessandro Manzoni's I Promessi Sposi (which Carol had, of course, read, although not in the original Italian) and the development of standardized Tuscan as the language of the newly united country of Italy.
The group is composed of people our age, all with some connection to Brown, primarily alumni, who are interesting and bright, ranging from a public defender from New Jersey to a newly single psychotherapist, whose children forced her to come in order to begin a new life, a retired computer engineer from IBM, to a personnel director from the Newton Public Schools.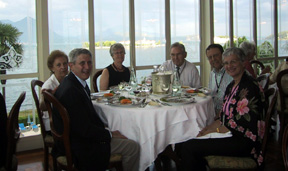 Dinner was many courses long, with food that was OK, but not great, elegantly served in a gorgeous setting.
There was free high-speed internet in the lobby, and when I checked, the market had gone up and we had made some money that day, so we went to bed and slept well.