ITALY
JUNE 30-JULY 8, 2003
WEDNESDAY
Breakfast was splendid: eggs which you boiled yourself in an egg cooker to the desired texture, scrambled eggs, bacon, ham, cheese, and fresh fruit. The peaches and apricots are so good, we are both straying from Atkins in this area. Coffee is terrible--overbrewed Peruvian. The staff could not be more gracious and accommodating.
The morning began with an orientation by Patrizia, our guide for the day, to the geography and culture of the lake region.
We set out on foot to Baveno, walking along the waterfront.
Cutting granite: pink, gray, and green is a major industry here with quarries slashed into the mountainsides.
In Baveno, we climbed an enormous flight of stairs to visit a Romanesque church and bell tower. Inside were frescoes of the life (and death) of St. John the Baptist.
..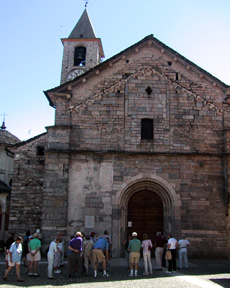 ..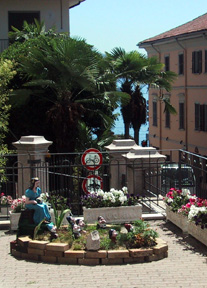 We strolled back to the hotel, but this climb wiped me out. There was a lovely lunch, followed by a boat trip on Lake Maggiore into Stresa, a major resort town. One hotel after another, mostly catering to Brits lined the shore. Most of the hotels were at one time private villas. Hemingway stayed and wrote here.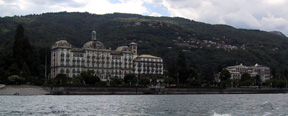 ..
Queen Elizabeth and Queen Victoria vacationed here, as did Winston Churchill. Carol visited beautiful gardens while I sat in a café, drank acqua frizzante, and read.
..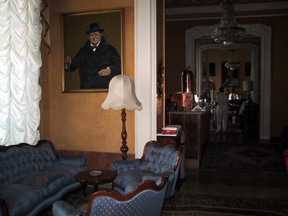 ..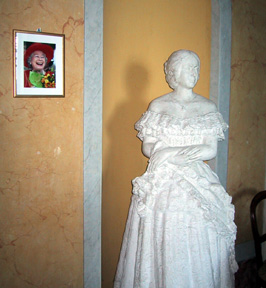 We passed the Borromean Islands with their magnificent villas.
..
The area is quite beautiful, a huge long lake, like the Finger Lakes, free of noisy boats, very clean water, surrounded by majestic moutntains--the foothills to the Alps (Piedmont) and the Alps themselves.
We returned for a lengthy rambling lecture by Anthony Oldcorn that was supposed to be about the Italian literary tradition, but was more a series of free associations that were disorganized and boring. Here is a knowledgable man who needs to study with Miss Finger, so that he can learn to teach. Other than that, he is totally charming, very quick, and a good companion.
Dinner was excellent looking out on a beautiful vista as the sun set.