LOS ANGELES & CABO
DECEMBER 2002
LA: FRIDAY & SATURDAY
Carol had a paper to give at the Association for Jewish Studies in Los Angeles, and Uncle Ismar was picking up the tab. We had some first-class upgrades from our last trip to Mexico on USAirways, when I had played doctor and saved another life. It was "use 'em or lose 'em" time. Once we were in LA, it made sense to go to Cabo for a few days for a little R & R. First-class travel on USAirways is not what it used to be, and, although it's better than steerage, it doesn't hold a candle to any European, Asian, or even Canadian airline. I've already written to my new best friend, David Siegel, the CEO of USAirways, letting him know, offering him another chance to shine on The Farklempt Page.
We took a cab to the Century Plaza Hotel and Spa, located near Beverly Hills and Hollywood where 20th Century Fox studios used to be. This is a gorgeous hotel, top-of-the-line, two Speakman showerheads! Those Jewish educators--they know how to live! But LA itself? With apologies to the Angelinos, this is an ugly, flat, smog-filled city. It's big, and has the full range of museums, restaurants, sports teams, orchestra (no real opera, though) that a big city has. But compared to New York or Chicago or Boston? You can live in those cities. Well, perhaps first impressions are not the most accurate.
For dinner, we went to Beverly Hills to a restaurant recommended by our conciérge, Crustacean. There are apparently a few of these in California. This was one of the great meals of our lives. The restaurant, owned by a Vietnamese woman, attempts to capture the mood and food of a Vietnamese garden restaurant during the days of the French occupation. It's large and loud, but beautifully finished. The ceiling is vaulted thatched bamboo. The wood is teak. You walk to your table over a clear lucite floor, under which swim large tropical fish among coral. It's eerie--you're sure you'll fall in. And the food! First, I had a mojito, the best I ever had. We continued with Domaine Chandon champagne. I had a bouillabaise that was an aromatic soup chock full of seafood, with an extraordinary mixture of spices--elegant peasant food. One of the best soups I ever had. No, it wasn't just the mojito and champagne talking. It was good. Carol had some vegetable dumplings that had her moaning. Then, she had seared ahi tuna over spicy arugula. I had some poached ravioli with shrimp filling with spices that I could not identify, some carmelized onion over the top, and anise seed. One of the best dishes I've ever had. For dessert, we shared a pineapple fritter with vanilla ice cream to die for, washed down with excellent capuccino and espresso. Everything was presented beautifully on the plate, fresh from the kitchen. The house specialties are large dungeness crabs and huge Asian prawns. Five Farklempt stars.
On Saturday, my cousin, Alex Shuhgalter picked us up at the hotel and gave us a day of wonderful hospitality. He drove us to the Getty Museum, and offered us a personally guided tour. It's a marble fortress on a hill, built of granite quarried in Jerusalem. At times, you turn a corner and think you're in the Old City.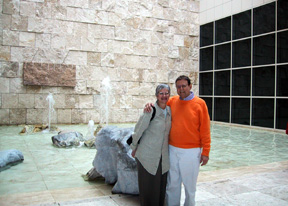 You take an automated tram from the parking lot.
Admission is free. It's huge, spacious, uncrowded, with light streaming in from all sides.
..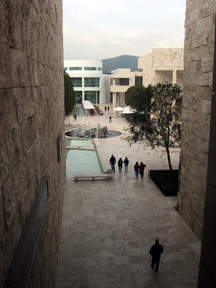 There are breathtaking panoramas of the city covered in smog and of Magic Johnson's French Provincial mansion.
..
The collection is enormous, with an emphasis on antiquities, rococco and baroque Italian art, Louis XIV gilted furniture. Not much modern art, and just one room of French impressionists. They do have van Gogh's "Irises," which isn't the most beautiful painting in the world, but it is the most expensive. They paid somehting like $54 million for it. But to J. Paul it was just a few tankfuls of gas. There is a small children's section.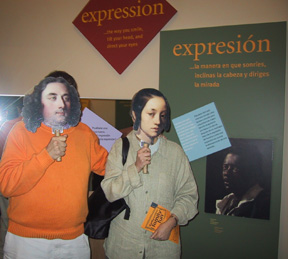 And there are the famous Getty gardens, with waterfalls. Not a single weed in sight.
Not a bad way to spend one's fortune.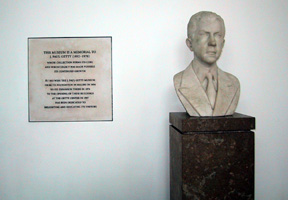 Next Alex took us to his condominium in Pacific Palisades, which is spacious and grandly furnished with hundreds, perhaps thousands of paintings and tschatchkes. He made us a lovely lunch of a Greek salad and chicken casserole, with an outstanding bottle of Amberhill Chardonnay 2001, September, I believe.
Our chauffeur for the day, Alex, dropped us back at th hotel for a nap and picked us up again to go to a party in Beverly Hills, given by some of his friends from the high school at which he teaches. There were 80 people, there to celebrate the completion of the refurbishing of the house. There was lots of good food and wine, and interesting people to talk with. The highlight of hte evening for me was a star-sighting. Well, not a top star, but a man sitting across the coffee table from me who was busy carving off chunks of Reggiano Parmigiano for himself. I recognized him as an actor, and asked him his name. He was Bob Costanzo! Bob Costanzo eating parmesan cheese right five feet from me! What a moment. He told me had just been in Providence, on Federal Hill, making a movie, "Jesus, Mary, and Joey." He knew I was a maven from my questions, and asked, "Are you in the business?" I assumed he meant show business, not the mob, so I answered no.