LOS ANGELES & CABO
DECEMBER 2002
LA: SUNDAY & MONDAY
Today, Carol began her meetings. I went out with Alex, this time to Pasadena to the Norton Simon Museum. It is a lovely museum, with an exquisite collection of Asian and impressionist art. Since no one goes to Pasadena except during the week of the Rose Bowl, it was practically empty.
..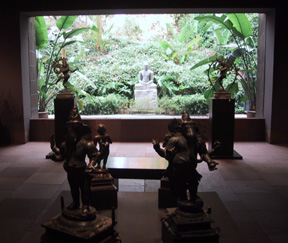 ..
Afterward, we had lunch in a lovely Brazilian-Italian café, and then back to the hotel.
In the evening, we joined Carol's cousins, Morty & Roz Resnick and Baylis and Ruthie Resnick for dinner at a trendy Italian restaurant in Beverly Hills, Prego. We reminisced about life in Roxbury and Dorchester. Best of all, they picked up the tab.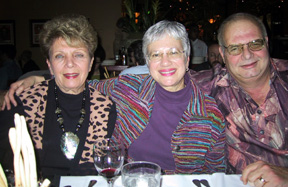 ..
On Monday, El Nino poured into town with torrents of rain. I stayed in and wrote, while Carol attended meetings. I did attend one excellent presentation on Paul Robeson's Jewish identification, which included a recording of him chanting Levi Yitchok of Berditchev's Din Tayroh mit Gott.
On Monday night, we went out to dinner at La Cachette, a local French restaurant. Once again, a fabulous dinner--French, but light on the butter. A bit pricey on the wines and appetizers, though. We split an appetizer of grilled marinated sardines over a light potato salad ($18 for sardines?). I had a delicious marinated grilled rare venison with a red wine reduction, chestnut purée, plump blueberries, and candied yam. Sounds de trop, but it worked. Carol had a delicious Chilean sea bass with white asparagus and braised endive. For dessert, a tarte tatin. Our waiter looked like Alain Delon, and, unfortunately, seemed to be an actor, rather than a waiter. Still, a very good place.
We returned to the hotel and caught a performance in the ballroom of Sephardic songs by Rabbi Haim Louk (pronounced Loook), a Tunisian-Sephardic cantor and performer. He performed with a wonderful band that could have been heard in any Arabic nightclub. The guitarist played with a flamenco flair. And the songs were all in a flamenco mode. Only a few people were in the ballroom, for most of the Voozvoozim (a pejorative term applied by Sephardic Jews to Ashkenazic Jews, who are always going around, according to the Sephardim, saying "Vooz? Vooz?) had gone to bed, but Rabbi Haim had the place rocking.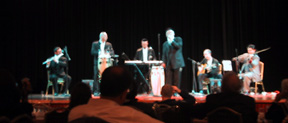 It was a lovely way to close the day.