NEW YORK CITY
SITE OF BRIT AHAVA, BABYSITTING FOR JOSIE, BROWN-COHN-STOBER WEDDING
MARCH 16-17, 2002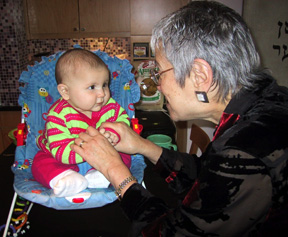 We drove in Saturday morning and met Andy and Neal at their apartment, dropping off half our CD collection (which is now on my hard drive, in anticipation of the move downtown) and some precious books. We went on to lunch at Tamarind, an Indian restaurant near Gramercy Park. It was a wonderful lunch, with a private booth, good service, and delectable food. Not your local tandoori house. And they have goat! I would sell my birthright and my soul anytime for a spicy goat stew.
After lunch we walked to the Gramercy Park Hotel, which will serve as headquarters for the Brit Ahava in June. It is right on beautiful Gramercy Park, a private park to which guests have access, and where we will take the official photos. We checked out the rooms, which are pleasant, but not upscale. It's the kind of place where people have lived and worked for decades.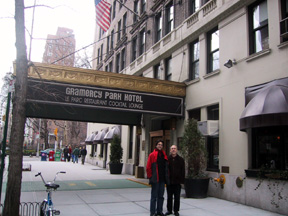 From there, we walked just around the corner to the Brotherhood Synagogue, where the ceremony will take place.
Next, we walked a few blocks more and peered through the windows of the Metronome Restaurant & Lounge, where the festivities will take place.
We drove down to the East Village to babysit for Josie. In two weeks, she has grown and matured. She is now a beautiful child, not just cute, but really good looking. She's very dextrous and strong, and she is very tall and solid. Marjorie is reluctant to accept our piano, fearing that playing it may damage Josie's hands for basketball.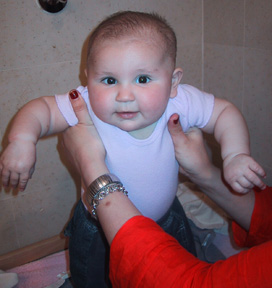 ..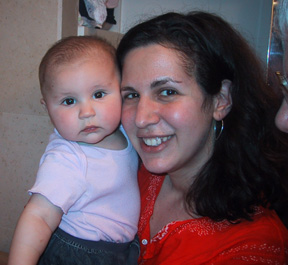 She went to bed after just a bit of crying and slept through the night. We ordered pizza delivered from Lombardi's, which Zagat's calls "the best on the planet." It was very good, but not as good as Pepe's in New Haven.
In the morning, we Marjorie baked some scones from homemade dough made by a friend, who also gave them a large trough of clotted cream, smuggled through customs from England. They call it clotted cream, because if you have two helpings, you need an immediate CABG. They were the best scones I have ever tasted. Josie is at her best in the morning.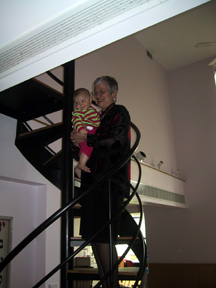 ..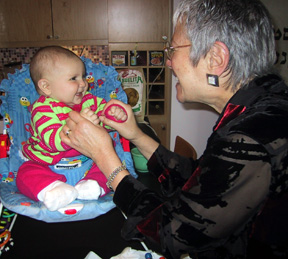 Pattycake
..
She is cheerful and gregarious. She has taken to making lots of noises and sounds, and particularly delights in emitting a piercing high-pitched shriek for no reason at all.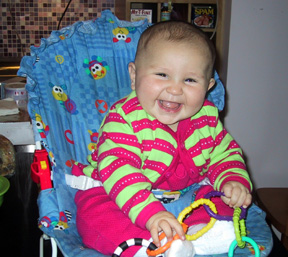 She almost makes it to the lox, and looks lovingly at a tub 'o whitefish salad, but must content herself still with breast milk and a bit of supplement.
..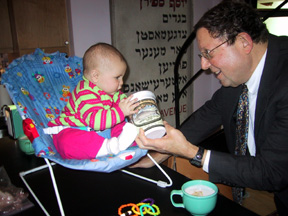 Most of all, she likes to read the Sunday Times and play with her toes.
..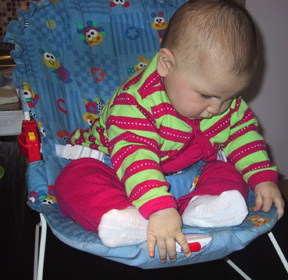 On to the Brown-Cohn-Stober Wedding