NEW YORK CITY
BROWN-COHN-STOBER WEDDING
MARCH 17, 2002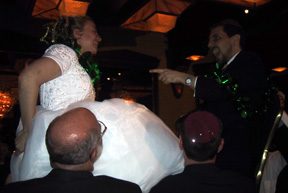 Then we crossed the Williamsburg Bridge, took the BQE to the LIE, just missing the Mosholu, and ended up in Woodbury, Long Island at the Crest Hollow Country Club for the wedding of Dory Brown, son of Steve and Shelley Brown (Carol's colleague and our good friends) and Abbe Cohn Stober. Remember those reception halls in Brooklyn and Queens where you went as a kid for weddings and bar-mitzvahs? Well, they have all moved eastward to Westbury--country clubs without golf courses, upscale, with valet parking, beautiful facilities, and four simultaneous events (in the afternoon, with more coming in at night).
First, some coffee, juice, and rugelach before the ceremony. Then a beautiful ceremony over which Steve presided, along with their friend, cantor/composer Charles Davidson.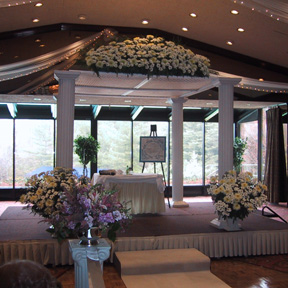 ..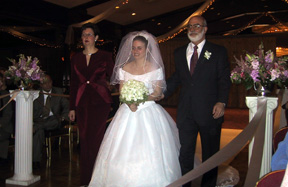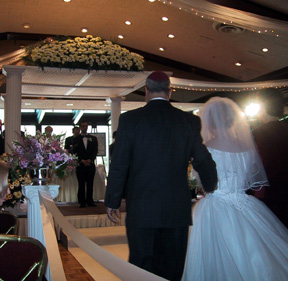 ..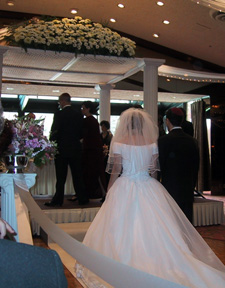 There followed a reception with excellent hors d'oeuvres, and a dinner with prime rib. Prime rib!! We are not talking here about no baked chicken affair.
Mothers
We sat at a table with excellent people:
Davidsons
Schwartzes
Of course, there was joyful dancing (with a very good, if very loud, band)
..
The groom and I attended the same school of dancing, each receiving his diploma in the nick of time, just before the wedding.
Meanwhile, down the hall, a bar-mitzvah to end all bar mitzvahs was taking place, with pinball and slot machines, a vestibule of thousands of balloons, and a candlelight ceremony with enough candles for the entire Jewish people.
..
Back at the wedding, the festivities continued:
Please, God, don't let this happen to us!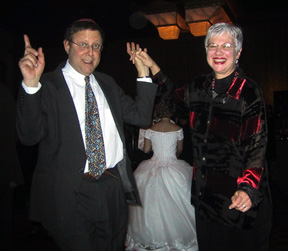 Oh, no! It's already happened!!
And so, farewell to Long Island, to our family, our friends, and the entire Jewish people.