QUOGUE
AUGUST, 2001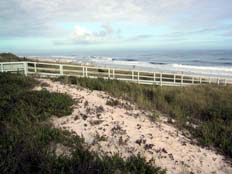 We phoned Bess at 6:15 AM so that she would be ready when we picked her up to make the 7:55 AM Southwest flight to Islip on Long Island. 18 minutes in the air for $30, and you're there. Nancy was at the gate to greet us, and we drove to the Hirschtritt's manor in Quogue. We left Bess in bed for a nap


and made a sortie into town to replenish the cupboard, which already was full. First we went to Scorsi's Pork Store, which, on the outside, looked like it was used in the filming of The Sopranos. On the inside, it was a wonderful Italian butcherie and deli. We got some prosciutto di Parma, some chestnut ravioli, some sausage, an Italian bread, some fizzy French lemonade, and some freshly made fresh mozzarella. At a farm stand, we got some just-picked corn, some cherries, big black cherries, and a plum. For lunch, I made my famous caprese with great tomatoes and basil from Nancy's garden, and Nancy served some wonderful homemade cold beets, the chestnut ravioli, and some roasted vegetables. The wine was a Chateau Greysac '98.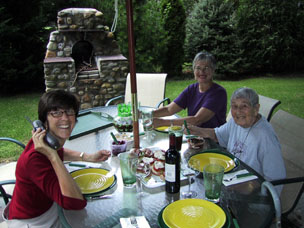 We spent the afternoon at the pool, which Bess enjoyed enormously. Nancy had turned up the heat to 87°. You could have poached an egg in it. Bess went for a swim, and pronounced the pool just warm enough. Joel, meanwhile, kept calling his broker as he pulled the pool thermometer from the water.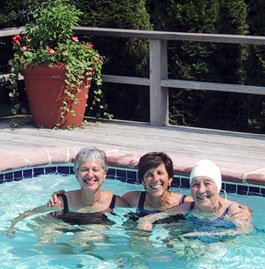 ..

Joel, Stefie, Jon and Ali joined us, as did Adam and Michal. Marissa came a bit later.

We all gathered on the porch for hors d'oeuvres (rollups of smoked salmon and chive cheese, and seared tuna with wasabi on pumpernickel) and chardonnay.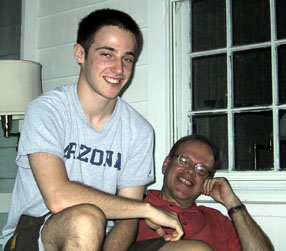 ..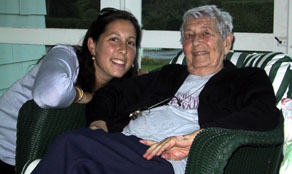 At supper, we made kiddush and ayshet hayil.

..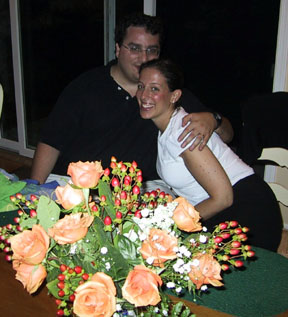 First came a delicious cold blueberry soup that Nancy had made from fresh blueberries, sugar, lemon, and cinnamon. Next we grilled some utterly fresh and delicious salmon and dill sauce (from Price Club! We couldn't believe it!), grilled red peppers, the corn, which we all agreed was the best we had ever eaten, and penne with pesto from the garden. For dessert, we had a fabulous melon that looked like a cantaloupe, but was even sweeter and juicier, called a seed melon, and some wonderful chocolate brownies with a layer of caramel inside.