SUNDAY
Sunday morning, Marjorie and Jonathan went out with us in Jonathan's huge bright red rented Blazer SUV tank to a Teaneck patisserie for breakfast pastries. They were OK. Then on to the Secaucus Designer Outlet Mall for some serious shopping. We kept getting lost and ended up in the Vince Lombardi Service Area of the NJ Turnpike. The shopping was excellent. Back at the hotel, where Andy and Neal, who had driven in from the city, joined us at the Spa. We drove to the Tamcrest Country Club in Alpine, NJ, central headquarters for the Soprano family, where we were greeted by a myriad of valet parkers. All the guests packed into a tight wood-paneled foyer. You could see the harpist who was playing in the corner plucking the strings, but no sound could be heard above the din of hundreds of people screaming to be heard. Finally, they opened the doors to the ballroom where the wedding was set up. The theme was white roses, and there must have been 1,000 of them, set off with Queen Anne's Lace. They were quite beautiful, elegant, and fragrant. A string quartet with flute played Israeli love songs, and the procession began. Bess led the way, ushered by Adam.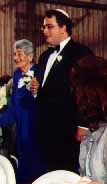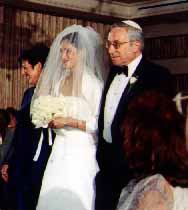 Gilda and Sam accompanied Yael, who was as lovely a bride as you could have, to the strains of Ki Tin'am, the same song that accompanied Carol and Gilda at their weddings. The bride wore a strapless cream satin ball gown with a cathedral train, an embroidered band across the bodice. For the ceremony, she had a matching stole and a chapel-length veil of peau d'Alencon. (I made up the last part.) Officiating were Rabbi Aryeh Meir and Uncle Sid (the same chazzan who is such a major contributor to the Farklempt pages), who served as chazzan. He turned 79 on the day of the wedding (bis mayoh un zvantzik), and his voice is still strong and clear--better than ever.

After the ceremony, Gilda skipped up the aisle. It is a joy to see Gilda have such a wonderful time at her simhas.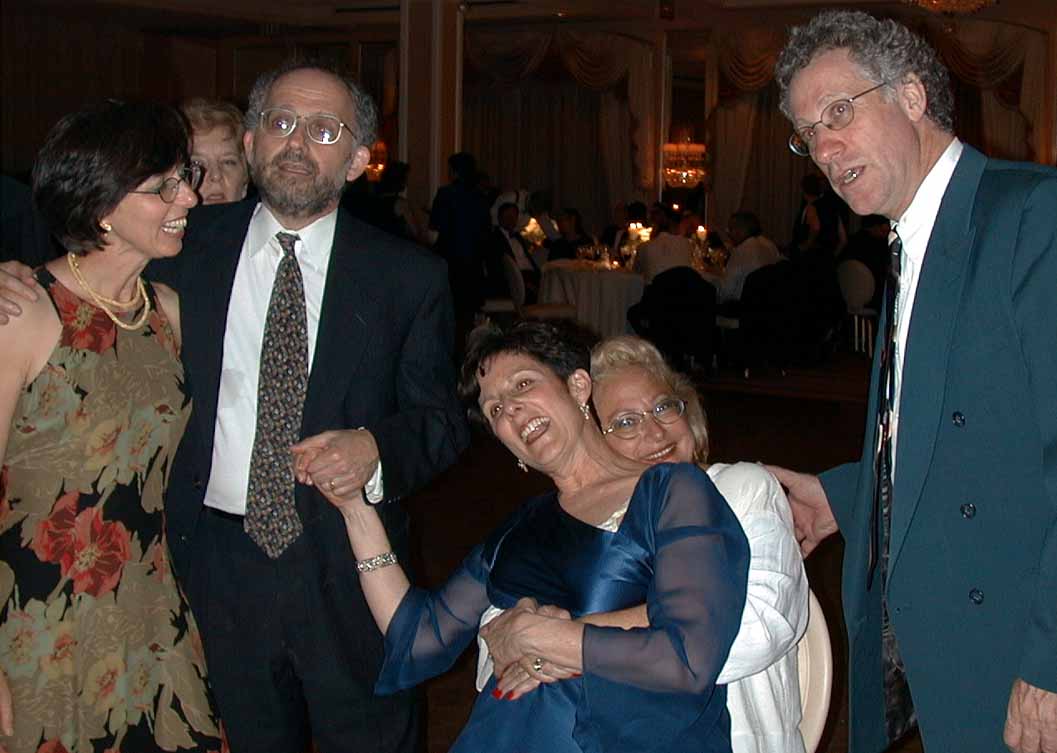 They fill her with life and energy. Into a reception room for hors d'oeuvres, which were first-rate. Lots of little tables to sit at. Good hot hors d'oeuvres on trays. A roast beef man, a turkey man, a sushi man with his assistant, who made excellent sushi, a smoked salmon slicer, a caviar lady with a selection of frozen vodkas, a Peking duck woman. A bar with top brands. Bess held forth at a table, and enjoyed the first glass of bourbon I've seen her drink in years.

Then into the ballroom, where there was a 10-piece band, that was good and loud. There was also an Israeli singer with guitar, who led the Hora with gusto. It was the longest and best wedding tanz I've ever seen, with Hora, and Eastern European dances of salute by troikas of men and women sweeping into them. Of course, the bride and groom went up in chairs. Sami gave his usual welcoming speech, seemingly off-the-cuff, and, as always, warm and hilarious. But this time, he outdid himself.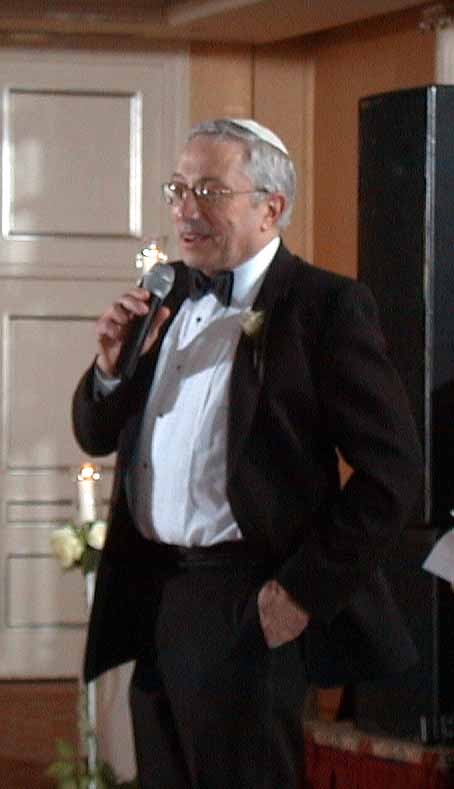 There is career waiting for him as an after-dinner speaker on the circuit. Dinner was also superb: excellent salad with portobella mushrooms and grilled vegetables. Choice of prime rib (which was wonderful), grilled salmon, or chicken, and a dark chocolate tulip filled with sorbets and covered in berries for dessert.
There were so many highlights.
During one of the orchestra's breaks, the Israeli singer began to sing the sweet and nostalgic, old Israeli songs from 40 years ago. Gilda and her circle of warm and wonderful friends from her havurah in Teaneck gathered around the stage and began to sing with him. There is something about a joyous event like this that reinvigorates.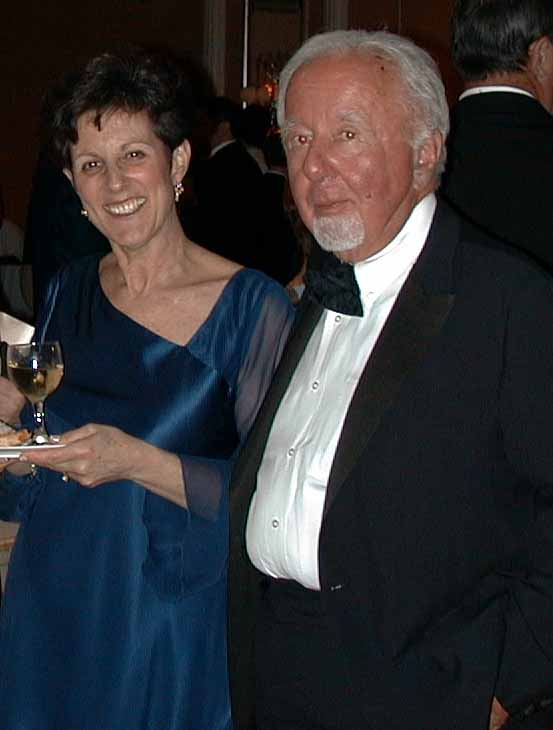 Bess stayed until 11 PM.
I began to do the twist with Carol, and our kids joined us on the floor.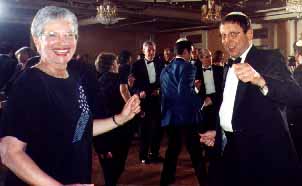 Andy got "dancing feet" and the floor cleared, as he danced like a professional dancer with Yael and then with Gilda. With his new black-framed glasses and blue tuxedo jacket, he looked like Buddy Holly reincarnate. He knows how to use his upper body and face. He was stupendous.


Ina Baron, Gilda's childhood friend insisted that she and I would serenade the bride and groom with "Sunrise Sunset." However, the band's svelte female vocalist, had already begun to sing the song. Ina dragged me up to the stage, and we tried to join the vocalist, who was having no part of having her big solo shared by intruders. Eventually, we took over. Now we will rehearse so that we may repeat our performance at Daniella's wedding.
As the evening drew to a close, Yael and Eric still were glowing with happiness, a picturebook bride and groom.