JOSIE AT ONE WEEK
OCTOBER 20-21, 2001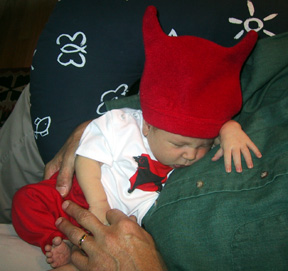 Carol has spent the past week in New York, helping out Marjorie and Jonathan, bonding to Josie. I come in weekends. She is so good with the baby. Everyone is so good with the baby, the whole family--she is so easy to love, so expressive, with such a good dispostion. She has made a "latch" to the breast, eats well, and can sleep now for 5 hours a night.She can drink breast milk, extracted with a pump, from a cup. A genius she is.

..

..

One of her favorite poses is sleep on her arm.
..

She also likes a finger to suck.
..

I drove in on Saturday. Bubbe and Zayde stayed home with Josie and a supply of pumped breast milk while Marjorie and Jonathan went out for a movie and snack. For supper, we had leftover chicken, couscous with dried cherries, wilted salad, and some hardening Korean bulgoki, and some Super Tuscan red wine. For dessert, some fabulous chocolate cake from Balducci's, courtesy of Aimee Jungman. Now, readers of this page will remember that we have eaten and reviewed some of the world's great restaurants. Believe me, there is no better meal than leftovers eaten in the presence of your granddaughter.

..

Carol put Josie to bed in her basinette, the same one in which Marjorie and Andy and and my sisters and I were raised.

..

When Marjorie and Jonathan got home around 11 PM, they were troubled by the smell in the air. We opened the patio door and there it was, the smell of the chemical fires from the World Trade Center, still strong a month later. What a contrast with the joy and warmth within our small corner of the world. Like breaking a glass at a wedding, I guess.
Sunday, October 21