BRIT AHAVA-ANDY & NEAL
MAY 31-JUNE 2, 2002
SUNDAY MORNING--THE KETUBAH SIGNING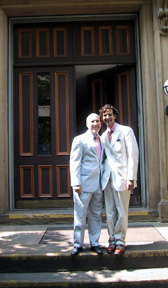 After the photos, we entered the Brotherhood Synagogue, right on Gramercy Park to begin the ceremonies. Neal and Andy had fasted from midnight until the ceremony at noon. Downstairs, in their reception hall, immediate family and friends gathered for the signing of the ketuba, the marriage contract. The document had been prepared by Andy and Neal's friend, Stephanie Caplan, who used a motif she calls "Rothko 3" to depict abstractly three landscapes where Andy and Neal spend much of their time: the city, the mountains, and the desert. The text is a traditional ketuba, modified for two men in today's world.
Carol gave the traditional drash, a short dissertation on the Torah portion of the week. She spoke of the twelve spies sent forth by Moses to scout out Canaan, the Promised Land. Only two, Joshua and Caleb, had the courage to dare to see things as they were, to see the goodness of the land, and to be willing to ignore the convential fears of the others. It was one of her best talks, full of wisdom, scholarship, and good humor, drawing her audience in. It was a very moving moment. Professor Ingall wore a light aqua suit by Oscar de la Renta, topped with a matching straw hat decorated with netting and tschatschkes. Very snappy. The boys were in seersucker suits by Joseph A. Bank, Neal's blue, Andy's tan, with stunning shirts from Pink and very snappy ties.
Rabbi Roderick Young recited the El Moleh Rahamim in memory of Neal's mother, Shirley. He spoke to Neal and Andy.
..
The ketubah was signed by Andy & Neal, their three sisters, and Rabbi Young.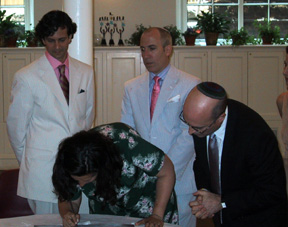 ..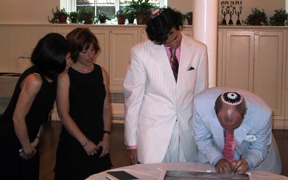 ..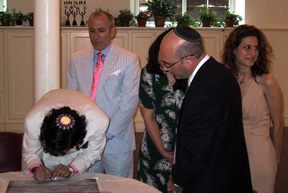 ..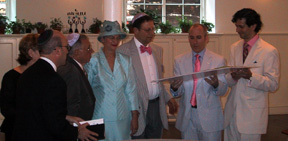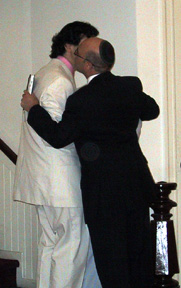 Back to Photos in Gramercy Park