BRIT AHAVA-ANDY & NEAL
MAY 31-JUNE 2, 2002
SATURDAY NIGHT--THE TALENT SHOW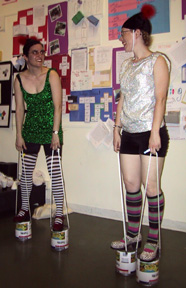 We cabbed down to The Little Red Schoolhouse at Bleecker and 6th Avenue in Greenwich Village. It was hot and sticky, but we all dressed informally, and there were plenty of cold drinks and dessert.
..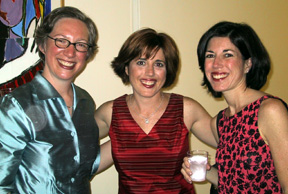 A Havdalah service was led by Rabbi Joel Alter of Washington, D.C., a former student of Carol's and current friend of Andy and Neal, who set a welcoming mood, even as the Sabbath departed.
..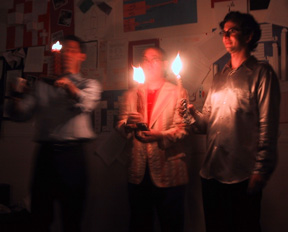 A program had been arranged by Katherine Marx and Gwyn Malin, who served as badchanim...badchanot for the event, following the tradition of toasting the wedding couple in song. These impressaria out-Huroked Hurok, out-Barnumed P.T., and out Ziegfeld-ed Flo. They opened the show with a song and dance to the tune of "Funiculi, Funicula" adapted for Neal and Andy that was right out of the Commedia del'Arte.
Then they introduced Farklempt & Miss Finger, who accompanied by Neal at the piano, fulfilled a dream of 40 years, and sang "Sunrise, Sunset" at a family wedding. How fortunate for Andy and Neal, for not only did their wedding mark the debut of Farklempt & Miss Finger, but, in the process, they also became the sole inheritors of the estate. In keeping with the latest in showmanship and pedagogic technique, Farklempt and Miss Finger used visual aids (props) to enhance their presentation.
..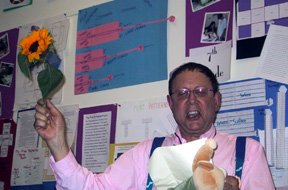 ..
We all sang Happy Birthday to Joel Hirschtritt and Art Naparstek.
Then came Tracey and Barrie, revising a medley of songs for Neal and Andy, celebrating the quirks of this odd couple.
The evening was like a great dinner, with entremets and intermezzi by Chefs Katherine and Gwyn to clear the senses after each act.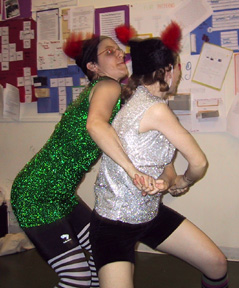 So many in both families were born for the stage. Andrea and John Russo did a father-daughter act (I'm not sure which one was the straight man...actually there weren't that many straight men in the room that night!). Wearing sport jackets in imitation of the one Neal was wearing as a child (theirs were from a sale at Burlington Coat Factory), they were straight off the stage (why do I keep going back to that word, doctor?) of any burlesque house or Catskill hotel. They were ably assisted by their shill, Marty Hoffman, who had trouble keeping a straight face (oops!).
..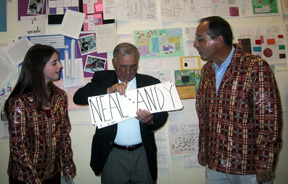 Next came Henry Carrey, a friend from San Francisco and New York, in a fabulous vest and shoes, who sang "Zog Farvos"in Yiddish and in English, in tribute to the Barry Sisters, who made the song famous. Henry, who brought the house down, comes by his show biz flair honestly, as his mother was the great Laike Post, a well-known Yiddish entertainer and radio personality in Boston. Not only that, but Henry's pediatrician was Andy's grandfather, Morris Ingall. Henry was accompanied with by Neal, who, as usual, was always there for everyone. Those piano lessons really payed off!
Katherine and Gwyn performed some magic, pulling a sock monkey out of the hat. But their real magic was organizing such a fabulous show.
..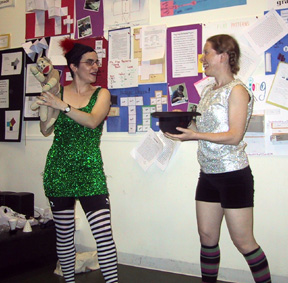 Daniel Barash and Mark Jacobs, who had planned the mikveh ceremony on Friday afternoon, dressed Neal and Andy for their forthcoming wedding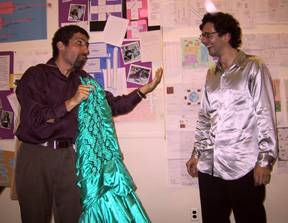 ..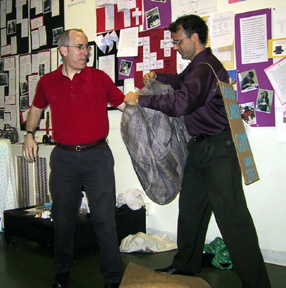 and carried them off in their Huppamobile to the strains of "Going to the Chapel."
..
Gwyn and Katherine made a valiant attempt at juggling, but were outdone by David Gehrenbeck, who made it look easy.
..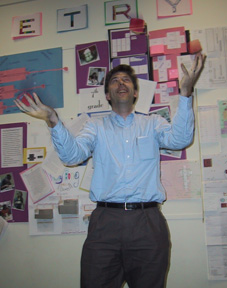 Then the lights dimmed and the undulating ululations from the cassette deck introduced Tracey Citron, a colleague from the Jewish Museum, who made her belly dancing debut before a crowd that roared with appreciation and delight.

The final act was Andy, accompanied by Neal, singing "You Gotta Ring Them Bells." Every time I see Andy on the stage I am astonished at the transformation that takes place, where my quiet unassuming son becomes a shining star, capturing and holding center stage effortlessly, stealing the show every time. He is really, really good. I couldn't tell if my eyes were tearing from laughter or from tears of pride.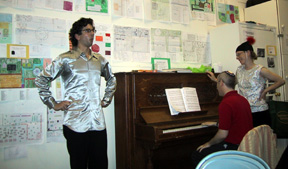 ..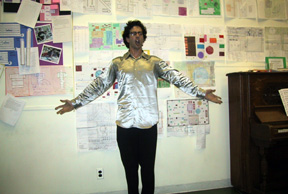 We all closed a perfect evening with Neal leading us at the piano in "New York, New York."
As the crowd left, many were heard to say, "I would have paid money to see this show!" And Katherine and Gwyn got two offers to organize talent shows at other forthcoming weddings.
Back to Marty & Elaine's Party